(Written by Maureen Monk – Class of 2016)
What got you interested in Biology, and how did you end up where you are today?
Well that's a long story!! Let's see if I can address it as succinctly as possible, since I definitely didn't take the straight route to where I am today. Growing up, my dad lived in Key West, FL, so basically every single summer I would travel down from Georgia and would spend the summer there. He lived right on the water and had a boat, so while my dad worked during the day, my brother and I would snorkel until our bodies were raisins! Then, when my dad came home, we would take the boat out and go fishing. At that point in time I knew that I loved fish and being in the water; but I didn't really have a dream to be a marine biologist. However, I did know that I wanted to work as some kind of natural scientist. Later in undergrad, I majored in Biology and was afforded an opportunity to go on a field study in Africa that involved wildlife management in the savanna. We worked with the Maasai tribe to help stop habitat fragmentation that was harming the animals, the environment and the tribe's agricultural practices. Basically, elephants were becoming trapped in the national parks because the Maasai were told to put up giant elephant electric fences to protect their crops. We were there to help solve the problem without fences by creating an ecotourism program for this particular group of Maasai.  That experience really helped me to see that whatever science I was going to be doing in the future, I wanted it to be what we called "applied science," that would specifically help solve an environmental problem and help guide natural resource policies.
After undergrad, I still had no idea what I wanted to be when I grew up, so I headed west and worked as a cook at the Rocky Mountain Biological Laboratory in Colorado.  My hope was that I would connect with some researcher that would spark my interests. While I was there, (I think the internet was just getting off the ground-let me just age myself a bit here), I logged onto collegegrad.com and found a listing for a marine biologist working on fishing boats in Alaska. I ended up going to Alaska for 3 years to work as a North Pacific Groundfish Observer.  These are biologists who are deployed on commercial fishing boats (like on The Deadliest Catch-you might have seen on the Discovery Channel) and collect data that are used to manage Alaskan fisheries. The collection of these data makes Alaska one of the best managed fisheries in the world. Even though Alaska is definitely a success story in terms of natural resource management, I still observed many complicated ecological problems and could see that education/science communication could be the primary method of helping to address some of these issues. Educating the fishermen by showing them that fishery scientists are there to help ensure they can fish in perpetuity has become one of the primary theses driving my research.
This realization drove me to take a respite from marine biology to teach high school biology and environmental science. I truly wanted to learn how to communicate science in a way that was meaningful to everyone. In the high school classroom, I learned that as teachers/educators, it is our job to explain to students WHY they need to learn something, even when the topic appears to be unimportant in the long run. In this way, my hope is that students, from the high school level to graduate students, will find the drive and motivation to persevere through the harder or less interesting parts of science that we all have to tackle at some point in our educational journey.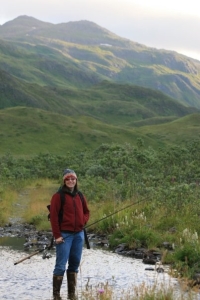 After my experience as I high school teacher, I started the long road of obtaining my Master's degree and PhD.  For my Master's degree I attended Prescott College in Prescott, Arizona, a limited residency graduate program. This educational model worked really well for me as I was still working full-time (as a biologist for the City of Atlanta).  I would do my research and classes remotely from home and would travel to Prescott, AZ twice a semester to meet with my cohort of other graduate students and professors for a weekend long colloquium. My thesis explored baseline water quality parameters for a conservation-minded community in the Chattahoochee Hill Country in central Georgia. While finishing my degree, I found it necessary to dive headfirst back into fisheries science and took a position as a marine biologist at the National Marine Fisheries Service, Alaska Fishery Science Center in Seattle, WA.  In this role, I trained the North Pacific Groundfish Observers to collect the same data I collected years before. While in this position, I attended a conference at the University of Washington where I met a professor from Louisiana who was doing some fisheries ecology research that I was very interested in.  We exchanged contact information, and eventually, he invited me to be a part of his lab at Louisiana State University so I could pursue my PhD. I accepted and left Seattle for Baton Rouge and the rest is history!
You study and model the impacts of ecosystem disturbances on aquatic communities, particularly fish, within space and time. Would you mind expanding a bit on your research?
My research investigates how both natural and human induced disturbances in an ecosystem impact fisheries and marine and estuarine food webs. These disturbances could be an oil spill, a hurricane, ongoing habitat loss, or anything that is considered a change from the status quo in the ecosystem. In my research, I want to know how a particular disturbance has impacted or is impacting marine organisms by investigating their long-term abundance or changes in geographic distribution. For instance, in Louisiana, where most of my studies have been focused, there is a long history of disturbances that have impacted the coastal ecosystem. There also happens to be a large historical dataset of biological and environmental data, collected by the state fisheries and wildlife agency. This dataset has been the most crucial component of my research because it has allowed me to compare and evaluate various aspects of the ecosystem to determine if any of these metrics could help explain variation in the fish and shellfish communities over time in light of these stressors. So I use a combination of statistical, ecosystem, and geospatial modeling techniques to gain a holistic understanding of how a particular ecosystem/food web responds to change over time and space. The premise to my research is that to understand what will happen in the future, I must try to understand what has gone on in the past. By using various modeling approaches along with historical data, I can see how well the model predictions fit to historical trends. If we get a good fit to the past data, then we can potentially make predictions for the future. Overall, trying to disentangle the various stressors impacting an ecosystem is a tall order, but by approaching the problem from various angles, I hope to find a signal that might have been missed using other one-dimensional approaches.
How do you think recent progress in modeling methodologies has impacted biology and ecology overall?
Without a doubt, improvements in computational speed and ecological modeling has highlighted the importance of environmental survey data; historically not a lot of money has gone into long term monitoring programs of ecosystems. Basically, all the data I use in my research is from a long-term and ongoing biological and environmental monitoring program. These data are valuable for many reasons, but one of the main reasons they are important in fisheries is that in general, the experimental design of these surveys remain consistent over time, removing much of biases that are inherent in data collected directly from fishing operations. You can imagine, for instance, that fishermen will go where the fish are, so by targeting their catch, a bias in the data collection is naturally introduced. This problem is removed if the data are collected from the same location, using the same methods, using the same gear types over time. Funding has always been an issue for monitoring programs, because to the layman, it doesn't seem like a necessity. Until something like the Deepwater Horizon occurs and then everyone wants to know how this environmental disaster has impacted marine organisms. If we didn't have monitoring data from before the spill, then how can we be sure if any changes we see in the populations and communities now in and in the future can be attributed to the spill itself?  So, I think the general public and resource managers in particular, are starting to understand that while the monitoring data can indeed be an increased expense, the value of these data are priceless when it comes to understanding how ecosystems respond over both the short and long-term. Especially for understanding the impacts of climate change, monitoring data will be key in determining how organisms are responding to changes in sea surface temperatures and overall changes in climatic patterns.
Your research focuses on the river deltas in Louisiana, around the Gulf of Mexico. How do you plan on continuing this research at St. Mary's?
One of the benefits of being an ecosystem modeler is that I generally don't have to collect the data myself, because I can use data that have already been collected by the monitoring programs I mentioned above. So, yes I will be continuing the research in Louisiana, and in fact, my collaborators and I are anxiously awaiting an announcement of funding for another project through the National Marine Fisheries Service to study the effects and impact of Gulf of Mexico hypoxia on fish and shellfish. So I expect my research to continue to Louisiana for at least the next 4-5 years.
What classes are you teaching this fall, and which are you the most excited about?
I am teaching Coastal Ecology and two sections of POB lab. I am most excited about Coastal because I can't imagine a better place to teach this class. The ability to walk outside and say "hey guys, look at this, let's get in the water right here and check it out," is really exciting for me.  I have never been at a place where the estuary was literally in our back yard. I'm stoked, and I hope that students are also looking forward to getting wet, getting dirty and seeing lots of cool organisms this Fall.
The biology department at St. Mary's is a pretty weird, wacky set of people (both students and faculty); what is something quirky about you?
Weird and wacky? Gosh, well, I think the most obvious thing is that I'm a certified crazy cat lady. I have two cats, Aero who is 14 and BK (Baby Kitty) who is 5.  I love them with all my soul can muster and take more pictures of them that I care to admit.
Is there anything else you would like the students to know?
My students at George Mason call me Science Mom or Science Sensei because I am always offering advice, sometimes unsolicited. This stems from the fact that I think I have pretty much made every mistake you can possibly make in life, and I don't want other people to make the same mistakes. I have also attended or worked at various types of colleges and universities, from liberal arts to research-focused institutions, so I feel like I can offer students feedback on how they think they will fair at these different types of schools after St. Mary's. I have also worked for private industry, state and federal agencies and have a good understanding of what could be expected in each of these career paths. So, my door will always be open to any student needing advice on life and career choices as I understand how stressful it is to know what to do "next."
Other stuff about me…I am super active; I like to exercise…a lot. I am big into CrossFit and without it, I feel incomplete.  I like to cycle, hike, and roller blade (yes–there are still rollerbladers in the world, and I am one of them!). If I'm not in my office or in the lab, you will likely see me in the gym, on a run or on bike around campus.
I also appreciate those that are balancing school with extracurricular activities and I definitely want to support those students who are active outside of the classroom. Being a college athlete was a huge part of who I was in undergrad so I want to support all students who also choose other activities, whether it's team sports, theatre or music.