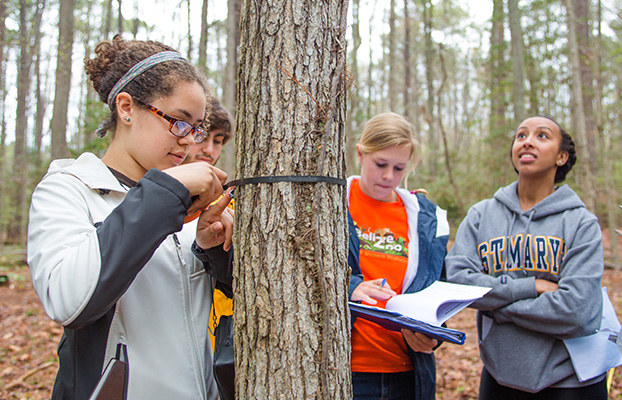 St. Mary's scenic waterfront campus gives biology majors a variety of opportunities to explore nature. The Chesapeake Bay, fresh water ponds, wooded areas, and an assortment of wildlife including classrooms, labs, and high-tech equipment are available for your research projects. You will work closely with faculty on various research projects both on and off of campus many of which lead to publications or conference presentations.
St. Mary's River Project
The St. Mary's River Project is a state and federal funded program administered through St. Mary's. We investigate matters related to the water quality and ecological health of the St. Mary's River and the Chesapeake Bay. We also work to promote stewardship and awareness of important environmental concerns within the local community. Students and Faculty work closely together on the St. Mary's River Project to increase the population of Submerged Aquatic Vegetation (SAV).
Learn more about the St. Mary's River Project
St. Mary's Undergraduate Research Fellowship (SURF)
SMURF is an eight-week annual summer program at St. Mary's, where students from a variety of disciplines delve into research topics of their own aspirations with guidance from faculty mentors and a stipend.
Learn more about Research Opportunities
Faculty Research Summaries
Our faculty are practicing scholars and maintain active research laboratories.  If you are interested in a particular faculty member's research you should discuss possible opportunities with them directly.
2016-17 Academic Year
Jeffrey Byrd jjbyrd@smcm.edu  SH 216, ext. 2973
My research interests: microbial ecology, survival of bacteria in the environment, and  novel antimicrobial agents.  My two ongoing study areas: 1) the predatory interactions of non-obligate predatory soil bacteria and 2) the survival of bacteria in the  estuarine environment   Bacterial genera commonly studied in my laboratory are Escherichia, Vibrio, Aristabacter, Cupriavidus, Ensifer, and Agromyces
Karen Crawford kcrawford@smcm.edu  SH 262, ext. 4598
My research interests involve questions concerning how normal pattern is created in regenerating and developing systems.  Projects in my research lab include studying the cellular and molecular mechanisms that function during amphibian limb regeneration and metamorphosis, squid embryogenesis, and regeneration in a fresh water oligochaete worm.
Kirsten Deane-Coe      kkdeanecoe@smcm.edu   SH 129, ext. 4204
The main research focus of my lab is the physiological ecology of plants, i.e. how plants interact with their environment and how the environment influences plant processes. In particular, I am interested in the effects of global change on terrestrial ecosystems and how global change factors such as increased temperatures and altered hydrology influence plant performance and survival. I am passionate about the incredible global diversity of plants in general, but for the last decade I have been particularly fascinated by bryophytes (mosses and their relatives) because they play important ecological roles in many terrestrial ecosystems and are also sensitive to global change. My lab uses laboratory and field techniques as well as stable isotope analyses and physiology-based mathematical modeling to address questions from cellular to ecosystem scales. Ongoing research foci in my lab include: (1) Bryophyte-cyanobacteria symbioses and the role of environmental stress on nitrogen cycling in bryophyte dominated systems; (2) Comparative physiology in dryland mosses of the genus Syntrichia; (3) The influence of interacting global change factors on dryland mosses in soil biocrusts; and (4) Maryland coastal peatland natural history and vulnerability to climate change.
Samantha Elliott slelliott@smcm.edu  SH 233, ext. 4376
My research revolves around my wide-ranging interests in the laboratory, classroom and on the farm.  As an immunologist, I am interested in aspects of health and human disease. In the laboratory, I look at how the nematode C. elegans fights off infections from different bacterial, viral or fungal pathogens.  I also investigate how the nervous system works in concert with the immune system in C. elegans as it impacts behavior and food preferences.  As an educator, I am also interested in how students learn biology and perform education research to study this. (Students may work with me on Biology Education Research through the Education department). As a hobby farmer, I am also interested in aspects of conservation and food production, primarily working with honeybees and the endangered Dominique chicken.   
Kevin Emerson kjemerson@smcm.edu SH231, ext. 2123
My research primarily focuses on understanding evolutionary processes in natural systems. In particular I have research efforts in understanding how organisms survive in seasonal environments, how evolutionary processes have and will affect malaria transmission dynamics, and how organisms interact with intracellular symbionts. Molecular, Evolutionary, and ecological contexts drive my research.  Research opportunities in my lab range from the field (collection, identification, monitoring) to the lab (molecular genetics) to the computer (computational biology including the analysis of large sequence datasets).
Walter Hatch wihatch@smcm.edu SH 218, ext. 4368
My research interests focus on the chemical ecology of coral reef organisms, primarily soft corals and other cnidarians.  Ongoing projects include:
Soft coral communication

Ocean acidification – growth and calcification of coral reef cnidarians

Design and construction of marine microcosms
I also manage the biology department's marine microcosms and maintain a variety of coral reef organisms for faculty and student research as well as teaching lab use.  Students might consider becoming involved as a volunteer in the day-to-day operation of our marine microcosms (wet lab). This would include observing feeding, cloning, and other routine wet lab tasks.
Elizabeth Leininger ecleininger@smcm.edu SH232, ext. 2001
As a neuroethologist, I'm interested in understanding how neural and neuromuscular circuits controlling animal behaviors function, develop, and evolve. Specifically, my lab researches how Xenopus frogs produce their courtship songs. These frogs are totally aquatic and are active at night, and so their vocalizations are the main way that an individual signals its species, sex, and reproductive intentions.  Xenopus songs vary across species (and between the sexes within a species) from slow and simple to fast and complex. Research projects in my lab use anatomical, neurophysiological, and behavioral techniques to understand the neurobiological roots of vocal diversity. Recent projects have investigated the role of androgens in shaping sex differences in vocalizations, relating the properties of the muscle within the larynx (vocal organ) to vocal sex differences, and investigating behavioral consequences of temporally simplified vocalizations. I've also recently started a collaboration with Dr. Elliott's lab that uses optogenetics (a way to activate neurons and muscle cells with light) to understand the neural and muscular bases of reproductive behaviors in the nematode worm, C. elegans.
Jessica Malisch jlmalisch@smcm.edu        SH258, ext.
Research in my lab focuses on the vertebrate stress response and the effects of stress on physiology and behavior. I collect physiological and behavioral data from a population of white-crowned sparrows each May and June in the eastern Sierra Mountains just outside Yosemite National Park in California. I also plan to conduct similar studies of white-crowned sparrows and dark-eyed juncos around campus in the fall (pending acquisition of all permits). Students in my lab may join me in the eastern Sierras to collect data, may help collect data from bird populations around campus, and/or analyze previously collected plasma samples, field videos, and field activity data. Conducting research in the Sierras (although amazing!) is not required to work in my lab. My project for this summer will examine decision making during inclement weather. Global climate change has led to an increase in severity and inconsistency of typical weather patterns subjecting free-living organisms to more stressful events in an increasingly stochastic environment. Organism's responses to storms may affect reproductive success and thus fitness. For example, fleeing a storm may increase life-time survival but may also result in the loss of territory or nest abandonment. How organisms make these types of decisions is not well understood, but hormonal influences on behavior make endocrine secretions prime candidates. Despite an abundance of studies, consistent support for the glucocortiod-fitness relationship has remained elusive. Glucocortiocoid hormones, are hydrophobic and as such are mostly transported on carrier proteins in the blood. These carrier proteins likely limit binding to receptors and thus influence the effect of hormones on organism behavior and physiology. In fact, evidence supports the role of unbound hormone as the biologically active fraction and bound hormone as a biologically relevant reservoir of metabolic hormone. The goal of this project is to use previously collected data of stress hormone and stress hormone binding globulin level following one acute stressor in white-crowned sparrows to generate a predictive model of stress hormone levels, stress hormone binding globulin level, receptor occupancy and behavior responses following multiple stressors. We will test our model in the field using a combination of researcher-induced stress and inclement weather and monitoring reproductive success of sparrows.
Rachel Myerowitz      rmyerowitz@smcm.edu          SH260, ext. 4373
In general, I study human inherited disorders which result from a defective lysosomal enzyme and therefore affect lysosomal function. The focus of my research includes the molecular genetics, molecular pathological mechanisms, gene expression profiles and treatment development for Tay-Sachs, Gaucher and Pompe Diseases, three inherited lysosomal disorders. In addition, I am interested in bioethical questions mainly concerned with ethical dilemmas raised by the new biotechnology and I have mentored many SMPs focused on such questions. I am also interested in utilizing plants as my experimental system for asking genetic questions. I am currently mentoring an SMP which asks the question of whether or not a nursery ground for an extinct shark, C. megalodon, existed in the Chesapeake area 15 million years ago-take home message- come speak with me about any interesting question you would like to explore!
Bob Paul                     rwpaul@smcm.edu  SH235, ext. 4211
I am a freshwater ecologist with a strong interest in streams, yet I also have considerable experience with estuaries and the St. Mary's River, in particular.  In the freshwater part of the river my research is centered on aquatic macroinvertebrate (aquatic insects, in particular) as indicators of water quality.  My on-going projects with students are shifting somewhat toward oyster restoration in the St. Mary's River; but I have had research students work on many different problems in the river including land use and water quality, oyster aquaculture, mud crab parasitism, saltmarsh periwinkle (Littorina irrorata) abundance, distribution, and population dynamics, oyster reef fish community structure, and related aquatic studies.  I am also interested in aquatic resource policy and the historical impact of humans on ecosystems in general.  The best student projects, in my opinion, are those initiated by the students themselves. Most of my SMP students work on field related projects.
I am also a board member of the St. Mary's River Watershed Association (smrwa.org), and we always can use student volunteers and helpers.  In particular, RiverFest, is a community outreach/education  program that is taking place on Saturday, September 24th, and we can use your help.  I also have a SMP student who will need assistance in collecting techniques for invertebrates and fish in the St. Mary's River.  This project will be used to guide EPA's Chesapeake Bay Program in developing citizen monitoring protocols.
Jordan Price jjprice@smcm.edu  SH 212, ext. 2216
My research blends two disparate fields of biology, animal behavior and molecular evolution, to investigate the evolutionary histories of animal traits, especially the songs and color patterns of birds. But I am broadly interested in topics spanning these and other biological fields. Previous SMP students have studied the behaviors of a variety of local animals (including deer, insects, isopods, and a wide diversity of birds), as well as other non-local taxa from the New World tropics. Some studies have used molecular phylogenies to examine how and why animal characteristics have evolved into the forms we see today. You can browse some of my recent papers, including a few co-authored with students, posted on my lab bulletin board. Current projects that students could jump right into include: the evolution of sexual dimorphism, song evolution in mockingbirds and relatives, the evolution of nest structures in Australian and African birds.. But I'd be happy to talk about any ideas you might have.
Kristy A. Lewis kalewis3@smcm.edu , SH 214, ext. 2229
I am an applied marine ecologist who investigates the impacts of natural and anthropogenic induced disturbances on marine food webs and coastal communities. The occurrence of environmental perturbations is increasing, driven by various factors such as climate change, habitat loss, oil spills and an expanding human population. In the wake of these challenges, my goal is to ensure that these ecosystems will be conserved in perpetuity for stakeholders as varied as tribal communities and outdoor enthusiasts. Specifically, I seek to understand how variability in ecosystem processes impact aquatic organisms and local communities through a combination of field and experimental observations, GIS, quantitative and modeling strategies, and analysis of long-term historical datasets.  My work does not focus on one single organism in particular but rather the trophic interactions of various aspects of the coastal system.