As stated in the St. Mary's Way, the College is a place "where people foster relationships based upon mutual respect, honesty, integrity, and trust." As such, we are committed to providing an educational, living and working environment free from all forms of harassment and discrimination for all members of our community.
We prohibit all forms of sexual or gender-based harassment, discrimination or misconduct. Sexual misconduct is contrary to the St. Mary's Way and is prohibited by state and federal law.
We endeavor to foster a climate free from sexual misconduct through training, education, and prevention programs. We implement policies and procedures that promote prompt reporting, prohibit retaliation, and ensure timely, fair, and impartial investigation and resolution of complaints in a way that eliminates the sexual misconduct, prevents its recurrence, and addresses its effects.
A Call to Men at SMCM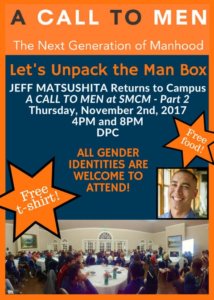 This fall, the national violence prevention organization, A Call to Men, is coming to St. Mary's for a special training and skill-building opportunity!
On September 6, 2017 we hosted a dynamic workshop to explore the prevalence of sexual and domestic violence in society and on college campuses and how men can work together to prevent it.
On November 2, 2017, A Call to Men will return to campus to continue the conversation and engage in more skill-building opportunities. All are invited to attend!
Resources
Find Support
Policies and Procedures
Contact
Michael Dunn
Director of Title IX Compliance and Training/Title IX Coordinator
titleix@smcm.edu or mkdunn@smcm.edu
(240) 895-4105
Lucille Clifton House