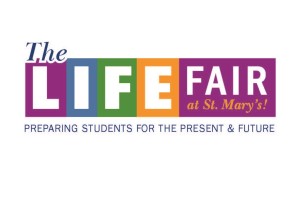 Date: Wednesday, February 11th, 2015 from 4:00pm – 6:00pm
Location: The Michael P. O'Brien Athletics & Recreation Center Arena (The ARC)
Representative from over 40 organizations will showcase their internships, jobs and service opportunities right here on campus during The LIFE Fair. Bring your resume, dress to impress and discover opportunities in public service, sustainability, non-profits, government, international internships and more.
For information on the types of opportunities each organization is recruiting for, please contact the Career Development Center or call 240-895-4203.
This event is sponsored by the Career Development Center in collaboration with The Office of Student Activities and the Sustainability Office.
Organizations:
Accokeek Foundation
Aflac
American Islamic Congress
American Red Cross
Arcadia University International Education
Booz Allen
Calvert Marine Museum
Center for a New American Dream
Chesapeake Care Center
Chesapeake Climate Action Network
Christ House
Earthopia
ELMS Environmental Education Center
Food and Water Watch
Going Global (Internships Abroad)
House of Dance
ISA (Internships Abroad)
Lexington Park United Methodist Church
Maryland Agricultural Resource Council
Maryland Department of the Environment
Maryland League of Conservation Voters
MedStar St. Mary's Hospital
My Wedding
Office of the Public Defender
Pathways INC.
Patuxent Habitat for Humanity
Peace Corps
Piney Point Lighthouse
Point Lookout State Park
Sierra Club
SMCM Archives
SMCM International Education
SMCM Political Science
So What Else
St. Mary's Animal Welfare League
St. Mary's Caring Soup Kitchen
St. Mary's County Health Department
St. Mary's County Sheriff's Office
St. Mary's River Watershed Association
St. Mary's County Health Department
Steppingstone Farm Museum
Vandermere Farm
Volunteer Maryland
Wyle