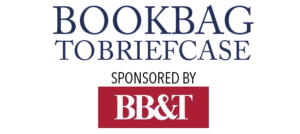 Bookbag to Briefcase Sponsored by BB&T is our lecture series with professional presentations and interactive workshops to help students prepare for life after St. Mary's.












About the 2018 Lecture Series
Each month, students of all class years will have the opportunity to connect students with industry experts for small group lectures on a wide variety of professional development topics throughout the fall and spring semesters.  Topics vary but include financial literacy to workplace etiquette and beyond.  Some presentations may focus on specific student populations. Sample topics include:
Establishing Credit
Personal Budgeting
Understanding Insurance
Navigating the Federal Employment Application Process
Steps to a Successful 100 Days
Interview Prep
Being an Agent of Social Change in the Workplace
Students who attend all three fall lectures will have the opportunity to return to campus early for a January networking event with the St. Mary's Alumni Council.
Fall 2017 Lectures
Financial Literacy from BB&T Bank Representatives
Leveraging Your Liberal Arts Degree in the Workplace
Networking & Office Politics
2017 Conference Materials
Click here for access to all of the 2017 conference materials including presenter biographies, PowerPoint presentations, as well as handouts provided by the presenters.
If would like to contact one of the 2017 conference presenters or alumni, please contact the Career Development Center.