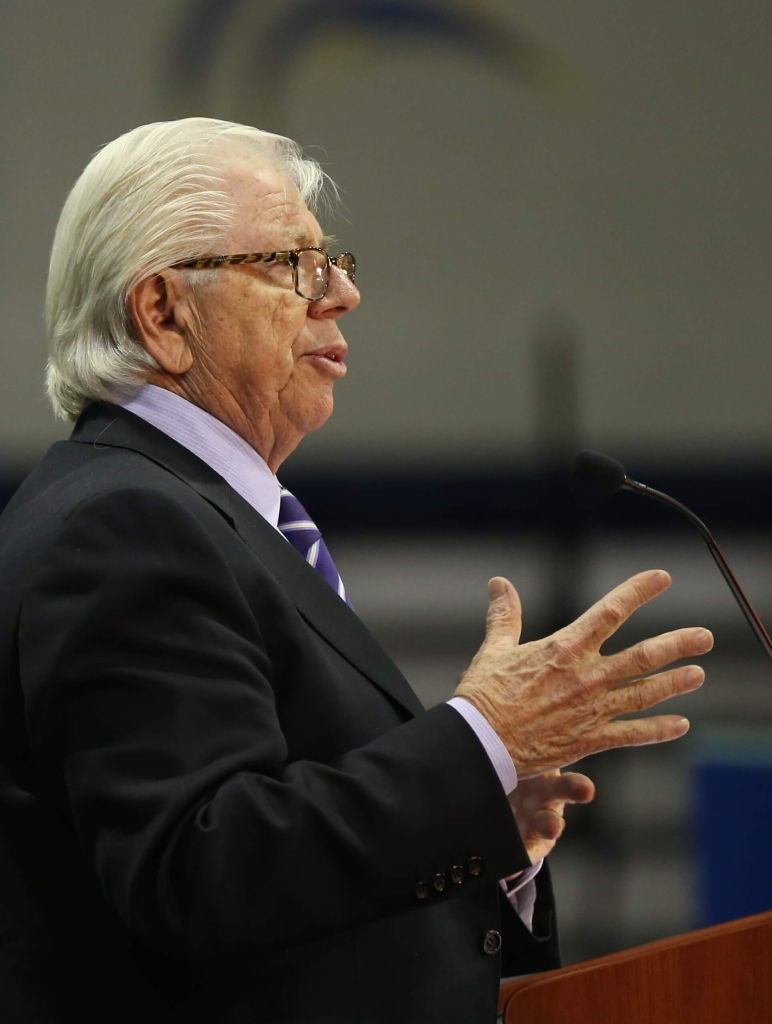 Carl Bernstein, a famous Watergate journalist, delivered the Benjamin Bradlee Distinguished Lecture in Journalism on 28 April 2015 at St. Mary's College of Maryland. This endowed lecture series, established by Ben Bradlee, has brought well-known journalists, including Tom Brokow, Richard Cohen and David Ignatius, to St. Mary's since 2004, notes Dr. Maija Harkonen, Executive Director of the Center for the Study of Democracy.
"Benjamin Bradlee, who served as Executive Editor of The Washington Post at the time of Watergate, played an important role in launching the Center for the Study of Democracy," Harkonen notes. He was on CSD's Advisory Board from the very beginning until he passed away in 2014. Bradlee also served as a St. Mary's College of Maryland Trustee.
"We will always be grateful for Ben's service to the College as a trustee and to his commitment to Historic St. Mary's City. He has enriched our community and is sorely missed. We are proud to preserve his legacy," Dr. Jordan, President of St. Mary's, stated at the reception before the lecture.
Carl Bernstein remembers Ben Bradlee, his boss and friend, as a man "whose fearlessness was his most remarkable trait" and who was dedicated to truth. But not just any kind of truth "Facts by themselves, Bradlee understood, are not the truth. What is needed is context, something that seems to be lacking in most media today."
Carl Bernstein on Watergate
Carl Bernstein is best known for his role in exposing the Watergate scandal that led to the resignation of President Nixon on August 9, 1974.
Working at The Washington Post with Bob Woodward, he set in motion a chain of events that led to some of the most dramatic moments in 20the century American democracy. It unmasked, what Carl Bernstein calls, "criminal presidency".
"In Watergate, which may be the best way of looking at how our system can work," Carl Bernstein said, "we saw democratic principles succeeding in a way that reconfirmed our common belief in the idea of government that serves its citizens under the rule of law."
The Best Obtainable Version of Truth
"When I went to work in journalism, we learnt an approach to journalism that was simple: to pursue the best obtainable version of truth," told Carl Bernstein to the audience at St. Mary's College of Maryland. "Today people are looking for ideologies and partisan ammunition to reinforce what they already believe in."
"The mission of the Center is to promote liberty and democracy. A simple thought perhaps and yet, as Ben Bradlee understood so well, liberty and democracy cannot exist where the light of truth is not sought and revered and defended."
Cultural Warfare — A National Security Threat
"Today our national security is threatened not just by terrorism, but equally or more so internally, by the breakdown—and there's no other word for it—of our system. Our political and civic fabric in this country has been strained to the breaking point from 30 years of cultural warfare; scorched earth take-no-prisoners politics and the debate that surrounds it, not just in Washington, but all over the country by citizens every bit as uninterested in the best obtainable version of the truth as those they condemn who sit in the House and Senate in Washington. "
Economic Inequality – Bi-partisan topic for debate?
One of the key questions of today, says Carl Bernstein, is "whether we are going to be a nation of the wealthy for the wealthy and connected by the wealthy and privileged at the expense of the great majority of our people". It is the question of "whether we allow benefits of the 'recovery from the near depression' to accrue not just to corporations and the top earners of this country but to the working people and their families". Both parties, Bernstein notes, seem to be making this an issue they want to debate.