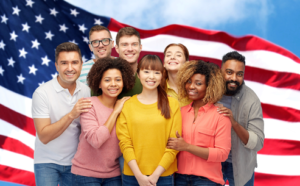 The Center for the Study of Democracy has received funding from the Maryland Humanities to carry out an oral history project in St. Mary's County. The Project focuses on interviewing recent immigrants who have made the county their home. The project goal is to collect and preserve newcomers' voices and stories, provide a baseline for future research, and educate the public on local immigrants and their contributions to the community. All community members are invited to participate.
The Spring 2018 programs include:
College course
Oral history interviews
Forums
Workshops
A photo contest
This event is open to the public.
A college course that starts in January 2018 and four workshops are open to the public free of charge. Interviews will be transcribed and published in the SlackWater journal titled "Migrant Whispers." Are you interested in becoming a citizen historian? Please contact the Center at (240) 895-6432 or via email at democracy@smcm.edu for more information.
This program was made possible by a grant from Maryland Humanities, through support from the National Endowment of the Humanities. Any views, findings, conclusions or recommendations expressed in this program do not necessarily represent those of the National Endowment for the Humanities or Maryland Humanities.