D4D on the Road – Debating for Democracy
Each year, Project Pericles brings workshops to St. Mary's. The workshops are open to the entire college campus with the aim of motivating others to actively participate in the democratic process. Each 6-hour workshop will help attendees learn concrete tools for successful organizing and advocacy.
These tools include:
Values-based messaging
Analyzing root causes
Identifying targets and tactics
 Strategic planning
By the end of the day, participants are be able to identify new strategies for making change on a particular issue or cause, practice developing and delivering an effective advocacy message, and build relationships to support and sustain their work.
How to get involved:
Workshop dates will be announced at the end of the Fall semester.
---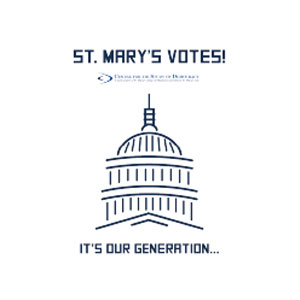 St. Mary's Votes
The St. Mary's Votes! project is a local initiative to encourage St. Mary's students, and young people across the state, to participate in primary and general elections.
Only 16 % of Americans between the ages of 18 and 23 participate in the democratic process through voting.
Activities:
Set up booths during lunch and dinners at the Campus Center, tables at the Giant Food in California, Maryland
"Dorm storms" in on – campus housing, and numerous other events across campus to make their mission known
Training to work as election judges and poll workers during the elections
Held events and meetings to encourage students to register to vote
Work at the polls during primary elections
---
2016 Presidential Election Information
April 2016-Primary Election
November 2016-General Election
Voter Registration Materials
Any documents relevant to voter registration or absentee ballot requests can be dropped off at the offices of The Center for the Study of Democracy in Kent Hall 103 and 105.
To learn more about registering to vote in Maryland, utilize the following: