Thursday, June 6 – Sunday, June 9, 2019
UPDATE (6/8/19 @ 8:20 p.m.): Our family friendly outdoor feature, A Bug's Life, has been moved to Campus Center Cole Cinema due to wind. The film will begin at 9 p.m. on Saturday.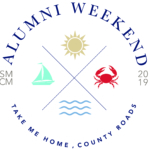 Held annually the second weekend in June, Alumni Weekend is the largest alumni celebration of the year.  Every summer, over 1,000 alumni return to their home on the river to reunite with old friends, learn about new College developments, and rediscover the beauty of the St. Mary's campus.  Though all alumni and their families are welcome to attend, those celebrating an anniversary year ending in a '4' or '9' are especially encouraged to return in 2019 to celebrate their milestone.
---
Public posts to Instagram and Twitter will appear here
---