Art and Art History Department Lecture: Dr. Emily Casey
October 18, 2017 @ 4:45 pm

-

5:45 pm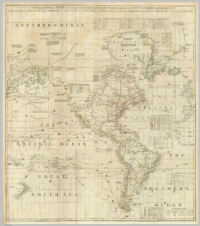 "Mapping Space and Time Across the 18th Century British Atlantic"
How did early modern maps navigate the distances of space and time between the places they depict? In the eighteenth century, the sharp, engraved lines of printed maps and charts were a particularly difficult medium in which to capture the actual and metaphorical currents of the globalizing world their makers sought to visualize. How did charts seek to reconcile the supposedly objective language of cartography with the environmental and political realities of colonization and empire? Join new faculty member Emily Casey in considering how the tools of art history help us understand and interpret historic maps in new ways. Using the case study of a map and a chart printed in London by the king's geographer in 1753, we'll bring our skills of visual and critical analysis to examine how maps imagine global and political space, and how they might betray the fault lines in the claims and ambitions of early modern empire.
Emily Casey earned her Ph.D. at the University of Delaware. Her work focuses on the period of the long eighteenth century and is particularly concerned with understanding how the circulation of visual and material culture alternately supported and contested the claims of nations and empires in the Atlantic world. Emily has received grants and fellowships to support her research from the Metropolitan Museum of Art, the Smithsonian American Art Museum, the Center for the Advanced Study of the Visual Arts, the Peabody-Essex Museum, and the National Maritime Museum in London. Emily received her A.B. from Smith College. She has also worked at the Smith College Museum of Art, Winterthur Museum, and the Pennsylvania Academy of the Fine Arts.
This lecture is sponsored by the Department of Art and Art History.