A Dialogue with Ken Nwadike Jr.
September 25, 2017 @ 8:15 pm

-

10:00 pm

Free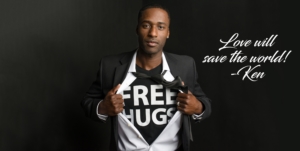 In this fun, creative and interactive program Ken brings his "Free Hugs Project" to engage participants in conversations of understanding, and compassion amidst the rising tide of hatred and racism.  The event concludes with a keynote address that will explore how to overcome the differences that divide us.  The goal of this program is to create unity and build community, and remind participants that we are all humans in need of love. Ken's courageous work as a peace activist is helping to heal and narrow the social, political and racial divide that currently exists throughout our country.  His energy, spirit, passion and love are changing individual behaviors and group interactions for the better.
Ken E. Nwadike Jr is a peace activist, video journalist and YouTube personality best known as the Free Hugs Guy online. Nwadike is the founder of the Free Hugs Project, which produces motivational videos to spread love, inspire change, and raise awareness of social issues. His 'Free Hugs' videos have reached hundreds of millions of views on Facebook and YouTube. As a former homeless student athlete, Nwadike overcame many challenges to now own Superhero Events – an event production company that raises funds and awareness for homeless teens.