The Mark Twain Lecture Series on American Humor & Culture Laughing to the Polls Presents W. Kamau Bell
September 15, 2016 @ 8:00 pm

-

9:30 pm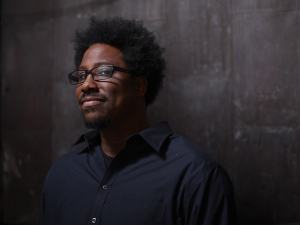 The Mark Twain Lecture Series on American Humor & Culture Laughing to the Polls Presents W. Kamau Bell
"The W. Kamau Bell Curve: Ending Racism in about an Hour"
W. Kamau Bell is a comedian, political satirist, and host of CNN's "United Shades of America," which has been nominated for an Emmy in 2016.
Called "the most promising new talent in political comedy in many years" by the New York Times, Bell has released two stand-up comedy albums: "One Night Only" and "Face Full of Flour." "Face Full of Flour" was named one of the Top 10 Best Comedy Albums of the year by iTunes and Punchline Magazine.
Bell has appeared on various Comedy Central programs including "John Oliver's New York Stand-up Show," and other programs including HBO's "Real Time with Bill Maher," "WTF with Marc Maron," "The Rachel Maddow Show," "Fresh Air with Terry Gross," "The Nerdest," and "The American Life," among others.
His writing has appeared in VanityFair.com, Salon, MSNBC, Buzzfeed, Los Angeles Book Review, and The Hollywood Reporter. He is also featured on a weekly podcast with fellow comedian Kevin Avery entitled "Denzel Washington is The Greatest Actor of All Time Period."
With support from:
The English Department
The Writing and Speaking Center
The Center for the Study of Democracy
DeSousa-Brent Scholars Program
The Arts Alliance of St. Mary's College of Maryland
Lecture and Fine Arts Committee
Dean of Students
The Philosophy and Religious Studies Department
African and African Diaspora Studies Program
The Political Science Department
This program contains adult content.