Neuroscience Seminar Series:  Dr. Alex Poulopoulos
September 18, 2017 @ 4:45 pm

-

6:00 pm

Free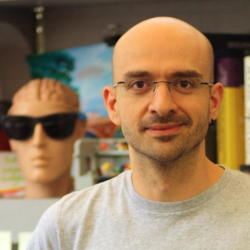 The Neurosciences program welcomes Dr. Alex Poulopoulos, a researcher from the University of Maryland School of Medicine, Department of Pharmacology. His topic:
Wiring across hemispheres: New approaches to study how brain circuits form
The formation of the brain during development, as well as its function in adulthood, entails the wiring and rewiring of neuronal connections into complex circuitry. To examine the underlying biology that allows such complex circuits to form and to change with experience in meaningful ways, we developed experimental strategies to examine these circuits as they form in the mouse brain, with analytical power at the molecular and cellular levels. With these new approaches, we look at the mechanisms guiding the circuitry that connects the left and right hemispheres of the brain.
Related Events