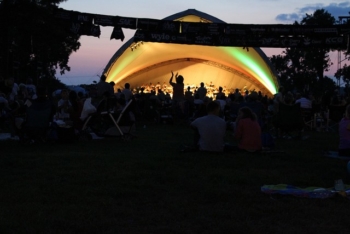 Updated 2018 Concert Dates
The 19th annual River Concert Series runs from June 23 – July 21. Concerts are free and open to the public, beginning at 7 p.m. on Townhouse Green. Vendors for food and drink are on site. Grounds open at 5 p.m. Concerts feature the Chesapeake Orchestra directed by Jeffrey Silberschlag.
June 22: Music of Hidden Dissent and Unbridled Hope
Piano Soloist: Marika Bournaki
Serenade for Strings by P. Tchaikovsky
Proclamation by E. Bloch
Concerto for piano with trumpet by D. Shostakovich
Other work TBA
June 29: An Evening of Americana for Our Independence Holiday (Fireworks)
Kelly Balmaceda, soprano
Star and Stripes by Sousa
American Salute  by Gould
Sound of Music by Rogers/Bennett
America by Irving Berlin
Burt Bacharach Medley by Burt Bacharach
Simple Song No. 3 by David Lang
Just – from The Song of Songs
Piece  TBA
1812 Overture by P. Tchaikovsky
July 6: The GLORIA of Singing
Musical program to be announced in late Spring 2018.