Saturday, April 8, 2017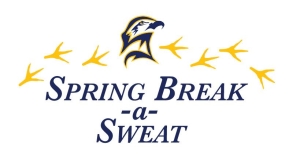 Spring Break-a-Sweat is the time of year for our fall and winter sports alumni to dust off their old gear, grab a water bottle, and return to St. Mary's to relive those glory days.  All alumni are invited to attend, but our alumni athletes from soccer, basketball, field hockey, and volleyball are especially encouraged to return for their reunion games.  Even if you don't plan on participating, we hope you will come to support those who do!
Following the reunion games, a hospitality tent is open next to Seahawk Stadium for you to gather with old friends and cheer on the women's lacrosse team as they take on a conference rival.  Food and beverages from local vendors are available for purchase throughout the afternoon.
New for 2017!
Grab your business cards and join Dr. Elizabeth Osborn's class of young entrepreneurs for a casual student and alumni networking reception entitled, 'Hawks Helping Hawks.' Help current students strengthen their networking skills and make connections that could jump-start their postgraduate careers.
Whether you're actively recruiting for your organization or just wish to share what you've discovered on your own path to professional success, we encourage you to attend. All alumni who attend will receive a free drink ticket to redeem at the hospitality tent later in the day!