Black Films Matter: The L.A. Rebellion
September – October 2016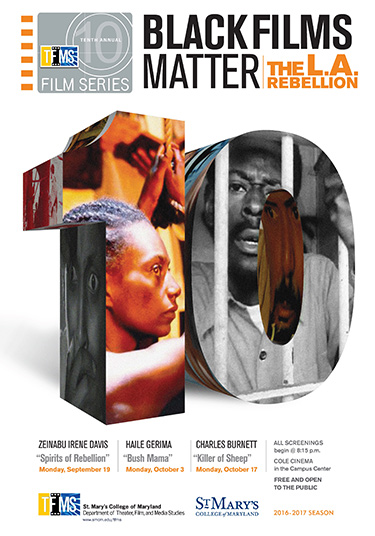 The recent publication of L.A. Rebellion: Creating a New Black Cinema (2015) – the first book dedicated to the L.A. Rebellion, a movement of Black independent filmmakers that emerged out of southern California in the 1970s – has reinvigorated discussion about a critical moment in minoritarian filmmaking in the U.S. Also known as the Los Angeles School of Black Filmmakers (or L.A. Filmmakers, for short), the L.A. Rebellion constituted a new generation of African, Caribbean, and African American independent filmmakers, including Charles Burnett, Julie Dash, Haile Gerima, Jamaa Fanaka, Zeinabu irene Davis, and Barbara McCullough, to name only a handful, all of whom trained at the UCLA film school.
The fall 2016 series featured work of three L.A. Rebellion filmmakers: Zeinabu irene Davis (Spirits of Rebellion), Haile Gerima (Bush Mama), and Charles Burnett (Killer of Sheep). The last two pictures are seminal, celebrated films of the movement, both about the Black urban experience in the Watts neighborhood of south Los Angeles. Davis's Spirits of Rebellion is the first documentary on the L.A. Rebellion and the artists, including herself, associated with the movement.
The L.A. Filmmakers sought to create a new cinematic language that spoke to and for urban working-class Blacks through works of social engagement and critique. They eschewed the industrial processes of the "Hollywood machine" and the orthodoxies of conventional filmmaking practices. And they did so at a time when the industry began producing Hollywood blockbusters (The Towering Inferno, Jaws, Star Wars) and its studio bosses were seducing Black audiences with sensationalized Blaxploitation films, like Shaft, Foxy Brown, Coffy, and Blacula. The L.A. Rebellion succeeded where white Hollywood and Blaxploitation did not: in representing Black life from an "insider," or Black, perspective, something that was conspicuously absent from the mainstream movie screen at the time.