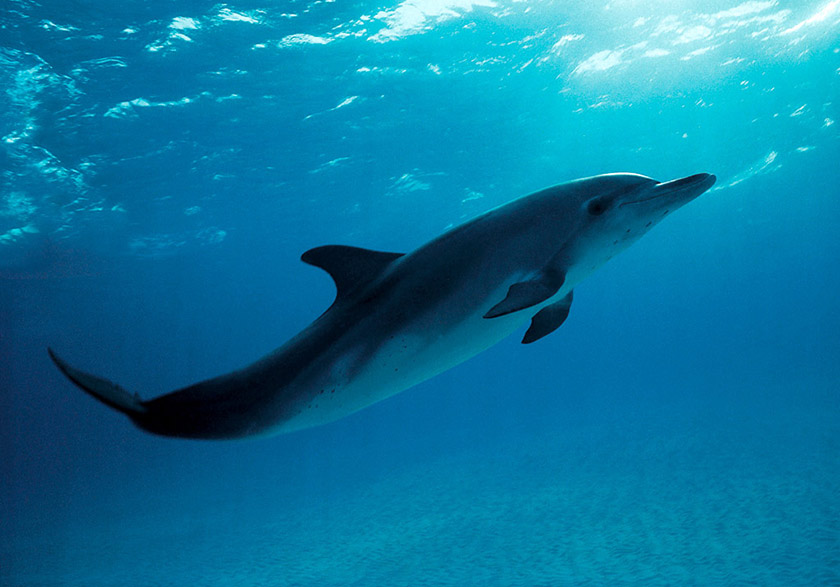 Pre-Requisites
Minimum GPA: 2.50
Judicial Check
Minimum of a C- or better in Psych 101 or C or better in Biol 105/106
Must pass the swim test
Interview with the trip leader(s)
Highlights
Daily surveys to look for and observe the behavior of wild dolphins
A sharks and rays excursion
Learn and apply skills in a field research setting
Study Abroad Budget
Deadlines
February 1st – IE application
February 7th – 1st payment of $850
March 1st – 2nd payment of $1,400
April 1st – remaining balance
About the Program
The Field Site & Student Participation: The Bahamian wild dolphin population is very acclimated to humans, allowing for the unique opportunity to observe and record animals underwater in their natural habitat. Students will learn field research methods and assist in data collection in the Bahamas, helping researchers study the underwater interactions and concurrent vocalizations of bottlenose and spotted dolphins. Observations are made underwater while snorkeling and from the boat. Participants must know how to swim and snorkel, but no other special skills are needed. Daily tasks include recording underwater observations, photographing and identifying individual dolphins, gathering data while in the water, recording environmental data while above water, keeping records of dolphin sightings, entering data, and analyzing photos for identification. Additional snorkel times will be used to observe the behavior of coral reef fish, invertebrates, sharks, and rays.
Students will learn principles of animal behavior and apply these principles to observational studies of marine mammals. This field course provides students with a unique opportunity to gain research experience in animal behavior field work by participating in a long-term study of the vocalizations and behavior of wild dolphins.
Daily Schedule
A typical day out at the research site will include a morning and evening lecture, morning photo ID work and data entry, and an afternoon boat trip. Weather permitting, we will have 9 boat trips during the field course during which we will survey for wild dolphins and occasionally stop to snorkel at local snorkeling sites.
This will be a four credit field course. Coursework includes one three-hour lecture prior to the trip commencement, daily morning and evening lectures, two exams, a research proposal, and observation logs. The research proposal will be due two weeks after our return to the U.S.
Credits Offered
PSYC 315: Field Studies in Animal Behavior (4 credits)
BIOL 380: Topics in Biology with Lab (4 credits)
Faculty Leader
Daisy Kaplan, jdkaplan@smcm.edu
Important Links
How credits taken abroad will transfer back to SMCM.
The academic and judicial requirements for any student considering studying abroad.
How financial aid will apply towards your study abroad program and what scholarships are available.
Payment processes for semester-long, short-term, and non-SMCM study abroad programs.
(Please note your username is your SMCM username minus the @smcm.edu (ex. arreinig) and your password is the same password you use for the Portal and SMCM Gmail.)