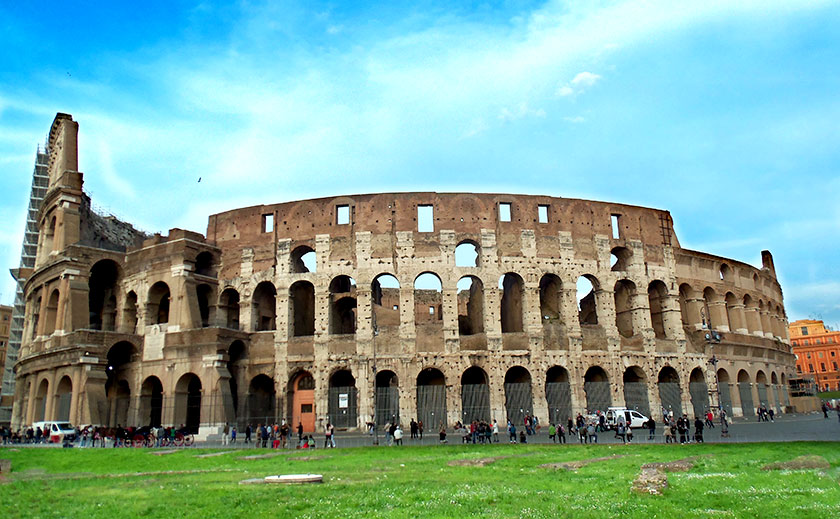 Pre-Requisites
Minimum GPA: 2.5
Judicial Check
Dates
Fall 2020: August 31st-December 18th

SMCM Application Deadline: March 15th
Arcadia Application Deadline: April 20th
Highlights
All Arcadia in Rome courses off an off-the-beaten track excursion
Learn Italian in The Eternal City
Live and study within walking distance from the Colosseum and the Roman Forum
Course List
Study Abroad Budget
About the Program
SMCM-Arcadia in Rome offers SMCM students the opportunity to combine academic learning inside the classroom with experiential learning on the streets of Rome, the Eternal City.  Although all students will take Italian language, prior language study is not required as most other courses are offered in English.
The Arcadia Rome Center was established in direct collaboration with one of Rome's most dynamic and innovative universities, Università degli Studi Roma Tre. American students will have the unique opportunity to interact directly with the university and general community.
On the SMCM-Arcadia in Rome program, you learn beyond the classroom: While listening to the music of street performers, trying to identify the ancient customs you see being played out in your local community, tasting Italian and Roman cuisine, experiencing European and Italian nightlife and so much more.   You don't just visit a landmark or tour the city – you engage with the culture of the place; its people, its environment and its traditions and you become part of it.
Location
Known as the Eternal City, Rome is the capital of Italy and is home to 2.9 million residents.  One of the oldest continuously occupied cities in Europe, it's history spans more than two and a half thousand years and it is regarded as one of the birthplaces of western civilization.
Rome is a global city and its historic center is listed as a World Heritage Site. Students will enjoy the eclectic culture of a busy cosmopolitan city that reveres its past while taking in sites such as the Colosseum, the Pantheon, the Vatican Museums, the Roman Forum, and so much more.
Academics
SMCM students will take two required courses while in Rome: one 4-credit course in Italian Language and one 3-credit core course.  You then have the opportunity to choose two or three additional elective courses.  All courses are taught in classrooms of Università degli Studi Roma Tre, and many will have both Arcadia and other university students taking them.
The core course, At Home in Rome, offers an in-depth look at Rome today.  You'll come to know every corner of this incredible city; not just the well-known spots.  It touches on urban planning and architecture, social economics and human geography, and history and sociology.
You will be placed into an Italian Language course based on your proficiency with the language: beginner, intermediate or advanced.  You will find your proficiency in Italian language will improve daily as you interact with the people, sites and treasures that you are learning about in the classroom.
Elective courses are offered in a variety of disciplines, ranging from art and archaeology to political science, history, theater, culture, and more.  All Arcadia in Rome courses include an off-the-beaten-track excursion such as a writing retreat in a Medieval castle, living in an ancient trullo while studying sustainability, or touring the L'Aquila earthquake site.
Students also have the opportunity to earn a Co-Curricular Learning Certificate by choosing or creating a theme while on their program in Italy and reflecting on their experience as it relates to this theme.  This is an amazing resume skill builder as well as something that gets students more involved in Italian culture.
Housing and Meals
In Rome, SMCM students will live with other Arcadia students in furnished apartments concentrated in the neighborhoods around Roma Tre.  All apartments are within a 10-20 minute walk to campus and typically house between four and six students in shared bedrooms.  You will also have access to Rome's extensive public transportation system which includes the metro, buses and commuter rail lines.
Properties are from varying eras of the Roman landscape, so no two apartments will be exactly alike.  Bedding and towels are provided along with WiFi access.  Some landlords may even provide additional amenities, including laundry facilities, dishwashers and televisions, but these items should not be expected.
These apartments allow students to live alongside typical Italian families and experience everyday life as a Roman.  Like your neighbors, you will do your shopping at nearby markets and stores, and will be able to prepare your own meals in your kitchen.  Meal plans are not provided.  Part of the Italian experience is learning to shop at the various bakeries, butcher shops, fruit stands, etc. to be able to create your own meals.
There are also a wide variety of cafes and restaurants in and around your neighborhoods, but students may find that traditional meal times in Rome vary slightly from what they are accustomed to.  Lunch is typically served between 1 and 3 pm, while dinner may not be available until 8 pm or later.  Many students find that it is a good idea to plan and pack snacks to carry with them throughout the day.
Student Life
Upon arrival in Rome, you will be met by the resident director who will introduce you to your new home and provide you with a comprehensive orientation program.  During your first week, you will move into your housing accommodations, and participate in the on-site orientation.  Orientation will include information on academic contracts, behavioral expectations, cultural differences, internet access, cell phones, banking, health and safety, rules of conduct, housing issues and emergency contact information.
While living in Rome, you will most certainly find that food is an integral part of the culture in Rome, with dishes that are full of flavour and reflective of old Roman traditions.  Food establishments flourish in Rome, with pizzerias, family-run trattorias and trendy restaurants. Cooking classes are offered as excursion during the course of the semester.
Although you will likely find yourself walking quite a bit during your time abroad, Rome also has excellent public transportation options.  Buses and taxis travel throughout the city, along with a subway for which you can purchase single use or day passes.
Arcadia offers a wide variety of programming and excursions throughout the semester in addition to the activities that may take place as a part of a student's courses.  During the week students may be able to take part in tandem language exchanges, ballets, or film festivals.  On the weekends or breaks Arcadia offers optional excursions that students may elect to participate in.
Important Links
How credits taken abroad will transfer back to SMCM.
The academic and judicial requirements for any student considering studying abroad.
How financial aid will apply towards your study abroad program and what scholarships are available.
Payment processes for semester-long, short-term, and non-SMCM study abroad programs.