Continue Your Teacher Education at SMCM
Are you coming in with multiple AP and/or community college credits?
You may be able to earn your undergraduate and MAT degrees in only 4 years with our 3+1 Path. Or consider our traditional 4+1 Path, where you earn your undergraduate degree in 4 years and your MAT degree in a fifth year at SMCM.
Teacher Academy of Maryland (TAM)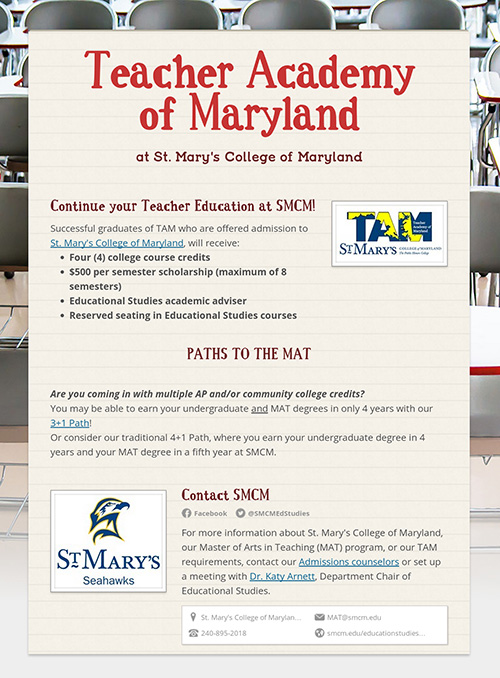 The Teacher Academy of Maryland (TAM) is a Career and Technology Education (CTE) program of study that seeks to address the persistent teacher shortage challenge by creating a pipeline of teacher candidates from grades 6-12.
Middle and high school students who are interested in careers in education enter the pipeline via the Future Educators Association (FEA) and maintain active membership in the FEA throughout their high school experiences.
TAM courses give students early exposure to the teaching profession. TAM students also have the potential to earn three college credits while still in high school provided they attend a higher education institution that awards such credits.
Successful Graduates of TAM Will Receive:
Four college course credits
$500 per semester scholarship (maximum of 8 semesters)
Educational Studies academic adviser
Reserved seating in Educational Studies courses
Program Requirements
High school students start the TAM program of study in tenth grade and complete a four-course sequence that ends in twelfth grade.
Must successfully graduate the program and be offered admission to St. Mary's College of Maryland.
TAM Program of Study Courses
Human Growth and Development through Adolescence
Teaching as a Profession
Foundations of Curriculum and Instruction
The Education Academy Internship
Request Information
For more information about St. Mary's College of Maryland, our Master of Arts in Teaching (MAT) program, or our TAM requirements, contact our Admissions counselors, or email mat@smcm.edu