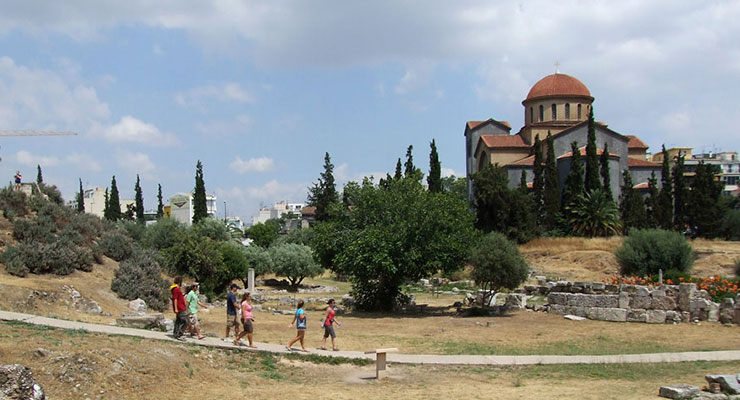 Greece Study Tour
Theme–Tyrants, Trials, and Triangles
Hist 393 or INTL 330 or PHIL 380: Four credits
St. Mary's College's Greece Study Tour offers participants an opportunity to gain knowledge of the layerings of history in this part of the world the influence of which so greatly outstrips its modest size.
The theme for this year's study tour will be "Tyrants, Trials, and Triangles," exploring the movement, gradual and imperfect though it was, from the whims and vengeance of early rulers (like in the time of the Trojan War, around 1200 BCE) to regularized systems of ruling and laws, culminating in the democracy (though still imperfect) of Athens in the Classical period.
This arc of change coincides—and is perhaps not merely coincidental—with the move from a larger world-view dominated by fickle gods to one of orderly scientific laws and mathematical regularities.
This exploration will take the form of readings such as Aeschylus, Euripides, Thucydides, Plato, Paul, Marcus Aurelius, and Pythagoras and some of the other early Greek naturalists and mathematicians. We will be visiting some sites relevant to our readings, such as: the Mycenaean palace, where Clytemnestra is said to have killed her returning husband Agamemnon; the jail cell where Socrates drank his cup of hemlock; the Greek island of Samos, where Pythagoras was born (remember that theorem?); and the Turkish towns of Ephesus, Miletus, and Didyma—all crucial both to early scientific speculation and to the development of Christianity. (And very popular with cruise ships from the U.S., U.K., and Italy.)
The range of these historical developments will be the focus of this memorably situated course.
About the Trip
A study tour is not simply an off-campus course. Not only do we get to see sites, structures, and landscapes that directly relate to our readings, like those mentioned above, but we learn that our image of Greece must extend beyond silent, weather-worn limestone foundations and pages in literally inanimate books. Greece has lived and died many times, and now can be caught very much alive.
Greece, like the rest of southern Europe, gets its summer wind prevailing from the south. This means from the Sahara. It is hot, with summer temperatures in the 90's, and in a heat spell, the 100's. Summer rains are rare, and summer humidity a mere story (myth?) Greeks have heard about. Accordingly, Greeks take seriously the siesta time, which extends from about 1:00 to about 5:00 every afternoon. (The fact that precision is not possible here is part of the charm, and sometimes the frustration, of the land.) Hence, they start their days early, and extend them late. The Greeks consider anything eaten before 9:00 p.m. to be a pre-dinner appetizer!
Napping, however, is but one option for siesta. It is also good time for swimming at an area beach, for catching up on some reading or writing, for strolling to one of the occasional shops or cafe that does not close for siesta. However, this is a credit-bearing academic course. Those interested in three weeks of Greek beaches, punctuated only by gift shopping and evenings in the cafe, are likewise advised that this study tour is not for them.
Typical Schedule
So a typical day might look like this:
7:00 Breakfast in hotel restaurant (provided)
8:00 Depart (by foot, by taxis, by bus) to the historical site or museum of the day
1:00 Break for lunch either all together or in small groups, after which people can relax, nap, read, write homework assignments, or go in small groups to a local beach
6:30 Meet at a pre-arranged location for a seminar
9:00 Dinner either all together or in small groups
11:00 In small groups, visit a café or stroll the village square
Accommodations
Our long-time Greek travel agents, the Coconni family at Educational Tours and Cruises, have arranged for us to stay in some memorable inns and hotels, all with standard amenities.