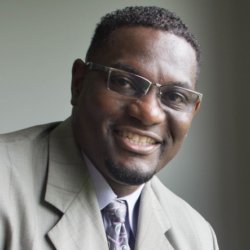 Ken Coopwood, Sr.,
Interim Associate Vice President of Diversity and Inclusion/Chief Diversity
Inclusion, Diversity, & Equity webpage»
Bio
Since 1989, Ken Coopwood, Sr.'s diversity service has included many leadership and civic roles, including senior-level positions at two Indiana public universities and one in Missouri. He currently leads Coopwood Progressive Workshops and Developments, LLC, in diversity education research and development productions; he also serves as vice president and senior consultant for DiversityWorks, Inc., and vice president for strategic diversity and infrastructure with Campus Climate Surveys, LLC. In addition, he is included on INSIGHT Into Diversity's Diversity Professional's Directory.
A diversity educator and trainer since 1992, Coopwood has conducted numerous presentations for the benefit of personal identity development, workplace innovation, and global atonement. Coopwood is a nationally known leader noted for hosting a variety of activities that fuse personal esteem with education and identity awareness. He was named the Society for Diversity's Member of the Year in 2014, appointment to the National Advisory Council for The Academic Network, and received a Diversity Visionary Award from INSIGHT into Diversity magazine in 2015.
From Indiana State University, Coopwood earned a bachelor's of science in Business Administration: Finance, Marketing and Management; a master's degree in Public Administration: Federal Policy Administration; and a Ph.D. in Educational Administration, Leadership, and Foundations.