Environmental Health & Safety Coordinator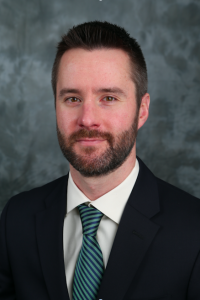 Thomas Brewer
Office of Planning and Facilities
Thomas is an alumnus of St. Mary's (Class of 2005) and earned a Doctor of Pharmacy degree from University of Maryland.  Thomas has remained familiar with the St. Mary's community, serving as interim sustainability coordinator (2012-12) and also as a chemistry lab instructor.
Thomas will champion our Environmental Health and Safety programs on campus, seeking to maintain safe operations in the laboratories, safe work habits of our employees, and control of hazardous substances.  Thomas will also help propel the College's efforts to address climate change, reduce carbon consumption and waste, and enhance our campus environment by working with the Sustainability Council and directing our Sustainability Fellow and interns.
Contact: tbrewer@smcm.edu or by phone using ext. 3059
Calvert Hall B-14
Sustainability Fellow, 2018 – 19
Kaitlin Aaby
Biology & Environmental Studies Double Major | Class of 2018
Kaitlin spent her senior year interning for the Office of Sustainability. She also served as president of the Sustainability Club and worked on the Sustainability Council. Kaitlin's internship projects included hosting a series of Sustainable Living Workshops and spearheading restoration initiatives for the Healing Garden.
Kaitlin loves living by the water and enjoys a good burrito supreme from Taco Bell (with rice and beans instead of meat!). She aspires to be a fisheries biologist so that she can protect the health of the Chesapeake Bay and spend most of her days on a boat.
Contact Kaitlin: sustainability@smcm.edu
Or by phone ext. 2093
Calvert Hall B-13
Sustainability Interns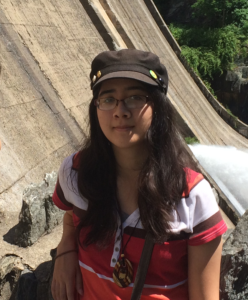 Mindy Grant
English & Environmental Studies Double Major | Class of 2019
Mindy has been working on reducing SMCM's food waste and on increasing student awareness of sustainable life choices. She started the Sustainable Life Workshop Series and introduced the new compost program in the Great Room. She also participates in the annual Weigh the Waste campaign. In her spare time, Mindy enjoys volunteering at the Campus Farm and with the Food Recovery Network. She is currently employed with the Community Development Corporation in Lexington Park and is considering a career in environmental planning.
Contact Mindy: msgrant@smcm.edu
Meghan Petenbrink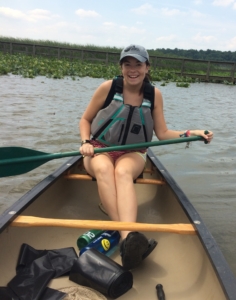 Environmental Studies Major, Educational Studies Minor | Class of 2019
Meghan is the Office's newest intern, but just as passionate as her co-workers about the environment. She has been working on various projects around campus in an effort to reach as many people as possible.  She enjoys being outdoors and volunteering when she can. Meghan is currently working to make the St. Mary's Campus more pollinator-friendly by designing native, flowering garden spaces to be planted across campus. She wants to be an environmental educator in the future and hopes to inspire younger generations to live sustainably.
Contact Meghan: mnpetenbrink@smcm.edu
Cy Tyson-Brown
Environmental Studies Major, Asian Studies Minor Ι Class 2019
Cy started his internship in Spring 2019. Cy is helping to reorganize the Office of Sustainability and has helped with projects and events such as the Polar Bear Plunge, Arboretum, and Sustainable Life Workshops. He loves to travel and be outdoors, especially in the western US. For his SMP, he is writing about microplastics and where they are sourced from.
Contact Cy: sctysonbrown@smcm.edu
Arboretum Intern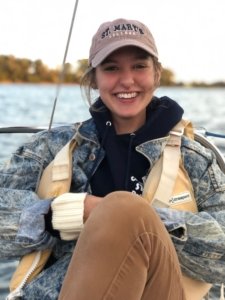 Samantha (Sam) Berenschot-Bucciero
Environmental Studies Major, Spanish and Music Minors | Class of 2019
"I have a passion for the natural environment and I was lucky enough to get the position as Arboretum Intern under the Office of Sustainability. In my year-long position, I worked to rebuild the Arboretum from the ground up, alongside the best team a girl could ask for. It will be bittersweet to graduate in May 2019 but there is no better experience to look back on than a year-long experience among the trees! Feel free to sign up for the St. Mary's Arboretum Association and receive updates and newsletters from your campus arboretum."
Contact Sam: sberenschotbucciero@smcm.edu