About the Performances
Dracula: A Feminist Revenge Fantasy │ November 1-5, 2023
By Kate Hamill
Directed by Dr. Amy Steiger
"There are monsters in this world, Mina.
Somebody has to stand against them." – Van Helsing
In Kate Hamill's frightening and darkly comic new take on Bram Stoker's 19th Century novel, however, "the monsters look just like us." How, then, do people on the side of good fight for their loved ones in a dark world where charming predators are lurking around every corner? Who will drive a stake through the heart of patriarchy? At times comical and campy, and deeply chilling, unsettling, and thought-provoking throughout, this bloody romp is a thrilling turn on the story of Dracula as it's been told in the past.
Take note: this is a horror show. It contains total darkness, jump scares, staged violence of all kinds, lots of blood, emotional and physical abuse, non-consensual physical contact, misogyny, murder, and implied suicide. It also comments on and invites critique of those things, but potential audiences who are sensitive to any of the above should be aware that the play might be upsetting. Rest assured: we have worked with a fight and intimacy choreographer whose priority is always the actors' safety and full consent.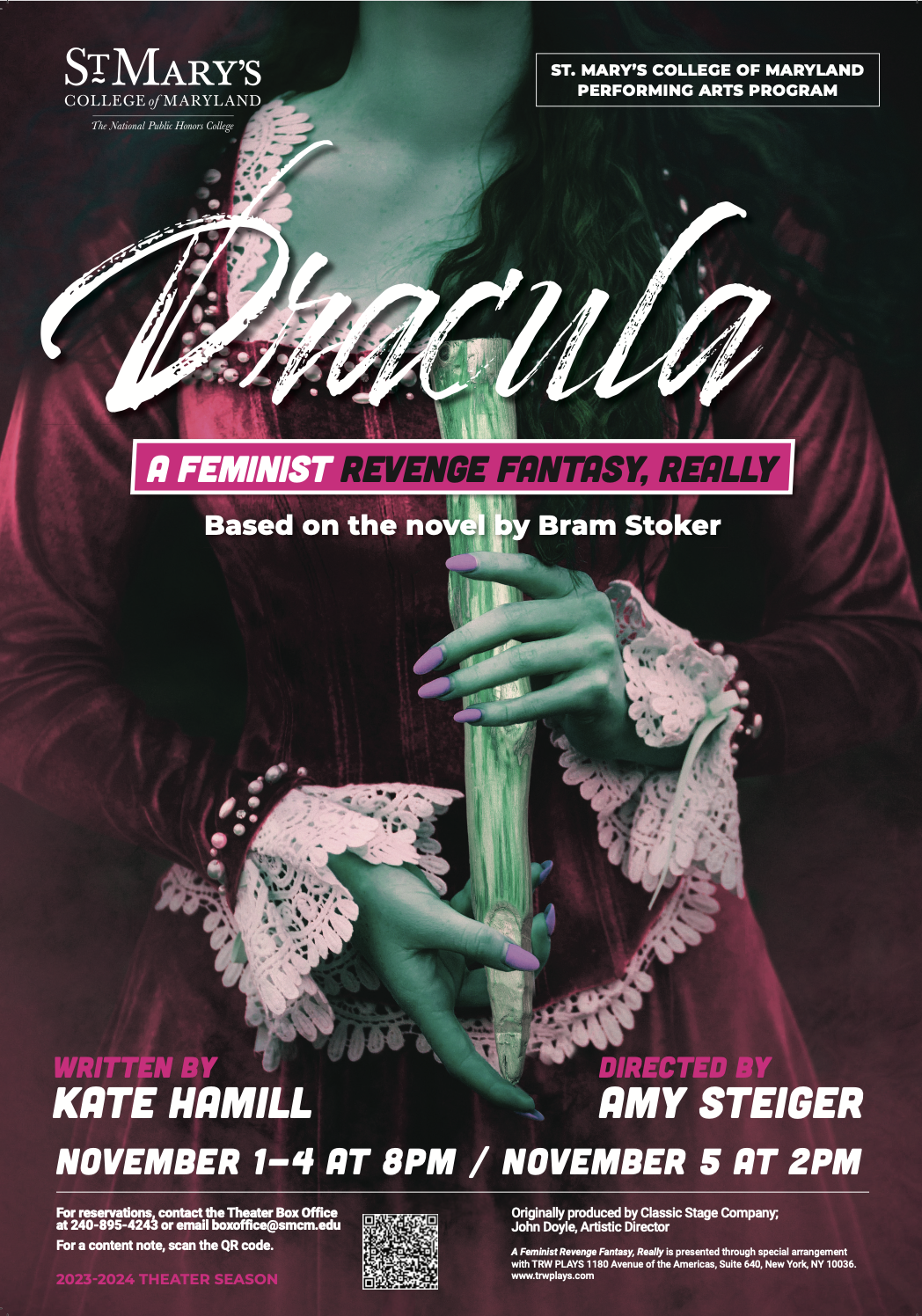 Student-created Community Based Performance on LGBTQIA+ communities in Southern Maryland. │ Feb 28-March 3, 2024
Community based theater is performance created in, with, by, for and about particular local communities in the interest of generating conversations and helping explore issues of interest to those groups. This piece will be created by students in a Fall 2023 course on "Devising a Community Based Play" in collaboration with LGBTQIA+ communities and PFLAG of Southern Maryland. How does the area surrounding St. Mary's College of Maryland fit into narratives about communities and people in rural areas who use the term "queer" to identify and empower themselves? What has been the experience of LGBTQIA+ people who have made their long-term homes in this region? This project will include story circles and community gatherings in Fall 2023. Be on the lookout for those events!
Everybody | April 24-28, 2024
By Branden Jacobs-Jenkins
Directed by Diego Villada
In this 2018 Pulitzer Prize finalist, Branden Jacobs Jenkins (author of An Octoroon, Appropriate, and The Comeuppance) re-imagines the medieval morality play Everyman. Everybody is summoned by Death and must take a journey at the end of which God expects to see a presentation on how Everybody has lived, and why they made the choices they did. Assigned characters by lottery at the beginning of the play, all the other Somebodies have to decide whether or not they'll accompany Everybody on the road to what is most likely their demise. Who will be Everybody's companion on this most profound – and hilarious – journey of reflection on the meaning of life and morality? Stuff? Friendship? Strength? Beauty? Time? Love? … You?