All exhibitions and events are free and open to the public.
Gallery Hours:
Tue – Fri 1-6pm
Sat 11-4pm
Also by appointment for class visits
For more information, contact us at (240) 895-4246 or boydengallery@smcm.edu. Boyden Gallery is located on the 2nd floor of Montgomery Hall at St. Mary's College of Maryland.
Spring 2018 Exhibitions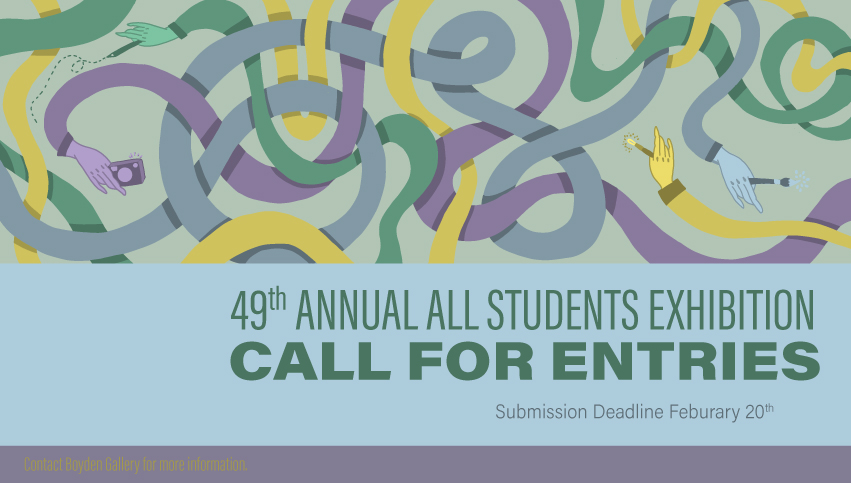 CALL FOR ENTRIES
49th Annual All Student Exhibition
Submission deadline: Feb. 20th at 5 pm.
The All Student Art Exhibition is an annual celebration of student creativity and accomplishment in the visual arts. Each year, an outside juror selects artwork for the exhibition that best represents the quality and diversity of student creative work. Boyden Gallery invites and encourages all SMCM students, regardless of year or major (Fall 2017 graduates and continuing education students included) to participate. It doesn't matter if your work was inspired by a class assignment or a library daydream, as long as you made it, submit it! We are especially interested in representing a wide variety of ideas, techniques, and approaches to visual art.
Please read the complete exhibition guidelines » before submitting.
Submission deadline is Tuesday, February 20th at 5 pm. Submit today ».
Fall 2017 Exhibitions
Fall 2017 Exhibitions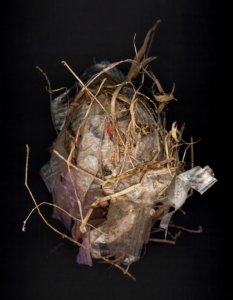 Boyden Art Gallery Presents 'Living on the Land, Vol. 2' Exhibition
Sept. 6-Nov. 12, 2017
St. Mary's City, MD—Guest Curator and SMCM alum Jayme McLellan offers an exhibition presenting diverse perspectives on the relationship to the land on which humans live for the exhibit "Living on the Land, Vol. 2," September 6 through November 12 at Boyden Gallery in Montgomery Hall, St. Mary's College of Maryland.
Artists include Colby Caldwell, Margo Elsayd, Eve Hennessa, Peter Garfield, Noelle Tan and Curtis Woody. The artists work in a variety of media, including black-and-white and color photography, site-specific installation, sculpture, painting and more. Their works consider the cyclical nature of life and death, obligations of humankind to connect, heal and grow thoughtful and engaged communities, and power disparities in contemporary culture, including the legacy of slavery on the Eastern Shore.
Their projects also explore the remnants of stories and traces of history left behind in objects, ideas and situations, as well as a shared obligation to protect the environment and heal the land.
Boyden Gallery will host two related events, free and open to the public: a gallery talk with McLellan, founder of Civilian Art Projects and cofounder of Transformer in Washington, D.C., is scheduled for October 16th from 4:45-5:45 p.m.  Additionally, photographer Colby Caldwell will give an artist talk on Monday, October 23rd from 4:45-5:45 (Caldwell will be in residence at St. Mary's Artist House between October 19-25).
Admission to "Living on the Land, Vol. 2" is free and the public is invited. Tues-Fri 1-6, Sat. 11-4, and during special College events.
Schedule of Events
There are no upcoming Boyden-gallery events