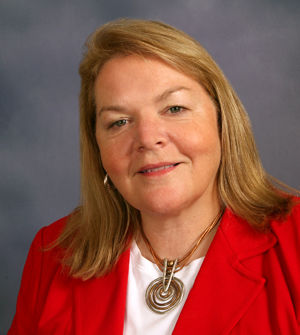 Senior Vice President, Retired
Booz Allen Hamilton
Tall Timbers, MD
Cindy Broyles retired from Booz Allen Hamilton as a Senior Vice President. During her career she led large business segments and multidisciplinary teams in support of major defense acquisition and operational support programs.   Within the firm, Cindy was the Women's Leadership Initiative (WLI) champion focusing on development of strategies for the Firm for advancement of women at Booz Allen.
Broyles was appointed to the Board of Trustees in 2007 and served on the Alumni Council from 2004-2006. She has volunteered for many alumni activities including the Bookbag to Briefcase transition seminar, career service programs, admissions events, Governor's Cup and Reunion weekend.  Broyles has also helped attract distinguished speakers to the College's Center for Democracy, including the former director of the CIA and the director of National Intelligence. While at St. Mary's, Broyles was an active member of the newly created women's lacrosse club. She continues to be a strong supporter for the women's lacrosse program today. 
Broyles earned an MS degree in systems management and a Certificate in Management Information Systems from the University of Southern California (1989), and holds a B.A. in Social Science from St. Mary's College of Maryland (1979). In addition, she completed a Harvard University, John F. Kennedy School of Government Senior Executive Program in National and International Security (2005).
Why I am a trustee:
To give back to the institution that was a pivotal part of preparing me for life.
Graduated from (and year):
St. Mary's College of Maryland,  B.A. (1979)
University of Southern California, M.S. (1989)
Profession:
Senior vice president, Booz Allen Hamilton
When I was in college I studied:
Social Science, a broad mix of sociology, social psychology, and economics
Today I wish I had studied:
Biology and math ( I started in biology and the sciences, then switched to the social sciences)
Favorite book:
Too many to pick one – Silent Spring by Rachel Carson, The Girl who Kicked the Hornet's Nest by Stieg Larsson and Outliers, The Story of Success by Malcolm Gladwell
Favorite film:
Groundhog Day
Favorite cuisine:
French
Role model:
Many in every dimension of my life
Education/Career Advice for Students:
Education advice: Take advantage of the full opportunities you have while in college. Push yourself beyond the easy, do things that challenge you, strengthen and excel in writing (it has become a lost art in the work world), learn something fun and different outside your major, and develop fun life skills (sail, golf, run, sports, art, science, gardening). If you want to be a step ahead, take advantage of job preparation skills and courses.
Career advice: It's a full-time job looking for a job.  Be progressive, creative, and work at it every day. Once you land the first job, remember a career is a marathon.  Use every position as a building block to get to your goals. Get mentoring, take charge of your career, and don't wait for others to take charge or manage your career for you.