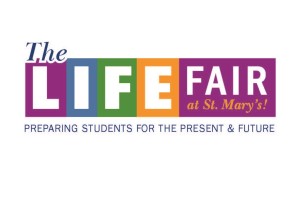 Build up your resume by attending the LIFE Fair at St. Mary's! The LIFE Fair is structured as a traditional Career Fair and brings together organizations who can provide real life experience in the form of internships, research, volunteer and service opportunities and jobs.
This is an excellent opportunity to meet with recruiters and identify prospective internships, volunteer experiences, and job opportunities. The LIFE Fair is a great free networking opportunity for students.
For more information please stop by the Career Development Center or call 240-895-4203.
Date: Wednesday, February 11th, 2014 from 4:00pm – 6:00pm
Location: The Michael P. O'Brien Athletics & Recreation Center Arena (The ARC)