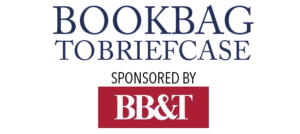 Bookbag to Briefcase Sponsored by BB&T is evolving from previous years to include many new and exciting opportunities for students. The program includes a lecture series with professional presentations and interactive workshops, off campus career exploration trips and networking opportunities in order to prepare students for life after St. Mary's.












About the 2018 Lecture Series
Each month, students of all class years will have the opportunity to connect students with industry experts for small group lectures on a wide variety of professional development topics throughout the fall and spring semesters.  Topics vary but include financial literacy to workplace etiquette and beyond.  Some presentations may focus on specific student populations. Sample topics include:
Establishing Credit
Personal Budgeting
Understanding Insurance
Navigating the Federal Employment Application Process
Steps to a Successful 100 Days
Interview Prep
Being an Agent of Social Change in the Workplace
Fall 2017 Presentations are available at the bottom of the page
2018 Career Immersion Trip
Career Immersion Trips are career-oriented field trips where students will have the opportunity to travel as a group to a variety of sites. During these trips, students will learn how the various departments within various organizations work and the way they do business for their clients. Students will have a chance to learn about the industry, the organization, and hiring practices from professional staff.
January 2018 Networking Event
Students will spend the day engaging with members of the community and the St. Mary's Alumni Council in order to build new skills that will encourage their professional growth.
To see a schedule of events, click here.
Fall 2017 Lectures
Financial Literacy from BB&T Bank Representatives
Leveraging Your Liberal Arts Degree in the Workplace
Networking & Office Politics