St. Mary's College will monitor several key COVID-19 indicators that may impact the College environment. They will inform our decision-making regarding, if necessary, the College's transition to a fully remote teaching and learning experience for the 2020-2021 academic year. These indicators include the College community's positivity rate within a single day for four consecutive days and overall for two consecutive weeks, absentee rates among the on-campus College community, College quarantine/isolation capacity, and county and state health data and conditions.
When positive cases are identified, the health department in conjunction with the College's Wellness Center will begin the contact tracing process and any individuals who are close contacts will be notified directly so that testing can be arranged. Only individuals who have been exposed as part of the contact tracing process will be notified.
Remember to continue with risk mitigation practices including social distancing and using face coverings because a certain level of risk exists in any public setting.
Updated Recommendations
To help reduce the spread of COVID-19 on campus we utilize various methods to help keep our community safe. Mask wearing, social distancing, daily assessment of symptoms, and cleaning protocols all reduce the chance that the virus can spread.
If someone in our community has COVID-19 the Wellness Center, along with the St. Mary's County Health Department, interviews the person to identify anyone who may have been exposed to the virus. We are looking for people who were in close contact with the person with COVID-19. The Centers for Disease Control and Prevention (CDC) had recently updated the definition of close contact to reflect the newest knowledge about how the COVID-19 virus may be spread.
The definition of close contact is someone who was within 6 feet of an infected person for a cumulative total of 15 minutes or more over a 24-hour period starting from 2 days before illness onset of symptoms or before a positive test. The important change in this new definition is that the contact does not have to be 15 minutes at one time. Several shorter close contacts are now known to be risky, even if you were wearing a mask.
To keep yourself and our community as safe as possible please consider this new definition of close contact to ensure you are as safe as possible. Social distancing is important and there is no period of time you can be in close contact with a person who has COVID-19 and be safe from the virus.
If you have any questions about your health or COVID-19 please contact the Wellness Center at 240-895-4289.
COVID-19 Dashboard
St. Mary's College of Maryland is committed to sharing real-time data indicating the number of known cases of COVID-19 within our community. These data will be updated daily.
*Refresh the page for latest data, or if data appears absent
On Campus
Active Cases as of
01/19/2021
Positive cases determined by SMCM Administered test, self reporting, and contact tracing reports of individuals who have physically been on SMCM campus within the past 14 days
Tests Administered Total
636
Last updated on 01/19/2021
COVID-19 Tests Administered by SMCM staff on the SMCM campus.
Known On-Campus Quarantine
QUARANTINE is for individuals who have not tested positive and are waiting to see if they develop infection or are waiting for test results.
Determined by SMCM directive and self reporting of individuals who have physically been on the SMCM campus within the past 14 days.
ISOLATION is for individuals who have tested positive, or are symptomatic and declined testing. SMCM has 22 isolation beds.
Those who have tested positive for COVID-19 or are pending test results while displaying severe symptoms.
Non-Active Cases as of
01/19/2021
48
Last updated on 01/19/2021
Known SMCM cases determined by SMCM administered test, self reporting, and contact tracing reports of individuals that were on the SMCM campus. These individuals have passed the 7-10 day isolation period and have been determined to be "recovered".
Notes
1/13/2021 – The "Active" period was changed from 14-days to 10-days, based on updated information and to parallel St. Mary's County Health Department procedures. Additionally, the Health Department has changed quarantine to 7 days after receiving a negative COVID-19 test. On-campus quarantine will be 7-10 days based on updated information and to parallel St. Mary's County Health Department procedures.
11/16/20 – Today we have an increased number of positive cases in our campus community. Some of the cases are in on-campus isolation and other cases are isolating off campus. The large number of people in quarantine shows our conservative approach to the health of our community. Please follow campus guidelines, maintain social distance, and use the SMCM Symptom Tracker daily to help our community be as safe as possible.
11/13/20 – The relatively large increase in the number of individuals quarantined is due to the desire to be overly cautious and vigilant in keeping our community safe. Some of the individuals we have asked to quarantine may not necessarily meet the CDC guidelines for direct contact to someone who tested positive for COVID-19.
10/19/20 – One person moved off the quarantine list.
10/13/20 – No major changes. Reduced quarantine by 1 person.
10/12/20 – No significant changes in numbers for today. No new cases from the surveillance testing.
10/9/20 – Today the number of tests administered increased significantly because 38 people were tested for the Surveillance Testing yesterday.
10/7/20 – "Non-Active Cases for Week of" revised to "Non-Active Cases as of" for clarity.
10/5/20 – Today we had several people complete quarantine. No new cases were reported.
10/2/20 – Quarantine is reduced by 1 person today. No other changes.
9/30/20 – There are no changes for today for the dashboard.
9/29/20 – Today we hit 0 active cases on campus. We have the results of the surveillance testing from last week – all people were negative.
9/25/20 – Today our number of tests completed at the Wellness Center increased a large amount. That is due to beginning our community surveillance testing.
9/23/20 – Updated how we display Isolation Bed stats based on feedback from the community.
In St. Mary's County
Visit the St. Mary's County Health Department COVID-19 Data Dashboard to learn more.
SMCM Reopening: The St. Mary's Way
St. Mary's College of Maryland continues to monitor the latest information related to the coronavirus (COVID-19) released by the Centers for Disease Control and Prevention (CDC) and continues to take appropriate action as needed.
For the most accurate and up to date policies, please visit our website: SMCM Reopening: The St. Mary's Way
Additional Information
Additional information about coronavirus, including signs and symptoms, transmission and risk of exposure, what to do if you are exhibiting symptoms, and continuing updates about the disease are available at:
The US Centers for Disease Control and Prevention
World Health Organization
Maryland Department of Health
Travel information related to Coronavirus
COVID-19 NHDHHS: Frequently Asked Questions
CDC – Know the facts about coronavirus disease 2019 (COVID-19) and help stop the spread of rumors
Maryland Coronavirus (COVID-19) Rumor Control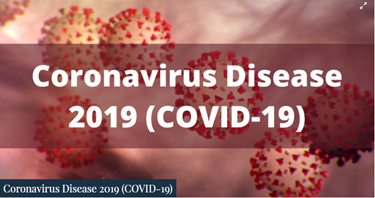 Family / Individual Assistance
"Find Help" National Resource Database: This website allows users to enter their zip code and will produce a comprehensive listing of available assistance in their local area as related to COVID-19. Once on the site, users are able to search for assistance from a variety of categories, to include food, housing, transit, health, education, and many others. The site is very user friendly and contains a comprehensive list of resources available to individuals and families impacted by COVID-19.
Unemployment Resources / Benefits: Laid off employees will qualify for unemployment benefits if the coronavirus (COVID-19) causes an employer to shut down operations or cut back on operations. Maryland unemployment benefits are available to individuals who are unemployed through no fault of their own if they meet the monetary criteria and the daily eligibility criteria.
The Arc is greatly concerned about the threat of COVID-19 to people with disabilities, their families, and the workforce that supports them. This website is a compilation of resources to help people with intellectual and /or developmental disabilities (I/DD), their families, and service providers to understand this global pandemic.
Business and Non-Profit Assistance
Maryland Department of Commerce Emergency Relief Fund Programs for Businesses provides resources for Maryland Small Businesses. For non-profits, for-profits, and manufacturing.
Disaster Relief Fund – The United States Small Business Administration will offer low interest loans to small businesses in designated states due to Coronavirus.
Layoff Aversion Fund is designed to support businesses undergoing economic stresses due to the pandemic by preventing or minimizing the duration of unemployment resulting from layoffs. The award (up to $50,000 per applicant), will be a quick deployable benefit and customizable to the specific needs of your business to minimize the need for layoffs.
Maryland COVID-19 information for business
Local COVID-19 Resources
Maryland
The Maryland Resources page offers a variety of information, FAQs, and updated news / guidance for Maryland residents.
Maryland Public School Meal Site: search database to find locations for free meal distributions near your home.
St. Mary's County
Food Pantries in St. Mary's County.
St. Mary's County Public School Online Instructional Resources
Calvert County
Food Pantries in Calvert County
Calvert County COVID-19 Resource Center (county government site).
Calvert County Public Schools Resource Center
Charles County
Food Pantries in Charles County
Charles County Resource COVID-19 Resource Center (county government site).
Charles County Public School Resource Center
Educational Resources and Activities for Children
US Department of Education Information and Resources for Schools and School personnel.
Scholastic Learn at Home program keeps the learning going with special cross-curricular journeys. Every day includes four separate learning experiences, each built around a thrilling, meaningful story or video. Kids can do them on their own, with their families, or with their teachers. Just find your grade level and let the learning begin!
PBS Kids offers a variety of free programs for students while schools are closed. Visit the site and pick the program that is right for your child.
Khan Academy is a free online educational platform that offers free content for students on a range of subjects, as well as specialized content from organizations like NASA, the MoMA and MIT. In response to the coronavirus, Kahn released free daily learning schedules with plenty of links to online resources for students from pre-K to twelfth grade to follow along with from home.
Urban U offering Free Online Gardening Classes – join Greg and The Urban Farm U team daily for free online classes. They are offering these classes for 30 days (or as long as needed) in response to the Coronavirus so that people worldwide can feel empowered to take control of our health and food supply. These free classes are Greg and his team's way of using their expertise to help productively mitigate stress and build virtual communities in this time of uncertainty and social distancing.
Moratoriums & Protections During COVID-19
Foreclosures and Evictions
The Federal Housing Administration (FHA) published Mortgagee Letter 2020-04, "Foreclosure and Eviction Moratorium in Connection with the Presidentially-Declared COVID-19 National Emergency," which announces an immediate foreclosure and eviction moratorium for all FHA-insured single family mortgages for a 60-day period.
Fannie Mae, Freddie Mac (the Enterprises) and the Federal Home Loan Banks are taking steps to help people who have been impacted by the coronavirus. If your ability to pay your mortgage is impacted, and your loan is owned by Fannie Mae or Freddie Mac, you may be eligible to delay making your monthly mortgage payments for a temporary period.
Utilities
Utility Service will not be suspended due to nonpayment during the COVID-19 crisis. Customers that had utilities suspended prior to March 13 are able to have utilities restored / reconnected. Late fees will be waived. Some individual companies have waived connection / reconnection fees as well (contact company directly to inquire).