St. Mary's College of Maryland continues to monitor the latest information related to the coronavirus (COVID-19) released by the Centers for Disease Control and Prevention (CDC) and continues to take appropriate action as needed.
To jump to a particular section on this page, click below:
Reopen SMCM Task Force
The charge for the taskforce is to oversee the development and implementation of policies and procedures that facilitate the re-opening of SMCM as a residential campus in Fall 2020 and are compliant with federal and state COVID-19 guidelines.
Subcommittees:
Community Health Subcommittee – Chair Leonard Brown, Vice President for Student Affairs. Charge: to develop specific policies and protocols to deliver appropriate health and counseling services to students, including the management of COVID-19 related illnesses, in a manner that limits the risk of spread across the community.
Quarantine and Contact Tracing Subcommittee – Chair Leonard Brown, Vice President for Student Affairs. Charge: to enhance current policies and protocols to effectively quarantine students on campus with COVID-19 symptoms and further develop a COVID-19 contact tracing process for students, faculty, staff, and others who may be on our campus.
On-Campus Housing and Occupancy Subcommittee – Chair Leonard Brown, Vice President for Student Affairs. Charge: to develop policies and protocols to house as many students as possible on campus in a manner that limits the risk of community spread of COVID-19.
Campus-wide Workforce Management Subcommittee – Chair Tayo Clyburn, Vice President for Inclusive Diversity and Equity. Charge: to propose strategies for building COVID-19 related capacity among faculty, staff, and student employees in order to prepare employees to support the college in its essential functions while complying with all required health and safety restrictions; to identify resources to provide PPEs to the workforce; to collaborate with legal counsel to determine liability-limitation standards.
Instruction/Learning Subcommittee – Chair Michael Wick, Provost. Charge: to develop scenarios for hybrid face-to-face and remote instruction & learning during the 2020-2021 academic year.
Athletics and Recreation Subcommittee – Chair Michael Wick, Provost. Charge: to develop protocols for student varsity and recreational sports competition as well as health and safety guidelines for athletes, coaches, and trainers.
Facilities Subcommittee – Chair Paul Pusecker, Vice President for Business and Finance. Charge: to develop and implement enhanced cleaning and disinfection protocols that support and maintain a safe, healthy institutional environment for students, staff, faculty, and visitors to the campus; to re-configure/stage public spaces that support physical distancing.
Dining Subcommittee – Chair Paul Pusecker, Vice President for Business and Finance. Charge: to provide a safe, healthy institutional food service environment for students, staff, faculty, and visitors to the campus that is compliant with physical distancing and all federal food service guidelines.
A broad-stroke framework for the fall semester will be announced by the middle of June.
Timeline
January
January 29
St. Mary's College begins monitoring the novel coronavirus and initiates communication and coordination with St. Mary's County Health Department and the St. Mary's County Department of Emergency Services to be included in planning and response for the county.
Canceled study abroad program at Fudan University, China, for the spring 2020 semester.
March
March 2
Study Abroad programs suspended in Italy for spring 2020.
March 6
College-supported out-of-state travel by students, faculty, or staff to locations within the United States that have declared coronavirus-related emergencies suspended.
College-supported international travel suspended indefinitely.
March 8
Housekeeping staff increase cleaning efforts to mitigate potential viral spread from contaminated surfaces. Germicidal wipes and hand sanitizer stations distributed throughout campus in common areas.
March 11
Face-to-face instruction in lectures, seminars, and other similar classroom settings suspended for two weeks beyond the conclusion of Spring Break. Online instruction to begin March 23.
Special COVID-19 web page created on the smcm.edu site to provide the campus community with up-to-date information and resources.
Begin communication to students, faculty, staff and parents through e-letters on an ongoing basis.
All residential students asked to vacate campus by March 13.
Initially provide on-campus housing for 71 students who are unable to travel home when the campus transitioned to remote instruction.
Begin enhanced social media presence and activities by staff and faculty to keep students engaged.
Invested in technology (software and hardware) to quickly enhance, develop, and/or implement both remote instruction and telework capacity and capability.
Began to hold face-to-face and virtual professional development workshops for faculty to transition to remote instruction.
All large (> 100 anticipated attendees) non-essential on-campus events canceled or postponed for the spring semester.
All College-supported out-of-state travel by students, faculty, and staff suspended.
March 13
College refines the definition of "essential personnel" and who qualifies. All non-essential personnel permitted to telework in accordance to revised policy effective throughout the pandemic.
Developed alternative work schedule and/or jobs and ensured that all employees continued to receive wages and benefits at pre-pandemic levels through the end of the semester/fiscal year.
For essential employees (including essential contractors) still working on campus, enforced and ensured proper social distancing protocols and other COVID-19 mitigation efforts.
March 19
Extend remote/online instruction through the end of the spring 2020 semester.
Face-to-face Commencement activities postponed until it is safe to do so.
March 23
Ensured that all student support offices have the resources and staffing to continue to provide students with academic support as well as mental and physical health services throughout this period of disruption.
Spring move-out instructions provided to students.
March 24
Spring move-out postponed due to Maryland Governor Larry Hogan essential business declaration.
The Office of Public Safety announces specific plans to monitor building security.
March 26
Provided to the health department approximately 8,000 protective gloves, 50 exam gowns, 100 surgical masks, 50 n95 masks, 500 alcohol swabs and 15 bottles of hand sanitizer.
Began to employ 3D printing capabilities to manufacture face shields for medical personnel with the goal of printing over 100 face shields per week.
March 27
St. Mary's College of Maryland partners with St. Mary's County Health Department to launch COVID-19 Scientific Advisory Group which includes faculty members Associate Professor of Biology Kevin Emerson, Professor of Biology Jeffrey Byrd, Associate Professor of Mathematics Emek Köse, Assistant Professor of Physiology Jessica Malisch and Director of the Center for Inclusive Teaching and Learning Samantha Elliott.
March 30
Student Support Services offers student online support.
Summer class schedule offered remotely only announced.
April
April 1
Virtual appointments begin to be offered at The Wellness Center.
April 2
LiveChat begins to be offered at Office of Student Financial Assistance.
April 10
Virtual Visit webpage featuring virtual information sessions and academic department sessions launched.
April 13
Additional 3D printer provided by The Patuxent Partnership to produce additional face shields for St. Mary's County Health Department.
April 16
Delivered first shipment of 100 face shields to St. Mary's County Health Department.
Space offered to house potentially-exposed St. Mary's County first responders during the pandemic as well as storage space for excess supplies and materials needed to contain the spread of the virus and/or treat those who are infected.
April 23
The Recovery Fund created to address the financial hardships and obstacles facing students and the institution. Among its purposes, to especially help students in need with expenses associated with their being forced to move off campus during the pandemic as well as with tuition costs so they can return in the fall.
April 24
Continue to support 37 students (including some foreign students) on campus who could not go home for reasons ranging from homelessness, health, or lack of technology.
Virtual Awards Convocation webpage launched.
Most summer events canceled.
April 28
St. Mary's College Student Government Association (SGA) approved a $50,000 donation to the College's Recovery Fund that has been created to help reduce financial burdens and obstacles facing the SMCM community.
April 28
St. Mary's College Student Government Association (SGA) approved a $50,000 donation to the College's Recovery Fund that has been created to help reduce financial burdens and obstacles facing the SMCM community.
May
May 1
Deadline extended to May 15 for deposits for prospective students after the College receives the second highest number of applications in its history.
May 4
Provided a prorated refund to students for room, board, mandatory fees, and parking.
Worked with the St. Mary's County Health Department and other local authorities to begin the move-out process from the residence halls.
Developed method to provide financial support from the CARES Act for every Title IV-eligible SMCM student enrolled in spring 2020.
Begin to develop planning scenarios for the 2020-21 academic year.
May 11
Delivered additional 300 face shields to St. Mary's County Health Department.
May 13
Provided congratulatory yard signs for seniors to take during move-out process.
Governor's Cup Yacht Race cancelation for July 31 – August 1 announced.
May 14
Launched Job-IQ to graduating seniors as a special way to help them navigate their career paths with >100 additional alumni and Southern Maryland Community members.
May 16
Held Virtual Open House for more than 200 prospective students and families.
May 20
Fall Planning Task Force announced.
May 22
Funding to students from Coronavirus Aid, Relief and Economic Security (CARES) Act and SMCM Recovery Fund announced.
May 23
Senior Recognition web page launched.
Prevention
What can you do to protect yourself? While there is currently no vaccine to prevent coronavirus, the CDC recommends everyday preventive actions to help prevent the spread of respiratory diseases, including:
Avoid close contact with people who are sick.
Avoid touching your eyes, nose, and mouth.
Stay home when you are sick.
Cover your cough or sneeze with a tissue, then throw the tissue in the trash.
Clean and disinfect frequently touched objects and surfaces using a regular household cleaning spray or wipe.
Follow CDC's recommendations for using a facemask.

Cloth face coverings are now recommended for use in public settings where social distancing measures are difficult to maintain (e.g., grocery stores and pharmacies), especially in areas of significant community spread.
The cloth face coverings recommended for public use are not surgical masks or N-95 respirators. Those are critical supplies that must continue to be reserved for healthcare workers and other medical first responders, as recommended by current CDC guidance.

Wash your hands often with soap and water for at least 20 seconds, especially after going to the bathroom; before eating; and after blowing your nose, coughing, or sneezing.

If soap and water are not readily available, use an alcohol-based hand sanitizer with at least 60% alcohol. Always wash hands with soap and water if hands are visibly dirty.
A student, faculty or staff member may be asked to self-isolate depending on their exposure risk and the status of the epidemic at the time. If you develop symptoms, further action such as isolation and testing may be warranted. The determination of whether isolation is necessary will be made on a case-by-case basis in consultation with the St. Mary's County Health Department. Where you self-isolate will depend on your community status. Faculty, staff members, or commuter students will be advised to self-isolate off-campus. If you are a residential student, where you self-isolate will be determined on a case-by-case basis in consultation with Residence Life staff and, if appropriate, the St. Mary's County Health Department. If symptoms develop, students, faculty, and staff need to immediately contact The Wellness Center (240-895-4289) during normal business hours. If you are on-campus after-hours, contact Public Safety (240-895-4911). If you are off-campus during the onset of symptoms, contact a healthcare provider or call ahead to a medical facility and let them know about your recent travel risk and/or contact with someone known to have COVID-19.
Travel Restrictions
On Monday, March 30, Governor Larry Hogan issued a Stay-at-Home order to protect public health and safety. The order states that no Maryland resident should leave their home unless it is for an essential job or for an essential reason, such as obtaining food or medicine, seeking urgent medical attention, or for other necessary purposes.
Events
All events, including athletic events, have been postponed or canceled through the remainder of the semester. Please continue to visit the www.smcm.edu homepage and check under events for updates.
Great Room
The Great Room is currently open for take-out only for students, faculty, and staff. The Great Room schedule can be found here: https://www.smcm.edu/campus-life/dining/.
Additional Information
Additional information about coronavirus, including signs and symptoms, transmission and risk of exposure, what to do if you are exhibiting symptoms, and continuing updates about the disease are available at:
The US Centers for Disease Control and Prevention
World Health Organization
Maryland Department of Health
Travel information related to Coronavirus
COVID-19 NHDHHS: Frequently Asked Questions
CDC – Know the facts about coronavirus disease 2019 (COVID-19) and help stop the spread of rumors
Maryland Coronavirus (COVID-19) Rumor Control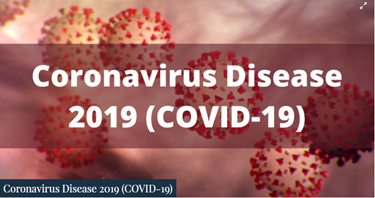 Family / Individual Assistance
"Find Help" National Resource Database: This website allows users to enter their zip code and will produce a comprehensive listing of available assistance in their local area as related to COVID-19. Once on the site, users are able to search for assistance from a variety of categories, to include food, housing, transit, health, education, and many others. The site is very user friendly and contains a comprehensive list of resources available to individuals and families impacted by COVID-19.
Unemployment Resources / Benefits: Laid off employees will qualify for unemployment benefits if the coronavirus (COVID-19) causes an employer to shut down operations or cut back on operations. Maryland unemployment benefits are available to individuals who are unemployed through no fault of their own if they meet the monetary criteria and the weekly eligibility criteria.
The Arc is greatly concerned about the threat of COVID-19 to people with disabilities, their families, and the workforce that supports them. This website is a compilation of resources to help people with intellectual and /or developmental disabilities (I/DD), their families, and service providers to understand this global pandemic.
Business and Non-Profit Assistance
Maryland Department of Commerce Emergency Relief Fund Programs for Businesses provides resources for Maryland Small Businesses. For non-profits, for-profits, and manufacturing.  
Disaster Relief Fund – The United States Small Business Administration will offer low interest loans to small businesses in designated states due to Coronavirus. 
Layoff Aversion Fund is designed to support businesses undergoing economic stresses due to the pandemic by preventing or minimizing the duration of unemployment resulting from layoffs. The award (up to $50,000 per applicant), will be a quick deployable benefit and customizable to the specific needs of your business to minimize the need for layoffs.
Maryland COVID-19 information for business
Local COVID-19 Resources
Maryland
The Maryland Resources page offers a variety of information, FAQs, and updated news / guidance for Maryland residents.
Maryland Public School Meal Site: search database to find locations for free meal distributions near your home.
St. Mary's County
Food Pantries in St. Mary's County.
St. Mary's County Public School Online Instructional Resources
Calvert County
Food Pantries in Calvert County
Calvert County COVID-19 Resource Center (county government site).
Calvert County Public Schools Resource Center 
Charles County
Food Pantries in Charles County
Charles County Resource COVID-19 Resource Center (county government site).
Charles County Public School Resource Center
Educational Resources and Activities for Children
US Department of Education Information and Resources for Schools and School personnel.  
Scholastic Learn at Home program keeps the learning going with special cross-curricular journeys. Every day includes four separate learning experiences, each built around a thrilling, meaningful story or video. Kids can do them on their own, with their families, or with their teachers. Just find your grade level and let the learning begin! 
PBS Kids offers a variety of free programs for students while schools are closed. Visit the site and pick the program that is right for your child.
Khan Academy is a free online educational platform that offers free content for students on a range of subjects, as well as specialized content from organizations like NASA, the MoMA and MIT. In response to the coronavirus, Kahn released free daily learning schedules with plenty of links to online resources for students from pre-K to twelfth grade to follow along with from home.
Urban U offering Free Online Gardening Classes – join Greg and The Urban Farm U team daily for free online classes. They are offering these classes for 30 days (or as long as needed) in response to the Coronavirus so that people worldwide can feel empowered to take control of our health and food supply. These free classes are Greg and his team's way of using their expertise to help productively mitigate stress and build virtual communities in this time of uncertainty and social distancing.
Moratoriums & Protections During COVID-19
Foreclosures and Evictions
The Federal Housing Administration (FHA) published Mortgagee Letter 2020-04, "Foreclosure and Eviction Moratorium in Connection with the Presidentially-Declared COVID-19 National Emergency," which announces an immediate foreclosure and eviction moratorium for all FHA-insured single family mortgages for a 60-day period.
Fannie Mae, Freddie Mac (the Enterprises) and the Federal Home Loan Banks are taking steps to help people who have been impacted by the coronavirus. If your ability to pay your mortgage is impacted, and your loan is owned by Fannie Mae or Freddie Mac, you may be eligible to delay making your monthly mortgage payments for a temporary period.
Utilities
Utility Service will not be suspended due to nonpayment during the COVID-19 crisis. Customers that had utilities suspended prior to March 13 are able to have utilities restored / reconnected. Late fees will be waived. Some individual companies have waived connection / reconnection fees as well (contact company directly to inquire).