Open Studio: Yeon Jin Kim
November 15, 2017 @ 4:45 pm

-

5:45 pm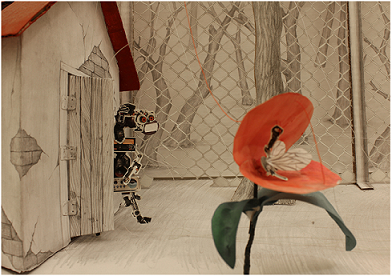 Yeon Jin Kim's practice is based on traditional techniques put to new uses. She makes scroll drawings and constructs miniature models and characters from cardboard, paper, and other materials. She then uses them to film narrative videos. This deliberately low-tech process is often combined with various animation techniques. In filming the models and sets a destabilized point of view is often established by camera placement and movement: hidden in a small, hand-made train and pulled slowly past the drawings and models or falling-floating above the scenes. However fantastical, Kim's work springs from a fascination with the complexities of human nature and always refers back to human experience, much as fables do. Alfred Hitchcock, Terry Gilliam, Franz Kafka, Lewis Carol and Richard Dawkins are ongoing influences.  From change and chaos come unexpected new orders and relationships.
Currently based in New York City, Kim received her BFA in sculpture from Seoul National University in 2002 and her MFA in combined media from Hunter College, winning the Tony Smith Award in 2008.  Recent solo exhibitions have been held at the Eagle Gallery at Murray State University, KT, Biggin Gallery at Auburn University, AL, Ilges Gallery at Columbus State University, GA, the Hunterdon Museum, NJ and the Lab Gallery in New York City.  Her videos were featured in Camera Lucida in Jules Collins Smith Museum of Fine Art at Auburn, AL, and have also been screened at Anthology Film Archives, the Site Festival, and PixelPops in New York City, the Foundry Film and Video Series in NY, the Third International Video Festival in Egypt, and at Mieterwechsel and the Giguk Video Art Festivals, both in Germany. Kim has done residencies at Teton Art Lab, Winter Workspace Program at Wave Hill, Kimmel Harding Nelson Center for the Arts, Fountainhead Residency, I-Park, Abrons Arts Center, Bric/Bcat, the Islip Museum, Sculpture Space, the Saltonstall Foundation, Yaddo, Columbus State University and Auburn University.
Artist House Residency: November 6 to November 20, 2017
This Artist House residency is sponsored by the Department of Art and Art History.