The General Scholarship Fund
A gift to the General Scholarship Fund supports
students with financial need
students demonstrating high academic merit
students experiencing hardships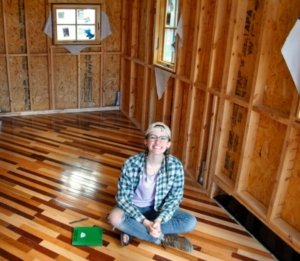 Growing up in an economically disadvantaged household with no college graduates in her family, Ivy Rose Smith '17 said "going to college only felt like a dream, with graduating from college seeming like a far-off fairy tale."
With support from scholarship funds, Smith was able to attend St. Mary's College of Maryland for four years and graduate with a degree in art and anthropology.
Without St. Mary's I would've never been able to grow into the leader and mentor I am today.
This Landers DeSousa-Brent Scholar from Monkton, MD, learned that with a little help, and the generosity of others "dreams can come true," and "fairytales can become reality."
2017-18 New Named Scholarships
John Bell Havre de Grace & John Bell Harford County Scholarship
John Bell, class of 1995, created two merit-based scholarships: The John Bell Havre de Grace Scholarship for graduates of Havre de Grace High School and the John Bell Harford County Scholarship for residents of Harford County, Maryland. View Press Release »
Kathie Underwood Memorial Scholarship
Skip LeFaivre, class of 1967, created the Kathie Underwood Memorial Scholarship to benefit under-represented students who are enrolled in the Master of Arts in Teaching program at St. Mary's College.
Onwuche Group Scholarship
Charles Onwuche, Jr., class of 2011, created the Onwuche Group Scholarship, a financial need scholarship for first-year or transfer students who are not Maryland residents.
2016-17 Named Scholarships
Bonnie Marie Green Scholarship
Bonnie Green, class of 1974, created a financial need scholarship for first-year or transfer students who are Maryland residents and first-generation and/or underserved. Jahmoni Bartee '21 is the 2017-18 recipient.
Donna L. Smawley West Scholarship
Donna West, class of 1976, created this scholarsihp to benefit biology or environmental studies majors. Melinda S. Grant '19 is this first recipient.
Create a Named Scholarship Fund!
For information, contact Institutional Advancement at 240-895-4282
Our Biggest Class Gift Continues to Grow
In June 2007 – on the occasion of its 50th Anniversary – the Class of 1957 proudly announced the establishment of The Class of 1957 Endowed Scholarship Fund. So far, the fund has provided two 4-year scholarships: Gregory Cooke '13 and Alhaj Khadar '17. It was the ultimate goal
of the '57 scholarship committee to grow the fund's corpus to $50,000, and on the occasion of its 60th Anniversary, the goal was exceeded.