\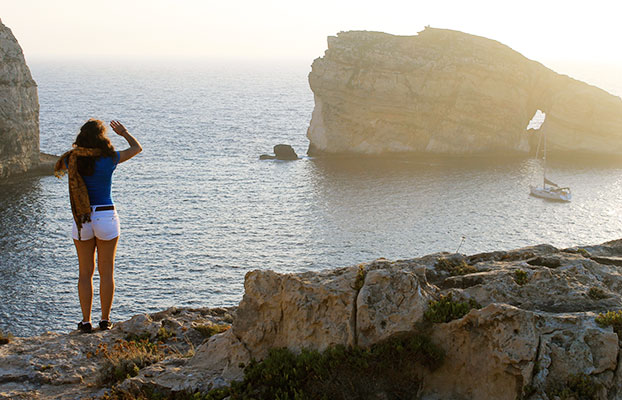 The flexibility of the St. Mary's curriculum allows students to study abroad on a short-term, a semester, or even a year-long program without compromising their St. Mary's course credits. Not only do students have the opportunity to satisfy their ELAW (Link here) requirement but they are able to fulfill major, minor, and elective course requirements as well.
Over 50% of St. Mary's students take advantage of the more than 25 SMCM study abroad program offerings at some point during their academic career. While it may seem challenging for some students to study abroad due to their major requirements, financial means, etc., St. Mary's has strived to provide programs that will fit will even the most challenging fields, such as Biology and Chemistry, as well as offer as many scholarship opportunities as possible to make study abroad an accessible endeavor for as many St. Mary's students as we can.
Greece Study Tour
St. Mary's College's Greece Study-Tour offers participants an opportunity to gain knowledge of the layerings of history in this part of the world, the influence of which so greatly outstrips its modest size.
This study-tour is not simply an off-campus course. Not only do we get to see sites, structures, and landscapes that directly relate to our readings, like the palace at which Agamemnon unsuspiciously walked the blood-red carpet into the waiting, vengeful arms of his wife Clytemnestra and like the prison cell in which Socrates drank the hemlock, but we learn that our image of Greece must extend beyond silent, weather-worn limestone foundations and pages in literally inanimate books. Greece has lived and died many times, and now can be caught very much alive.
Andean Study Tour
Participants in the Andean Study Tour are able to immerse themselves in the rich culture and history of the Andean people and region, including the ancient cities of the Incas. This exciting program provides a unique experience for international education by providing experiential learning opportunities and cultural immersion via homestays, weaving workshops, site visits, work with NGO cooperatives, and introductory Quechua classes.
SMCM – Arcadia – Umbria Institute – Perugia
Students can study student in the hilltop city of Perugia, Italy. The Umbria Institute offers a food studies program as well as courses in Italian, anthropology, art history, history, political science, studio art, and marketing. Students also have the opportunity to participate in courses with a service-learning option or an internship all while being centrally located within Italy.