Below are the top majors among Spring 2019 baccalaureate graduates.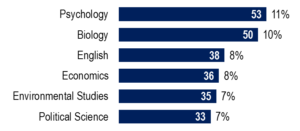 More details on the Class of 2019, including time to degree, gender and ethnicity breakdowns, and high-impact practices, will be posted soon! In the meantime, check out the characteristics of last year's graduating class.
Below are tables detailing how many students completed degrees in each major, minor, and MAT field each year.