Tuajuanda C. Jordan, Ph.D.
"Tomorrow Belongs to Those Who Prepare for It Today," Keynote
MABE Annual Conference
October 6, 2016
Ocean City, MD
 Malcolm X said, "Tomorrow belongs to those who prepare for it today."
I want to begin by telling you a little bit about St. Mary's College of Maryland, a place commonly referred to as the hidden gem of the State.  Maybe after you hear some about us, you might send more of your students down to Southern Maryland to experience the good life on the St. Mary's River, home to one of the finest sailing programs in the country – having won eight national championships in the past 15 – 20 years. The first thing I need to tell you is that we are not Catholic!  SMCM is public, and it is the smallest public institution in Maryland with an undergraduate population of approximately 1,700 students.  St. Mary's College is THE honors college of the State.  The College has the second highest retention and four-year graduation rates in the State, and we have managed to close the achievement gap between the underserved and majority student in the six-year graduation rate.  This is worthy of note as we recognize that the demographics of the US population have changed, and Maryland is expected to become majority-minority in less than ten years.  Across the entire student body, St. Mary's College is about 15% underrepresented minority.  Over the last two years, however, our entering cohorts are approaching 25 – 30% underrepresented minority students.  Finally, the College is referred to as the State's "hidden gem," as it is ranked the 6th best public liberal arts college in the nation by U.S. News & World Report's 2017 Best Colleges.  Ninety percent of our students come from Maryland, and as depicted by this graphic, they originate from virtually every county across the State with the highest percentages within the past five years coming from Montgomery County, Baltimore City, and St. Mary's County.
St. Mary's College is a public, liberal arts, honors college.  What does that mean?  It means that we welcome anyone who has the intellectual potential and capacity to succeed in a rigorous and challenging academic and social environment, and we strive to provide experiences that prepare them for global citizenry and for leadership, not just a job.
We develop leaders for an ever-evolving world. Thus, we provide intellectual experiences that span a broad range of subjects from diverse perspectives that facilitate the student's ability to understand, respect, and appreciate different views, formulate their own opinions, and effectively communicate that view with respect, compassion, and empathy.  We give students experiences that translate the theoretical into the practical and provide opportunities that enhance their ability to work effectively and collaboratively across disciplines to solve the problems of the 21st century.  These attributes represent the beauty of the liberal arts tradition.
In thinking about preparing students to attend an institution of higher education – like St. Mary's College of Maryland – we must ask ourselves, what does it take?  What are the necessary skills and experiences they need to thrive in college? What are the challenges faced by the underserved, and how can we best address these challenges?  What can the Boards do?  We will discuss these questions and more during our time together.
Throughout the nation, school boards and administrators seek to find solutions for addressing student performance issues at the K-12 level.  Often, students graduate from high school unprepared for the challenges that lie ahead in college and other post-secondary education paths.
High School Data – an Examination of our "Report Card"
How well are students in the State of Maryland and the nation, particularly those who are underrepresented, performing?
The 2015 National Assessment of Educational Progress (NAEP) report compares student performance in reading and math for grades 4 and 8.  For 4th grade reading, the data indicate that there are more than twice as many Hispanic and Black students performing below the basic reading level than White students.  The data are even more concerning at the "advanced" level where we find that 33% of Asian students and ~15% of White students are classified as advanced, but less than 5% of Black and Hispanic students are.  The only good news here is that overall the State is ahead of the national average in this category.   Virtually the same pattern is observed in 8th grade mathematics, which I am certain is not a surprise to any of you since a child who cannot read well will not do well on a standardized test where many of the math problems are word problems or, at the very least, require them to read the instructions.
As you know, the High School Assessment is offered in four subject areas (algebra/data analysis, biology, government, and English), and it is administered to students in order to fulfill the Maryland requirement for graduation. Examining the data from Grade 11, it is apparent that although the vast majority of all students who take the test meet the requirements, African American and Hispanic students – again – are not as successful as their White and Asian counterparts.
We can analyze the nuances between student-performance by counties using the 2016 Maryland School Assessments (MSA) data examining student proficiencies in science.  These data consistently show that counties with higher underrepresented minority populations, such as Prince George's and Charles counties, perform at a lower rate than counties with a higher White demographic, which we have in counties like Calvert and Howard.  The question is, why?
What is the cause of these imbalances between counties?  Why is there an overall trend of declining performance in science among all students?  We must understand the reasons for these disparities if we are to identify viable and sustainable solutions to them.
An Examination of College Preparedness:  Rhetoric versus Reality
According to the Education Trust, although educators and policy makers tout the mantra "ALL students ready for college and careers," "there remains a giant gulf between that rhetoric and the reality of today's high school graduates." Among today's graduates, fewer than 1 in 10 have taken a foundational set of courses they need to be both college and career-ready.  What does that mean?
Generally, a college-ready curriculum is based on what I refer to as a distribution model of required subjects – a little bit of this and a little bit of that (and you can see what "this" and "that" represent on the slide).  A career-ready curriculum generally involves a focus on a single subject area, such as computer and information sciences, trades, consumer or culinary services, or health sciences.
What would a college- and career-ready curriculum look like?  How difficult would it be to tweak the current curriculum to accommodate this more integrated approach?  And, finally, could this more integrated approach, that does not rely on a standardized curriculum, be a long-term and sustained benefit to society?
I think so.  This integrated curriculum would be engaging and, potentially, put theory into practice.  This is a high impact practice or HIP. HIPs lead to greater student engagement. Student engagement increases student learning.  Greater student learning can result in higher performance, which in turn leads to higher retention and graduation rates.  Increases in these rates result in more productive citizens, which ultimately benefit society.  This concept of high impact practices has been shown to be especially important for retaining and engaging students in underserved populations.
But, let's return to reality where we find that fewer than 10% of high school graduates are both college and career ready.  These statistics are even more pronounced among low-income and minority students, in part due to ill advising from counselors and a lack of a clear plan early on in grade school – shaped by students, parents, teachers, and counselors – that enables time to prepare for post-secondary life.[1]
What else do we know?
Some additional statistics that are important to note from the 2013 national study include:
Rates of college and career-ready curriculum completion are significantly low across all groups. Only 7-9% of white, black, and Latino graduates are both college and career-ready.
Forty-seven percent of graduates did not complete any cohesive curriculum. This trend is especially problematic among students from Latino and disadvantaged backgrounds.  Not surprisingly, failure to complete a cohesive curriculum often leads to graduates who are aimless – with little focus or direction for life after high school.
Subject area mastery gaps are widest among graduates who have completed a college-ready curriculum. For instance, 82 percent of white graduates received a 2.5 GPA or higher in their academic courses, compared to 51 percent of black graduates, and 63 percent of Latino graduates.  Thus, many high school graduates don't know enough foundational information to have a smooth transition to the next level.
Data from virtually every source indicate there is much to do to generate college- and career-ready graduates.  What can we, educators and administrators, do?  I am going to tell you a story, my story actually, as an example of what else might be done, besides the development of more HIPs (which we know come at a price), to try to get more positive results with respect to serving and educating our students better.  The challenge appears to be insurmountable when you consider all that teachers have to deal with in the classroom, but there is something beyond hope for a brighter future.
Some of you gathered here this morning know my story.  My career in higher education has been an interesting journey as I progressed through my undergraduate and doctoral student experiences at Fisk University and Purdue University, respectively.  I had to become used to being a "first" in my journey.  My "firsts" include:
First-generation college student
First African American woman to earn a Ph.D. in Biochemistry from Purdue University
First African American Female Professor of Chemistry at Xavier University
First African American Director of Science Education at the Howard Hughes Medical Institute, where I developed the SEA program, a signature program of science education
First African American Dean of the College of Arts and Sciences at Lewis & Clark College
First African American President of St. Mary's College of Maryland, an esteemed public liberal arts honors college that boasts a 176-year history
From the start, because of support from my family, I approached each and every day being guided by the principle that "tomorrow belongs to those who prepare for it today."
In all of my roles as a "first" whatever, I realized that I was a role model, if not a mentor, and that for every single individual who came under my sphere of influence, I had to challenge the individual to do their absolute best, and I would not accept excuses for their not rising to the challenge.  Thus, as an educator, I had to resist the urge to water down the curriculum or to lower my expectation for my students. Why? Because I believed that doing that for a student does them a disservice.  The real world doesn't give them any breaks, so what would I be doing to prepare them for long-term success in the real world if I did not bring that world to them in my classroom, in my office, and in my lab? I was very clear with them: I told them where the bar was set, then I helped them get there.  Not holding students to high standards of education is detrimental for us all in the long term because it stymies their potential of living life as a happy, well, and productive citizen.  Thus, it is incumbent upon us to ensure that all students not only enroll in and complete the full and appropriate sequence of courses, but also that the courses are "sufficiently rigorous and aligned to post-secondary expectations."  The curriculum must be developed with an eye on the future and, because the future is unknown, the curriculum must be designed in such a way that it enhances the students' critical thinking and problem-solving skills.
Beyond the curriculum, it is paramount that we continue to think about role models.  Research shows that minorities and underserved students benefit from having role models – teachers, administrators, classmates – who look like them and have similar backgrounds and experiences. In a campus publication, "Speaking of Race," a diverse group of students (e.g., black, white, Asian, African, mixed) shared their honest personal narratives about diversity issues at the College and in the broader community.[2]
For instance, one of the students commented:
"… We didn't want to feel left out.  Who I'm referring to is the "chocolate squad," an actual group that was formed for black students to befriend other black students based solely on one common ground.  Their skin color.  Nobody cared about personality, not in the grand scheme of things.  It was just making sure there were people like you to eat a meal with and someone to fall back on …"
This commentary stresses the importance of students being immersed in a diverse environment and having diverse role models.  Being in an environment in which there are people who "look like them" and come from a similar background is central to academic achievement.  Often, this concept is marginalized, relegated to a second-tier list of list of priorities for educational institutions.  However, marginalizing the concept of "like attracts like" only hinders progress towards academic achievement goals.  When students have a teacher or mentor of the same race or background as them, they start to see themselves as being successful under any number of circumstances.
Thus, as we look at broader considerations, hiring a diverse faculty and staff is an essential role for administrators and Boards.  There are other things as well that administrators and Boards can do to reverse the declining and/or low performance trends and ultimately improve college- and career readiness. The second listed here is focused on providing teachers sufficient opportunities to engage in professional development activities.  Children are innately curious. A good teacher can inspire and cultivate that curiosity and transform it into an almost insatiable pursuit of knowledge.  For the greatest impact, this pursuit of knowledge must be seeded in pre-school and sustained throughout the K-12 experience.  The pursuit of knowledge, however, does not necessarily translate into learning.  What can we do to inspire students and prepare them for life, for which they must obtain some level of post-secondary education if they are to be happy and productive citizens of the State?   A teacher who is confidant in her mastery of a subject can be an inspiration to all of her students since she is more likely to present the information with enthusiasm and the students will respond accordingly.
 Identify ways to make the curriculum relevant and engaging to 21st-century students.  A mediocre curriculum that does not pique a student's curiosity or challenge a student's resourcefulness and creativity is a failure on many levels.  First, we can lose our brightest students as they become disengaged. Secondly, it can give less-strong students a false sense of knowledge and expertise that will ultimately result in failure at the next level.  Both of these issues result in decreased student performance and negatively impact graduate productivity. A demotivation for individuals to join the ranks of K-12 educators is the low apparent value our society gives to educators in general as evidenced by the low pay our educators receive relative to our entertainers and athletes.  There must be a recalibration and reprioritization of our resources and support.  And, there is no stronger voice to move this initiative forward than those of our Board members who have some influence over our legislators as well as the executive branch.  If we don't find a way to better compensate our educators, we will never be able to achieve the education standards we purport on any level.  And, finally, it is important that administrators and board members ensure equitable resource allocation among school districts to prevent, for instance, schools with a predominately underrepresented population from having subpar resources that by default are unable to produce the same standard of "quality" as that of schools with adequate resources.  Often, this situation leads to the "good" teachers abandoning the struggling schools and flocking to the schools with "high-achieving students," which, in a number of cases, is forged by sufficient resources.
 "Tomorrow belongs to those who prepare for it today."   It sounds easy enough, but if it were easy, we would not be wrestling continually with the under-performance of our students and the long-term negative impact this has on our society.  When you think about my humble start as a first-generation college student, the chances that I would become the president of a nationally-ranked liberal arts institution that did not admit its first student of color until the late '60's were slim.  How did I make it through?  My family's love and support were incredibly important as I embarked on this journey.  Equally important were the mentors, advisors, and teachers I have had.  When I think back to my high school days, I remember that I knew what I wanted to be from the start – either a scientist, a concert clarinetist, or a race car driver. The teachers who had the most positive impact on me did not disparage my aspirations, but instead challenged me and supported me.  And, you know the rest of my story.
 I believe that we in the State of Maryland have the tools that we need to help our students thrive.  We just need to take a slightly different approach and use our resources in a more focused and equitable manner, to prepare our students adequately for the rigors and challenges they will face in the world beyond K-12.  "Tomorrow belongs to those who prepare for it today."  There is still hope because with each and every sunrise, we are given another opportunity to create a better tomorrow.
Thank you.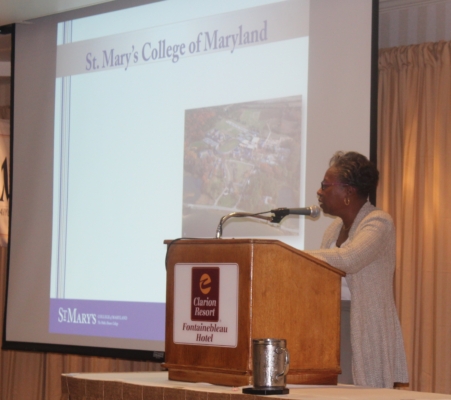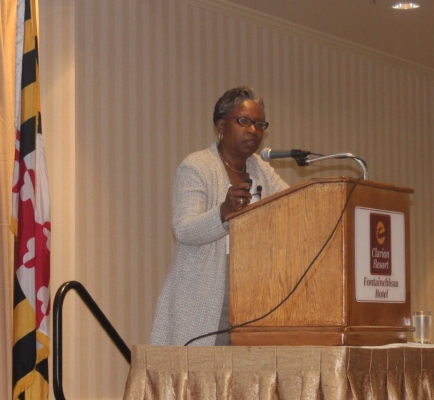 [1] Bromberg, M., & Theokas, C. (2016). Meandering towards graduation: Transcript outcomes of high school graduates. The Education Trust, 1-14.
[2] Glaser, M.S. (Ed.). (2016) Speaking of race. Leonardtown, MD: Printing Press, Inc.