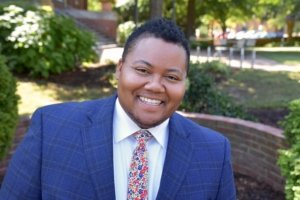 Tayo Clyburn, PhD
Vice President of Inclusive Diversity & Equity / Chief Diversity Officer
Pronouns: he, him, his
Bio
Tayo Clyburn joined St. Mary's College of Maryland in July 2019 as Vice President for the Office of Inclusive Diversity and Equity. Dr. Clyburn's role is cross-functional, interfacing with senior leaders and other members of the campus community to strategically integrate inclusive and equitable practices across the staff, student, and faculty experiences. Dr. Clyburn works to promote diversity, inclusivity, and equity at St. Mary's College by assessing the College's practices and data trends and, where appropriate, advocating for institutional change.
Prior to joining St. Mary's College, Dr. Clyburn was the Executive Director of Mission and Strategic Partnerships in The Ohio State University's Office of Diversity and Inclusion (ODI). He joined ODI in 2010 and worked collaboratively, facilitating relationships between ODI and academic and services units, as well as partners throughout the Columbus community. Before his work in ODI, Dr. Clyburn coordinated the Program for Arts and Humanities Development (PHD). The PHD at Ohio State was a nine-week summer institute that brought together students from underrepresented minority groups who were interested in pursuing advanced degrees in arts and humanities disciplines.
Dr. Clyburn earned his MA and PhD from Ohio State's Department of English where his work focused on Critical Race Theory and Post-Civil Rights African American literature, specifically studying the ways African American writers portray the impact of colorblind/post-racial discourse on the lives of Black people.