Contact Info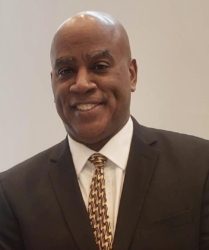 Dr. Dereck Rovaris
Vice President for Equity and Strategic Initiatives
djrovaris@smcm.edu
Inclusive Diversity, Equity, Access, and Accountability (IDEAA)
Location: Calvert Hall Room 221
Bio
Dr. Dereck J. Rovaris, Sr. joined St. Mary's College of Maryland in April 2022, serving as the inaugural Vice President for Equity and Strategic Initiatives. In this position, he leads the college's efforts Inclusive Diversity, Equity, Access, and Accountability.
He is the former Vice Provost for Diversity, Equity & Inclusion and Chief Diversity Officer at Louisiana State University. Serving in that role from 2014-2022, he was a principal advisor to the president and provost as well as the campus community on matters involving equity, diversity and inclusion. Dr. Rovaris had supervisory responsibilities for a number of units on campus. The 5 of the last 6 years witnessed record numbers of underrepresented students in each of the entering freshmen classes. LSU also had record numbers of graduates who were students of color, first generation and Pell eligible students in each of the last six graduating classes.
Rovaris' career in higher education included 25 years of service at Xavier University of Louisiana where he directed several nationally recognized student programs. He has a number of publications on graduate school placement and diversity as well as a book on the legendary Dr. Benjamin E. Mays. Dr. Rovaris has served as an educational consultant, conducted workshops, and been a featured speaker on the local, national, and international level. He recently received the W.E.B. DuBois Award for higher education from the National Alliance for Black School Educators.
He has served and continues to serve on a variety of educational and non-profit boards including the Board of the University of Holy Cross, the Board of Notre Dame Seminary, the Council of Fellows Board for the American Council on Education, the Subcommittee on Higher Education of 100 Black Men of America, Inc., and served as national President for the American Association of Blacks in Higher Education. He earned a Ph.D. in higher education administration from the University of Illinois, an M.A. in Guidance and Counseling from Xavier University of LA, and a bachelor's degree from the University of Kansas with a triple major in Psychology; Human Development and Family Life; and Crime and Delinquency Studies.
Divisional Leadership Team
Sarah Cannavo
Executive Assistant
slcannavo@smcm.edu
Michelle Carter
AVP of Equity & Inclusion, Title IX Coordinator
mmcarter@smcm.edu
Dana Kieran
Director, Accessibility Services, ADA Coordinator
dmkieran@smcm.edu