Kudzu is an aggressive invasive plant species found all across the United States, including on the campus of St. Mary's College of Maryland. Research has shown that goats can be used as an effective biological control agent against kudzu.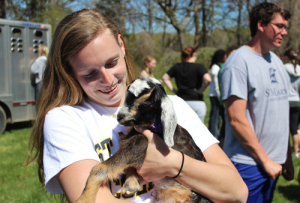 This was the focus of a St. Mary's Project (SMP) by Brooke Bartko '16. Bartko's research aimed to manage the invasive species in a way consistent with the College's sustainability efforts, while educating the community about biological control. Her faculty mentor was Professor of Biology Robert Paul.
Bartko, who double majored in biology and environmental studies with a minor in education, learned of the campus' invasive plant species through an ecology course she took her second year at St. Mary's. For her SMP, Bartko said she analyzed many different control types before landing on goats. She found that kudzu grows too quickly for mechanical controls, including mowing and physically pulling out the plants, and that runoff from chemical control would be problematic due to the college's close proximity to the St. Mary's River. She also analyzed and ruled out other biological control types, including Kudzu bugs, fungi, and fire.
Members of the campus community came out to cheer the 40 goats, provided by Browsing Green Goats of Southern Maryland earlier this spring, as they were released into a one acre enclosure on the Townhouse Green where the kudzu is found. Onlookers also heard brief educational talks by Bartko and the College's Sustainability Fellow Cyrus Chimento '15.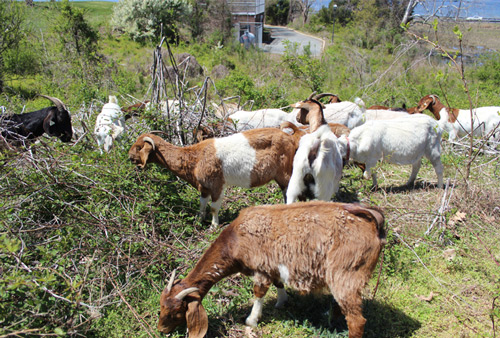 The herd grazed the area, day and night, for one week. The grazing eliminated enough foliage to allow follow-up college maintenance crews to access crown roots and apply small amounts of herbicide to cut stems.
After graduation in 2016, Bartko is setting her sights on a career as a state or national park ranger.  "As long as I am outside, in the field, I will be happy," she said.
Bartko's research was sponsored by the Chesapeake Bay Trust, a nonprofit grant-making organization dedicated to improving the Chesapeake Bay and its rivers through environmental education, community outreach, and local watershed restoration.