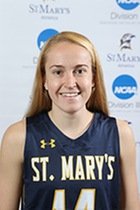 St. Mary's College of Maryland (SMCM) student Katie Robey was selected to receive a research grant for her SMP by Sigma Xi, the Scientific Research Honor Society. Sigma Xi's mission is to help foster the next generation of researchers and that is what they have done for Katie. With her SMP titled "Antidepressant Efficacy of L-655,708 Following Infusion into the Medial Prefrontal Cortex", she hopes to uncover more about the neural circuitry that is responsible for the etiology of depression.
Katie's project measures baseline depressive-like behavior by the novelty-suppressed feeding test, social interaction test, sucrose preference test, and open field test in a rodent model of depression. Robey will surgically implant treatment animals with guide cannulas and they will receive direct infusions into the medial prefrontal cortex of either the L-655,708 antidepressant or the drug vehicle. The drug vehicle is the solvent used to transport the drug into the system and when delivered on its own, serves as an experimental control. Robey hypothesizes that rats receiving L-655,708 will show significantly reduced depressive behavior when compared to the control group. All research involving vertebrate animals must be approved by the St. Mary's Institutional Animal Care and Use Committee.
Robey, a biochemistry major and neuroscience minor, is working with fellow student Brooke Steinhoff '19 under the guidance of Professor of Psychology Aileen Bailey. When asked about her research Robey stated: "I have been doing research with the same fast-acting antidepressant (L-655,708) for a couple of years and have studied its effect on several brain regions including the hippocampus and nucleus accumbens". However, she wanted to extend the investigation by also looking into the medial prefrontal cortex since that region of the brain also plays a role in reward processing. Ultimately, the goal of Robey and collaborators' research is to identify a safe, fast-acting antidepressant without the negative side effects of other alternatives.
Robey hopes that after she graduates from SMCM, additional future SMP students will continue working with L-655,708 in order to help further expand our understanding of its efficacy as a fast-acting antidepressant.
This article was written by St. Mary's College of Maryland student and Office of Research and Sponsored Programs Fellow Mackenzie Brooks '21.