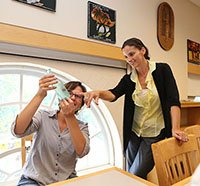 Program Director:
Dr. Liza Gijanto
(Associate Professor of Anthropology, Coordinator Museum Studies Program) is an archaeologist focusing on socio-economic interaction and expressions of status in the Atlantic World. This entails detailed studies of crafting, foodways, and identity formation through consumption. Her primary study areas are West and the Chesapeake.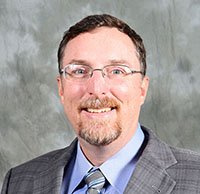 Program Director:
Dr. Randy Larsen
(Professor of Chemistry) is an analytical chemist who focuses on non-destructive testing of material cultural heritage such as archeological artifacts. This involves a variety of spectroscopic, photographic and thermal analysis techniques, such as X-Ray Fluorescence and Infrared Spectroscopy.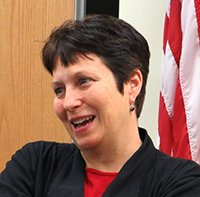 Director of the Maryland Archaeological Conservation Laboratory (MAC Lab): Dr. Patricia Samford holds a doctorate of Anthropology from the University of North Carolina at Chapel Hill and has almost 40 years of experience in Chesapeake archaeology. She has also been an adjunct faculty member at St. Mary's College of Maryland since 2009.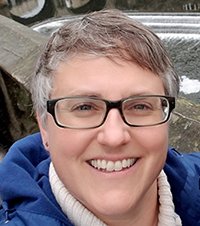 Project Mentor: Rebecca Morehouse (Curator of State Collections at the MAC LAb) received her B.A. in Anthropology and English from the State University of New York, College at Geneseo in 1995 and her M.A. in Anthropology with a concentration in Museum Studies from The George Washington University in 1997. When the Maryland Archaeological Conservation Lab first opened in 1998, Rebecca was hired as the Curator for the State Highway Administration's Archaeological Collections. In 2002, she became the Curator of State Collections. She is responsible for the care of all state-owned archaeological collections at the MAC Lab. She has over twenty-five years of experience in archaeological collections curation.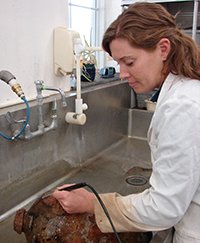 Project Mentor: Nichole Doub, MA (Head Conservator at the MAC Lab)holds an MSc in Conservation for Archaeology and Museums and an MA in Principles of Conservation from University College London in England and a BA in Classical Archaeology from the University of North Carolina at Chapel Hill. Her specializations include archaeometallurgy, East Mediterranean/Eastern European archaeology and historic ships. Before coming to work at the MAC Lab, Nichole was the Archaeological Objects Conservator at the Royal Albert Memorial Museum in Exeter, England where she worked on a range of Roman, Anglo Saxon and Medieval material from the Princesshay excavations. She has also participated in conservation projects at the Fitzwilliam Museum (University of Cambridge), the National Trust, English Heritage and the archaeological excavations at Çatalhoyuk (Turkey), Noviodunum (Romania) and Kaman Kalehoyuk (Turkey). Her recent projects include the World Trade Center ship remains, National Park Service's Everglades Collections, Alexandria's Carlyle Warehouse and ship remains, the entry monument for the Museum of the American Revolution, and the Jamestown-Yorktown Foundation Artillery Exhibit. Nichole was recently awarded the FAIC/Samuel H. Kress Conservation Publication Fellowship.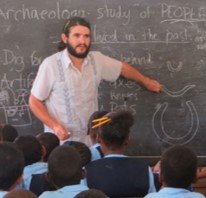 Project Mentor: Dr. Isaac Shearn (Drone and Photogrammetry Instructor) earned his PhD in 2014 at the University of Florida and is an adjunct professor at the Community College of Baltimore County, University of Baltimore, and Coppin State University. His research is on the archaeology and ethnohistory of the Caribbean and South America, with a focus on public archaeology, developing inclusive and participatory methods. His recent efforts have been oriented toward integrating three-dimensional photogrammetric mapping techniques with more traditional archaeological methods.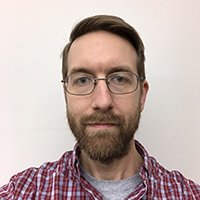 Project Mentor: Scott Strickland, MA (GIS and Mapping Instructor) is the Deputy Director of the MAC Lab and Adjunct Instructor at St. Mary's College of Maryland. His research specialties include spatial patterning and modeling, colonial records research, and studying the history of Anglo-Native interaction in seventeenth century Maryland and Virginia.