Keep St. Mary's Small… A St. Mary's Tradition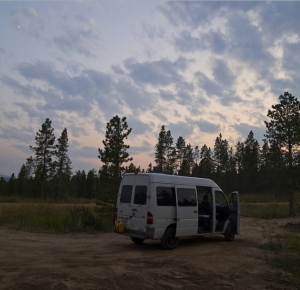 Jonathan Sheldon, a 2014 SMCM graduate, took a dive into living small when he re-purposed a sprinter van to become a home. This living experience has had its ups and downs, but overall, Jonathan has had the time of his life, and learned a lot about a new lifestyle and himself.
However, living in a van has its hardships. Most of Jonathan's struggles have centered around the extreme cold in the winter, or the extreme heat in the summer. Other complications arise when the van encounters mechanical issues. He notes, however, that the longer he lived in the van, the less he seemed to struggle when things did not go his way.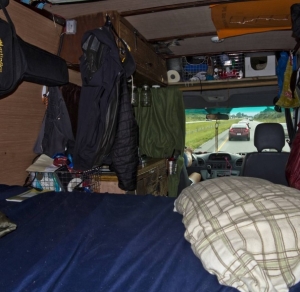 Jonathan says he has fallen in love with living small:
"I still remember falling in love with that style of living. I moved into the van in early January, and my first night in it got down to 5 degrees Fahrenheit. I had a lot of those nights in my first two months, which really made me wonder if I was doing the right thing. But I remember waking up after the first big snow. I was alone in Guam in the middle of A field of blank snow. The van was snug and cozy and I sat in the front seat looking out of the frosted window with a cup of French pressed coffee. That was the moment I fell in love."
A mobile, DIY home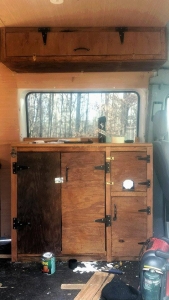 Jonathan chose his particular model of van because of a durable engine, he can stand up inside of it, and because it gets excellent fuel economy. He spent about 170 hours (the equivalent of over four 40-hour work weeks) on the initial build of the van's interior. The van has storage cabinets, a large water jug, a sink, a propane stove and heater, a 12-volt electrical system for lights, an exhaust fan, and a station for charging electronics. Sheldon said, "It's a bit rough around the edges, but it does everything I need it to!"
Free living
When asked why he chose to live in a van, Jonathon said, "It makes me happy!" Jonathon noted that living in the van has meant that he spends more time outside, a theme often discussed by people who have decided to try living small. The lifestyle also appeals to him because it is affordable. He said, "Not having to spend a lot of money is also very liberating. I don't have to worry about getting a high-paying job to pay for a house that I never spend time in. Living in the van lets me spend more time doing the things I love- climbing, backpacking, and traveling." Jonathan lived in Southern Maryland for the first months of his van adventure. At the end of the summer of 2015, he traveled his van to Colorado to spend some time climbing.
A sustainable way of life
Living in a van has enabled Jonathan to live in a more sustainable way. Sheldon mentioned, "I can live for next to nothing depending on how much dumpster diving I am doing and how much I am driving." By using second-hand equipment, he is eliminating the impact of buying new resources.
He also noted, "I've also learned that I can always downsize. I still have way too much stuff." Living small forces people to decide between what they want, and what they need. Finding the balance, however, can help people live more sustainably by consuming less.
Living in a van has also made Jonathan more aware of his water consumption. He has to haul all of his water with him and dispense it out of a 7 gallon jug. He says, "It really makes me aware of how much water I am using. Now I am less inclined to waste water on things that are needless."
Jonathan has loved his experience of living in a van. "I've learned to laugh more and worry less. [Living in the van] enables me to live the way I want to live and to do the things I love."