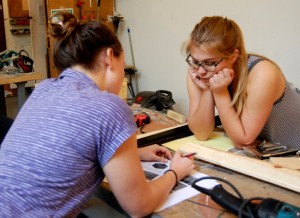 This spring, a group of St. Mary's students have hit the ground running to continue the St. Mary's Tiny House Project. The project, initiated in Fall 2015, seeks to build two tiny houses from start to finish in one academic year. One tiny house will remain at St. Mary's, while the other will provide housing to a veteran at the local Greenwell State Park. The course is led by Art professor Carrie Patterson and Environmental Studies professor Barry Muchnick, who teamed up to provide a course to students that combines sustainable design and community arts education.
The project began in the fall semester as a group of students initiated the building process. Students from the
fall class developed their construction skills by building benches that convert into picnic tables. They then took the skills they learned to begin to build the tiny homes. The two homes rest upon trailers, making them both space-efficient and mobile. Students spent the fall semester insulating the trailers and building and raising all four walls for SMCM's tiny house. They then cut out windows and raised loft beams. The fall class made a great deal of progress towards their end goal, and gained valuable  skills and knowledge about sustainable design.  
The spring class has wasted no time in developing their construction skills to begin work on the tiny houses.
First, the students used recycled materials to build flower boxes to acquaint themselves with tools,
blueprints, and construction techniques. The students have moved on to building loft walls, and they will soon put in windows, siding, and flooring.  This semester is shaping up to see a great deal of fast progress towards the completion of the tiny homes.
While students are dedicating a lot of time to building the two tiny houses, the course offers much more than construction and design skills. In the classroom, students discuss the theory and practice of sustainable design and community arts education with the goal of understanding how the two intersect to shape sustainable communities. This entails maximizing a community experience while minimizing negative impacts to the environment. The course embraces interdisciplinary learning to provide students background in both the theory and practice of sustainable design. The professors hope that students will walk away with the skills needed to be effective leaders of change.

This semester will see rapid progress towards the goal of completing both tiny houses. Stay tuned on the website and Facebook page for updates about the St. Mary's Tiny House project!