Keep St. Mary's Small… A St. Mary's Tradition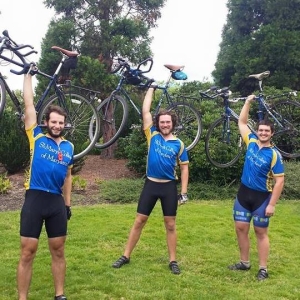 Forget a tiny house. This past summer, three St. Mary's alumni spent their summers on an even smaller mobile home: their bicycles. Cyrus Chimento, Keene Kelderman, and Graham Martin-Poteet of the class of 2015 embarked on a cycling journey from the Washington Monument in D.C. all the way to the Space Needle in Seattle, WA. Over the course of 52 days, the trio rode 3,877.6 miles, carrying all that they needed along with them in bags strapped to their bikes. They called their journey "Gear up for a Greener Earth" to support Conservation International, an organization devoted to addressing global environmental change.
Minimal and mobile
Each of the guys carried two sets of clothing: one set of riding clothes, complete with warm weather gear and extra socks, and another set of what Keene refers to as "civilian clothes." They each had a sleeping bag and pad, and they split up a tent and some cycling gear between the three of them. Additionally, they carried with them all the food
 they needed for 4-6 days, depending on the concentration of grocery stores in the areas they were passing through. Keene explained, "Our main reason for living like this was that the less stuff we had, the lighter our bikes were and the easier it was to ride."
All three of them expressed how liberating it felt to live minimally for so long. Graham said, "I loved being self-contained. We still needed grocery stores, the occasional bike shop, and the hospitality of individuals and towns to offer places for us to pitch our tent, but it was fulfilling to rely so heavily on our abilities and to trust one another time and time again."
Living small for such a long time also, of course, had its drawbacks. In some cases, they found that they did not have all the equipment that they would have liked. For example, the cyclists were unable to stop in Glacier National Park because they did not bring proper hiking equipment, and they occasionally needed to purchase items that they needed. In other cases, however, the riders said they would send home equipment that they realized to be superfluous. Additionally, they had to give up some comfort in order to keep the weight of their gear low. Graham said, "Living small is very freeing but you do have to be prepared for varying conditions, and if you are not it can cost you some suffering."
Despite the hardships, all three cyclists said that they loved the opportunity to live small. Graham explained, "Living small makes life simple. It makes you pay attention to the commodities that we usually take for granted and it lets you focus and enjoy the simple joys of life."
A nation-wide community effort
T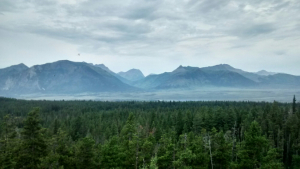 he Gear up for a Greener Earth bike trip was supported by a community that spanned the entire nation. Cyrus said, "We could not have done the trip if not for the kindness of strangers in the cycling community." This kindness came from families who hosted the trio for a night at a time along the way, and to the donors who helped them raise a staggering $10,730 for Conservation International.
Over the course of the trip, they spent a night with over 30 hosts, most of whom they had never met before. They used an app called "Warm Showers," which is a cyclist-only community that connects cyclists to people who are willing to host them. Cyrus explained, "When you are traveling to a new place every day and a new bed every night, feeling the comfort of 'home' is a rare luxury. However, the kind, hospitable people that populate the Warm Showers community do their best to recreate it." Cyrus, Graham, and Keene were greatly appreciative of the community support, and they say that the kindness they were shown has encouraged them to pay it forward in their everyday lives.
The "Gear Up" guys also relied on the community to meet their $10,000 goal for Conservation International. Cyrus explained, "The beautiful thing about community is that it is greater than the sum of its parts. Each person that donated to, talked about, and shared "Gear Up for a Greener Earth" could have done so for any cause, on their own, and it would have brought about some good in the world. However, as a community surrounding and supporting this ride, we achieved much more than all of those disparate potential donations ever could."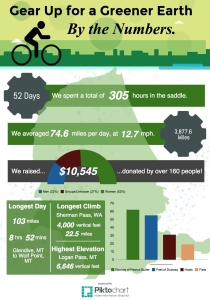 Not only did the trip rely on the community for support, but the experience also created a new community, forged around this incredible journey. Now, there is a large group of people across the whole nation who can say that they were a part of "Gear Up for a Greener Earth." The ride connected the donors, the hosts, the families of the riders, and Conservation International to become a community that now has had a personal stake in making progress towards protecting the environment. Cyrus reflected, "And that new community, though we didn't know it when we started out, w
as the whole point."
If you enjoyed learning about "Gear Up for a Greener Earth," you can learn more by visiting their blog or their Facebook page. Stay tuned next week to read about how members of the St. Mary's community are keepin' it small!