Keep St. Mary's Small… A St. Mary's Tradition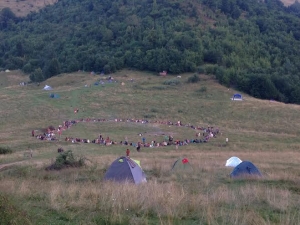 The past two summers, while backpacking through Europe, sophomore Molly Rigby got a taste of living small as she traveled through Europe with only a hiking backpack. In 2014, she traveled comfortably by bus, and generally stayed in hostels. This past summer, however, her backpack was filled with a tent, a hammock, and a few clothes so that she could have more freedom with where she stayed. In the summer of 2014, she traveled to England, the Netherlands, Belgium, France, Spain, Italy, Hungary, and Romania.  This past summer, she visited some of the same places, and added Iceland, Denmark, and Germany to the mix.
Both summers, Molly spent some time at rainbow gatherings, which are temporary communities that have a focus on human connection instead of consumerism, capitalism, and the media. Rainbow gatherings promote peace, love, and community. Both of the gatherings that Molly attended held about 200-300 people who lived together in tents, tipis, and vans for about a month. She explained that everyone contributed to the building of structures such as the kitchen, a sauna, and a pizza oven. Some spaces were dedicated to healing centers and workshops. The entire camp ate together twice a day.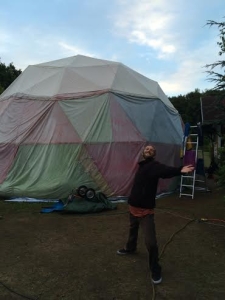 "One of the coolest experiences I had," Molly recounted, "was when I camped out near two rainbow geodesic circus tents that were built by a Polish bubble artist on an island off the coast of Germany." A bubble artist is, quite literally, a person who creates beautiful art with bubbles. Molly continued, "I stayed and worked with him at this bubble theater with various other bubble artists from Eastern Europe.
A learning experience for life
Traveling through Europe has been an amazing experience for Molly, and her trips have taught her a great deal. She has become accustomed to hitchhiking when needed, saving money and keeping a small environmental footprint for her travels. She also gained the skill of recycling food. This practice is incredibly important for a sustainable lifestyle, as food waste is a huge problem that can easily be avoided with a few simple changes.
Molly's travels have also taught her the importance of compassion and honesty. She had done some traveling alone, but she learned that traveling with a companion is a little different. She said, "I learned how to make my companion's needs a priority. I learned very quickly that communicating our intensions was extremely important." The importance of compassion and honestly was not only a theme of Molly's travels individually, but was also a theme of the communal living of the rainbow gatherings with their focus on love and community.
Making do with limited resources
Molly shared that when traveling and living in tents, people have learned to be creative problem solvers when it comes to managing everyday tasks and resources. For showers, the community members would dig a hole and line it with a plastic bin. The hole would be quartered off with a shower curtain, and they would shower with a watering hose. All of the waste water from the community was held in a tank and removed every few weeks. Molly explained that when traveling in such a way, hot showers can be hard to come by. "It really made me appreciate the privilege of hot showers."
Living small enabled Molly to be mobile and to explore so many beautiful places. Molly said of the experience, "My favorite part was getting to meet to meet and make friendships with absolutely incredible people. And learning so much about bubbles!"