Fall 2019
ART SMP Marathon Open Studio
Wed. Sept 18, 4:45-6:00pm, Art Annex Studios. Open to all.
ART SMP students open their studios to show the works completed during the "10 works in 10 days Marathon".
Students: Tara Auman, Gillian Borkoski, Davita Fennell, Emory Knott, Carol Morris, Bri White and Claire Youmans
Dorotha Grace Lemeh
Artist House Residency: September 3 – October 15, 2019
Artist Talk: Monday, September 16, 4:45-5:45pm, Glendening Annex


Dorotha Grace Lemeh is an artist, poet and educator who works across disciplines in her creative work to produce powerful installations. In her own words, Lemeh explains: "Visual storytelling is the means in which I use to examine rather interesting, and at times, complex narratives associated with the body—specifically that of women. In my art, I utilize various artistic methods to delve into historic, literary, and popular cultural themes, which, at times, offer a different understanding of the (usually binary) roles that are either assigned to, and/or taken on by women. Using the ideas of fragmentation and acceptance, I tend to create art that strays into the in between spaces of identity, beauty, and desire. Here in these areas I create visual pieces that play within the intersections of object- text- image, object-to-image and image-to-image subject matter. At times, I reference and use archetypal stereotypes, personal and historical narratives in my art to seek out the hidden messages that for various reasons are removed from the prying eyes of others." —dglemeh
As a visual artist, Dorotha Lemeh has to her credit over 80 exhibitions. Internationally her works of art have been exhibited in Bulgaria, Beijing & Huairou China, England, Italy, Ireland, Mali, Tlaxacala-Mexico, and Nigeria. Nationally, she continues to participate in exhibitions in New York, California, Illinois, Pennsylvania, Florida, Minnesota, Arkansas, Tennessee, New Jersey, Wisconsin, Texas, Washington D.C., and Washington State. Her artworks were included in museum exhibitions at the following venues: Florida Museum for Women in the Arts in Deland, Florida, Southern Alleghenies Museum of Art in Pennsylvania, National Civil Rights Museum in Tennessee, Noyes Museum of Art in New Jersey, Arlington Museum of Art in Texas, and Euphrat Museum of Art in California. Reviews of Professor Lemeh's artwork have appeared in On View Magazine 2013; The International Review of African American Art; Arts & Antiques Magazine; Crossing Boundaries & Frontiers, Bamako, Mali; Gumbo Ya Ya: An Anthology of African American Women Artists by Dr. Leslie King- Hammond; and Painting in Acrylics. Her art images are also included in catalogues Biennale Interazionale Dell' Arte Contemporanea, Florence, Italy 2001 & 1999, International Triennial of Painting: Sofia Bulgaria, Black Women in the Academy II, and Celebrating Visual Traditions II. From 1995 – 1997 Dorotha Lemeh sat on the National Board of the Women's Caucus for Art (WCA), and the College Art Association's Committee on Women in the Arts, whose charge is not only to promote the scholarly study and recognition of the contributions of women in the visual arts, but also develop linkages with organizations concerned with compatible interests, and to monitor the current status of women in the visual arts professions. As a published author and writer, she contributed the chapter "Myth, Reality, and Legend: El Ponder de la Mujer" featured in the award-winning book, Santa Barraza: Artist of the Borderlands, which received the Southwestern Book Award. Her writing has also appeared in the international feminist journal, n.paradoxa. Her art and writing was featured in Women of Power Magazine. Reviews of Dorotha Grace Lemeh's artwork have appeared in The International Review of African American Art; Arts & Antiques Magazine; Crossing Boundaries & Frontiers, Bamako, Mali; Gumbo Ya Ya: An Anthology of African American Women Artists by Dr. Leslie King- Hammond; and Painting in Acrylics. Images of her art are also included in catalogues Biennale Interazionale Dell' Arte Contemporanea, Florence, Italy 2001 & 1999, International Triennial of Painting: Sofia Bulgaria, Black Women in the Academy II, and Celebrating Visual Traditions II. Her recent achievements led her to serve as a reviewer for Oxford University Press. Dorotha Lemeh received her MFA in painting & drawing from The Pennsylvania State University's School of Visual Arts (SoVA) and her Bachelor of Science in Studio Art from The Tennessee State University.
Lemeh's Artist House Residency and programming is co-sponsored by The Department of Art & Art History, The Lecture and Fine Arts Committee, and the African and African Diaspora Studies Program.
Clare Nicholls '10
Artist House Residency: October 1-19, 2019
Artist Talk: Wednesday, October 9, 4:45-5:45pm, Glendening Annex

"Weaving is hand work and is digital. Digital came from digits, from counting on our fingers. Now digital means information that is delivered via computer program– an array of ones and zeros arranged in grids.
Grids are the overlay to interface with everything. Cities are planned on a grid, icons snap to a grid, a grid overlays an image to edit. When Clare was a teenager, she would draw in MS Paint pixel by pixel, placing each tiny square of color with the most precision the mouse would allow. That same digital grid is how she decides how to build shapes on the warp.
Weaving is also the marriage of image and object, building fabric from scratch. The revelation between empty warp and finished cloth feels mythic: at first there was nothing, and now here is something. Weaving tells stories, textiles are connected to text. The rhythm of shape and color in her tapestries is a poem. A line of color running up the side is marginalia. The knots that finish the cut ends are a signature. Clare dyes her own yarn to brew her own vocabulary; she salvages yarn from thrift stores and by unraveling sweaters to reclaim words that have been lost to her.
The weaving process has a sense of unearthing what is lost, sometimes. Language shifts, myths are retold. Artist Rowland Ricketts once said, "Sitting at the loom connects you to the origin of things." Through weaving it is possible to re-trace those origins and find new paths beyond the present." – Clare Nicholls
Clare Nicholls is an artist and educator living and working in Baltimore, Maryland. Clare is a weaver and artist who loves touching soft things and is obsessed about knowing everything. Formerly the manager of The Shed, an exhibit makerspace within the Maryland Science Center, she wrote programming and taught workshops focused on STEAM education in informal contexts. Clare also teaches weaving workshops for the public around Baltimore, MD. Her professional goal is to connect people to process.
Clare earned a BA in Art and Art History from St. Mary's College of Maryland in 2010, and obtained a Post-Baccalaureate Certificate from the Maryland Institute College of Art (MICA) in 2013. She most recently showed work in RITUALISMS at the Target Gallery in Alexandria, VA in January 2019. She has also shown work at the School of Design Gallery at Stevenson University, Boyden Gallery at St. Mary's College, and the Riggs and Leidy Galleries at MICA. Clare also lectured on how weaving structures have influenced garments throughout history at the School of Design at Stevenson University.
Valerie Hardy
Teaching Fellow/ Artist-in-Residence (Fall semester 2019)
Artist Talk: Wednesday, October 30, 4:45-5:45pm, Glendening Annex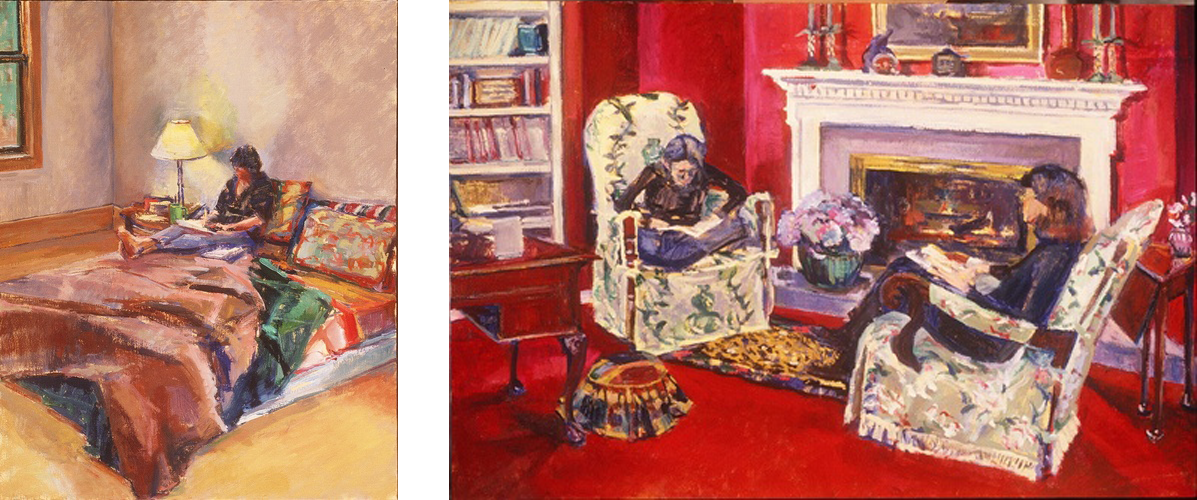 Valerie Hardy earned a B.A. in Graphic Design from American University, and an M.F.A. in Painting from American University. She has taught painting, drawing and 2D Foundations at The College of William & Mary, and has been awarded residencies by the Cité des Arts Internationale (Paris, France) and the Virginia Center for the Creative Arts (Amherst, VA). Her work has been shown in exhibitions at the Matney Gallery, Matthews & Shank Gallery, Muscarelle Museum of Art, Longwood Center for the Visual Arts, the Washington Studio School, and the Peninsula Fine Arts Center among others. Hardy will teach ART 206. Introduction to Painting in fall 2019 at SMCM.
Over her entire artistic career, Hardy has focused on the interplay of the objects, the spaces, the light, the people, that catch her eye. Her challenge is to reveal the relationships among and between them, in a way that says something visually interesting while representing these things as identifiably themselves.
http://www.valeriehardy.com/home
Miriam Schaer
Artist House Residency: November 2-15, 2019


"I have been creating artist books, including one-of-a kind sculptural works and limited editions, for more than 30 years, using both traditional and non-traditional materials. I also make prints, installations, multiples and multimedia projects. I frequently use clothing — everything from dresses and children's garments to bustiers, basques, brassieres, and aprons — as materials for my books, manipulating and embellishing the fabrics to serve as enclosures, inside which I explore personal, feminist, social and spiritual themes, such as housework, family ties, non-motherhood, and religion. I especially love using objects created for other ends so that their reinvention serves broader themes. The book as a transformational object is an ancient, even romantic notion. Traditionally, books embody stories. Mine do too, while also expressing the multiple roles thrust on women by culture, the media, and themselves. That my techniques sometimes involve a layered complexity defying easy explication transforms the works into physical representations of the illusion of something under control.
Recently, my work has focused on the relationship of women, motherhood, and the absence of motherhood — in particular, how women without children fare in a world that values women largely for their fertility. I became sensitized to the relationships among these conditions as my own mother began to exhibit signs of dementia. As we all age, how do we negotiate the role reversals inherent in coping with parents who live beyond the point at which they can care for themselves and become, like small children, individuals cared for by their own children, now adults? Finding no simple answers, I hope my work stimulates a dialogue about these difficult issues." – Miriam Schaer
TWO EVENTS with Miriam Schaer
Artist Talk: Monday, November 4, 4:45-5:45pm, Glendening Annex
Bookmaking Workshop with Miriam Schaer
Spinal Bling: The Transformative Magic of Link-Stitch Binding
Saturday, November 9, 2019
10:00am-3:00pm, Montgomery Hall Art Studios, Room 132
All materials provided – No previous experience needed
Free to Arts Alliance members and SMCM students
Registration required. Limited to 20 participants. Email: srjohnson@smcm.edu
Generous funding support for the workshop has been provided by a grant from The Arts Alliance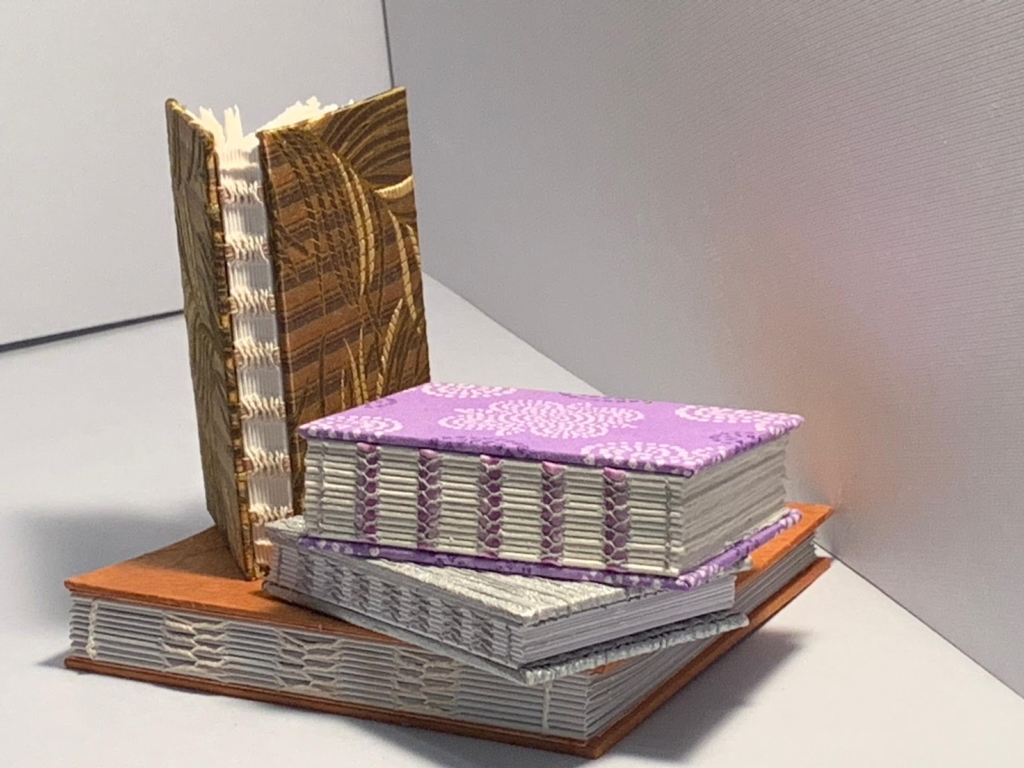 In just one workshop session, each participant will make a beautiful book (shown above) from start to finish. No previous experience needed. Instruction by well-known New York book artist, Miriam Schaer. As part of the session, lunch will be organized as a communal 'potluck' or brown-bag lunch. Also on hand will be SMCM Professor of Art, Sue Johnson and Teaching Assistant, Carol Morris.
Link-Stitch Binding, sometimes referred to as French-Stitch, is a wonderful, elegant sewing structure that creates a lacey matrix of vines across the spine of any codex to which it is applied. Workshop students will learn to use the stitch on its own and also with ribbons as a sewing support to create exposed-spine bindings that are both beautiful and functional. Students will also learn to make cover boards for their books. By the end of the workshop, students will finish at least one book using this approach.
Miriam Schaer is an artist and educator based in Brooklyn, New York. She exhibits extensively in the U.S. and abroad and is represented in numerous collections, including Yale University Museum, Sallie Bingham Center for Women's History & Culture at Duke University, the Tate Gallery in London, and The Bainbridge Museum outside of Seattle, WA. Her work has earned a New York Foundation for the Arts Fellowship, inclusion in the Elizabeth A. Sackler Center for the Feminist Art Base at the Brooklyn Museum, and artist residencies in Spain, Estonia, India and Egypt. Her work about societal bias against childless women, Baby (Not) On Board: The Last Prejudice?, has been exhibited by the International Museum of Women. A U.S. Fulbright Scholar, Schaer spent part of 2017 in the Republic of Georgia, where she established the Artist Book Collection at Telavi State University. This spring she has work included in Freed Formats: the book reconsidered, in various locations throughout Connecticut and Hand & I, about embroidery and social practice Dorsky Gallery in Long Island City, NY, curated by Yulia Tikanova. From 2009-2017, she was a Senior Lecturer at Columbia College Chicago in the Interdisciplinary MFA in Book, Paper, Print and Media, and has been a visiting artist at Pratt Institute in Brooklyn, Sarah Lawrence College in Bronxville, NY, Academy of Arts, Tallinn, Estonia, and Faculty of Fine Art, University of Belgrade, Serbia and Montenegro. Schaer's essay The Motherhood Imperative: Fertility, Feminism, Art, is included in "Maternal in Creative Work: Intergenerational Discussions on Motherhood and Art," edited by Elena Marchevska and Valerie Walkerdine, will be published by Routledge in Fall 2019. She is represented by the Central Booking Art Space in New York, and by Vamp and Tramp Booksellers, in Birmingham, Alabama. She is currently serves on the board of The Center for Book Arts in New York.
http://www.miriamschaer.com/
Golden Paints A-Z Lecture & Demo
Monday, November 18, 1:30-3:30pm
Upper Montgomery Commons
FREE
Must be signed up to receive free literature packet & small bag of acrylic paint samples
Email Sue Johnson to sign up: srjohnson@smcm.edu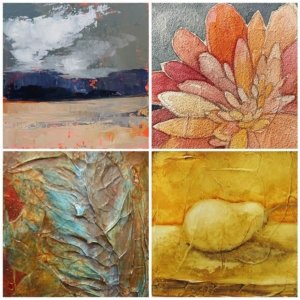 The Golden Paints lecture/demo is a two-hour free educational presentation on paint that covers a broad range of acrylic products and gives attendees a brief introduction to Williamsburg Oils and QoR Watercolors.  The lecture covers pigment properties and paint formulations, gels, pastes, grounds, color mixing, drying time, health & safety concerns, and much more!  Various acrylic materials and techniques will be demonstrated to enrich your understanding of the medium, among these you will learn basic tips for how to extend paint, make glazes, image transfers, acrylic "skins", and how to mix paints with gels and pastes to create exciting textures!  Discover the possibilities and become inspired with how these fabulous materials can be added to your own creative process!
Margot Douaihy
Artist House Residency: December 3 -13, 2019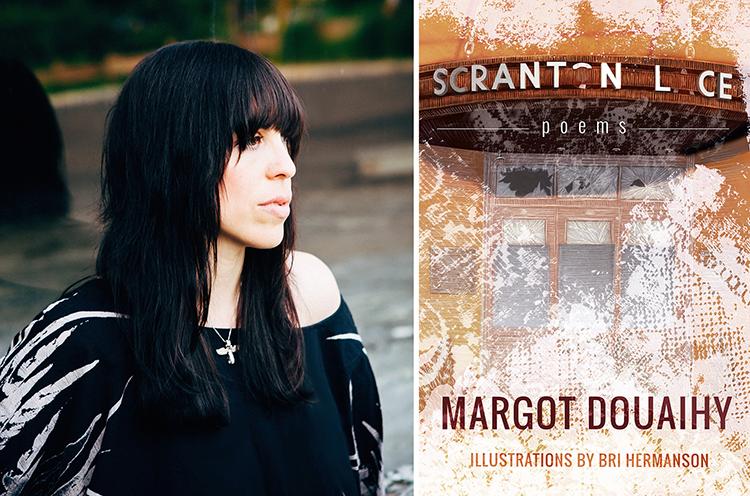 Creative writer Margot Douaihy (b. Scranton, PA) leverages language as a tool of immersion and inquiry. As a process-based artist working in diverse genres—poetry, literary fiction, hardboiled crime fiction, true-crime verse—she allows the creative identity of a project to locate the final form. A queer writer, Douaihy filters ideas
through a phenomenological lens, mining the patterns and occlusions that shape awareness in a text. She inhabits and subverts tropes, such as the femme fatale and noir signatures, to shake the heteronormative, perceptual constructs that limit storytelling modes. In her poetry, fiction, and hybrid forms, Douaihy foregrounds voice and a bold re-imagining of place. Raw, visceral, lush, obsessed—carefully crafted with line-level immediacy—Douaihy's dialogue-driven, narrative experiences often mask complex, subterranean simmering. From her poetry collections to her hardboiled-inspired sleuth series, an ethos of ache unites her work.

Douaihy earned a BA in Writing from the University of Pittsburgh Writing Program, an MA in Creative & Life Writing from Goldsmiths, University of London, and a Ph.D. in Creative Writing from Lancaster University. Douaihy is the author of Scranton Lace (Clemson University Press), the Lambda Literary Finalist Girls Like You (Clemson University Press) and I Would Ruby If I Could (Factory Hollow Press). Her book, Bandit/Queen: The Runaway Story of Belle Starr, is under contract with Clemson University Press. A Board Member of Philadelphia Stories and Founding Member of the Creative Writing Studies Organization, Douaihy's work has been featured in PBS NewsHour, Colorado Review, Madison Review, Tahoma Literary Review, North American Review (forthcoming), South Carolina Review, Adirondack Review, Wisconsin Review, The Sow's Ear Poetry Review, The Tishman Review, Pittsburgh Post-Gazette, The Windfall Room, and the  Storyscape Literary Journal . A
frequent speaker, presenter, and workshop leader, she has held teaching positions at Marywood University. Currently, Douaihy is a Lecturer at Franklin Pierce University in Rindge, NH, where she also serves as the Editor of the Northern New England Review literary journal.
Douaihy's residency is sponsored by the Artist House Residency Programs. During her residency she will work on a true-crime project, Bandit/Queen: The Runaway Story of Belle Starr (under contract to Clemson University Press) on which she collaborates with her partner and illustrator, Bri Hermanson.  Douaihy will also make a class visit to the ART 347 Book Arts course.
ART SMP In-Progress Exhibition
Opening reception:
Monday, December 9, 4:45-5:45pm
Exhibition dates:
December 9-14
Boyden Gallery, Montgomery Hall
Students:
Tara Auman, Gillian Borkoski, Davita Fennell, Emory Knott, Carol Morris, Bri White and Claire Youmens
Fall 2018
Carrie Patterson, Professor of Art, Department of Art and Art History
Brown Bag Lunchtime Talk: Painting, Writing, and Everything under the Kitchen Sink
Tuesday, September 11, 12 Noon-1pm, Glendening Annex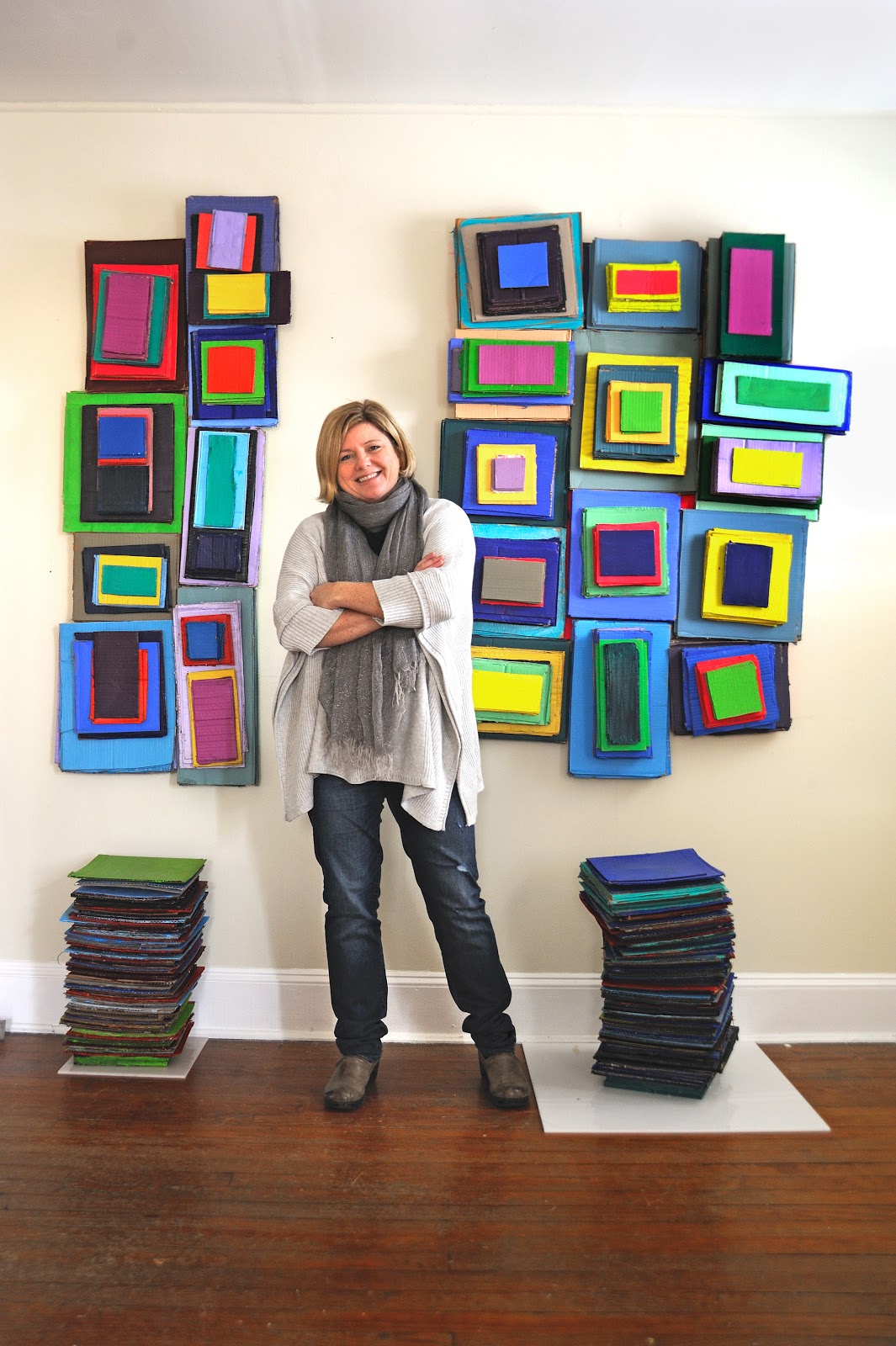 Carrie Patterson, Professor of Art at SMCM, returns from sabbatical to deliver a Brown Bag Lunchtime Talk: Painting, Writing, and Everything under the Kitchen Sink. Patterson is a visual artist working in Leonardtown, Maryland. Her artwork considers how color, form, and line metaphorically measure the human condition as experienced through the body. She earned a B.F.A in studio art from James Madison University and an M.F.A in painting from The University of Pennsylvania. Additionally, she was a student resident at The New York Studio School where she worked with second generation abstract expressionists: Charles Cajori, Mercedes Matters, and Rosemarie Beck. Her artwork has been exhibited across the country with solo shows in New York City, Philadelphia, Virginia, and Minnesota. In 2017 her solo show titled: Lightbox consisted of brightly colored cardboard constructions and stacked floor paintings at Hood Gallery at Mary Baldwin University in Staunton, Virginia. Recently, she has been making painted constructions based off her lived experience of architectural forms and their relationship to the landscape. Most recently her work was included in a group exhibition titled: X Marks the Spot, Women of the New York Studio School. She is a Professor of Art at St. Mary's College of Maryland, and former owner of Yellow Door Art Studios, a community art school. Her art curriculum called The Yellow Line features lesson plans for early childhood and K-12. Currently she is developing a course titled How to See for The Great Courses.
Janis Goodman
Brown Bag Lunchtime Artist Talk
Tuesday Sept 18, 12:00-1:00pm, Glendening Annex
Note: Janis will be returning to SMCM in February for an Artist House Residency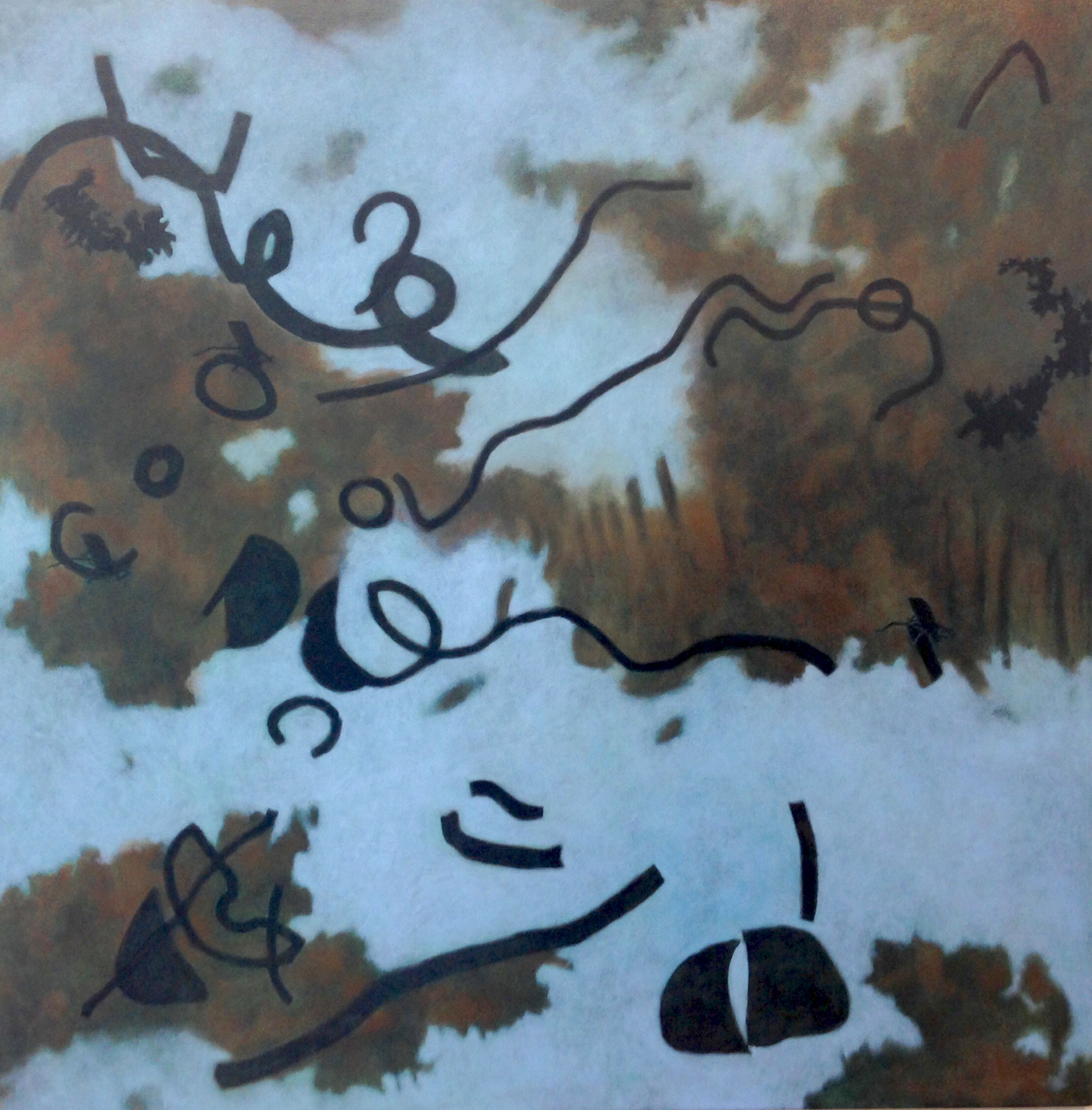 Janis Goodman's work moves between the narrative and the deconstructed. It is based on the laws of nature but governed by intuition and experience. Years of hiking national parks and kayaking rivers along the mid-Atlantic and New England have formed the backdrop of her work. Her fascination with natural disasters additionally fuels the sense of the absurd and the possibility of chance. Goodman's oil paintings travel and negotiate the ripples and tides of estuaries and coves. They also follow the invisible energy paths connecting the dots between the observed, imagined and remembered. Her color expands in all directions suggesting chaos, impermanence and random activity. The paintings don't specifically pay witness to an event but set up a strategy of cause and effect. They slow down the motion that is invisible to the eye and give the observer visual signs of a time or a direction. Goodman's paintings rely more heavily on perception than fact. Her work continues to explore the relationship between the environment, global shifts and the perception of constancy. She suggests in her paintings the humblest of relationships that exist in the environment.
Janis Goodman, is a Professor of Fine Arts at the Corcoran College of Art + Design/George Washington University in Washington, DC. She is the coordinator of the Fourth Year Fine Arts Program as well as a Professor of Drawing and Painting. She is the arts reviewer for WETA TV, Around Town, a PBS affiliate in Washington, DC. Goodman is a recipient of numerous DC Commission on the Arts Grants as well as a National Endowment Exhibition support grant. In 2017 she received the Franz and Virginia Bader Award for excellence in art. Goodman is a founding member of the socially engaged Workingman Collective. Goodman is included in North American Women Artists of the Twentieth Century: A Biographical Dictionary by Nancy Heller and Who's Who in American Art. Her work was highlighted in the book 100 Artists of Washington, DC by F. Lennox Campbello. She is represented by Turtle Gallery, Deer Isle, ME; Thomas Deans Fine Art, Atlanta, GA; and Lee Hansley Gallery, Raleigh, NC. In Washington, DC her work can be found at Neptune Brown Gallery and Reyes + Davis. Recent solo shows include exhibitions at Thomas Deans Fine Art, Atlanta; JK Gallery in Los Angeles; Reyes + Davis in Washington, DC; Lee Hansley Gallery in Raleigh, NC; and Michael Connor's Gallery in New York. Her work has been reviewed in the New York Times, Art in America, The Washington Post and The City Paper.
ART SMP Open Studios – Marathon, Art Annex (100 Main)
Monday, September 17, 6:30-8:00pm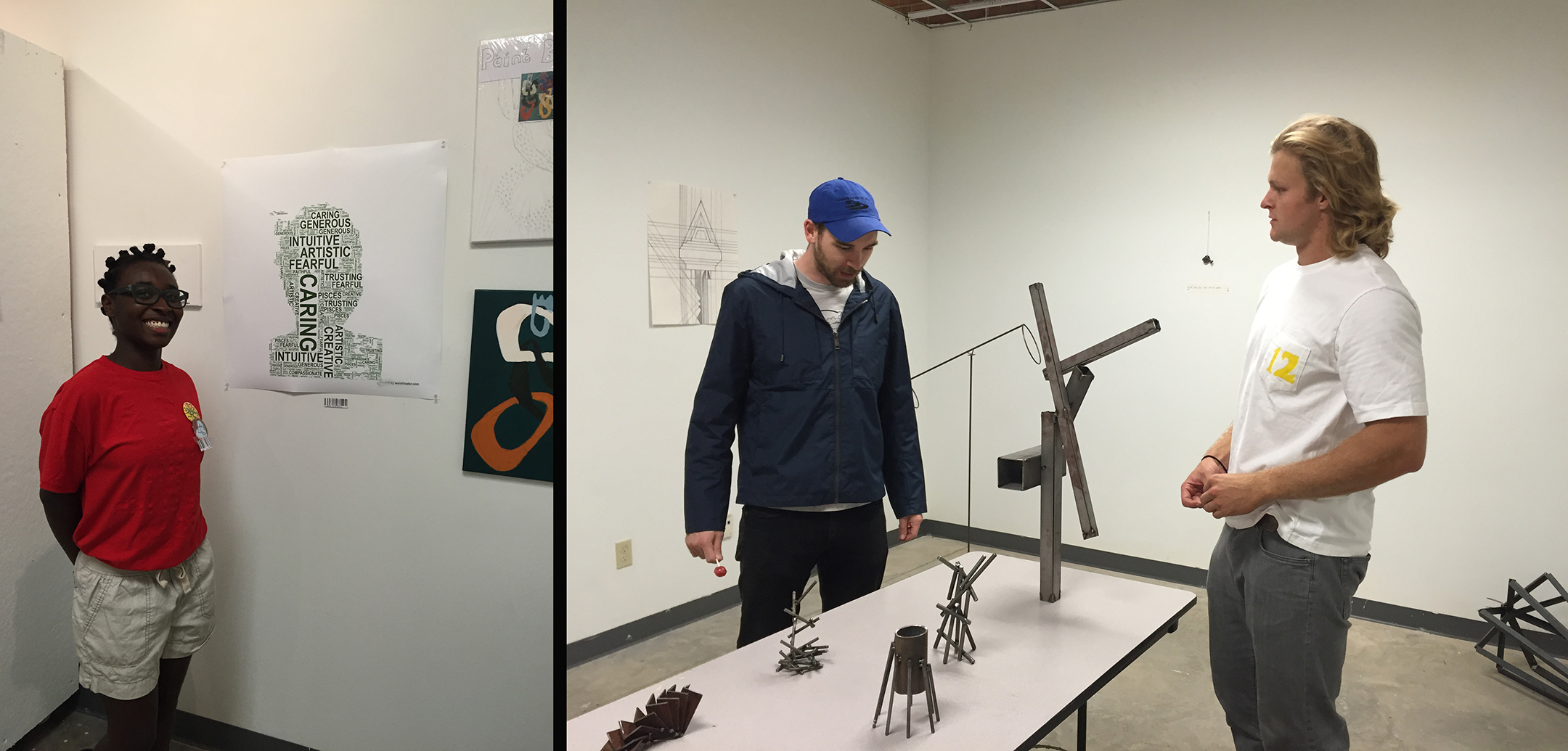 Fall 2018 SMP in Studio Art students will spend the first three weeks of this semester working on an art-making Marathon, culminating in this open studio event and potluck. At this point in the semester, students will have made at least 20 artworks responding to a series of prompts, and all are welcome to come by and see how students have pushed their boundaries and energized their creative spirits, in preparation for their year-long SMP projects. The event will be held at the Art Annex, located next to the Physical Plant and across from the tennis courts.
SMCM Faculty Exhibition: Finding Elsewhere
September 24 – November 10, 2018
Boyden Gallery, Montgomery Hall
Opening Reception: Monday, September 24, 2018, 4:45-5:45pm
Gallery open hours: Tues-Fri 1:00-6:00pm / Sat 11:00-4:00pm
Artists: Tristan Cai, Giulia Piera Livi, Jessye McDowell, Carrie Patterson, and Lisa Scheer
Exhibition curator: Kate Pollasch '10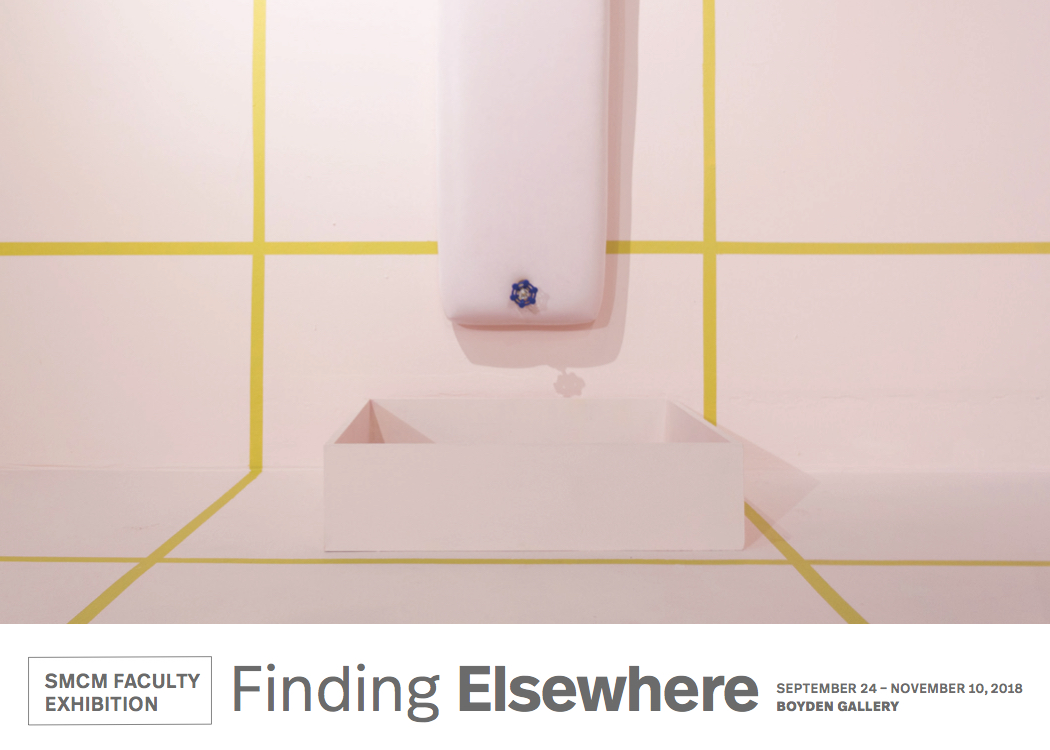 The SMCM Faculty Exhibition: Finding Elsewhere is on display until November 10, so stop in on your way to class or on a rainy day to view the wonderful artwork from SMCM's very own faculty.
The six artists and professors in this exhibition, Tristan Cai, Giulia Piera Livi, Jessye McDowell, Carrie Patterson, Lisa Scheer traverse a range of mediums from digital modeling, printmaking and artist books, to painting and installation. While their use of formal choices of composition, color, subject, light and more vary widely, common thread lines run through each artist, pulling individual practices into the warp and weft of a multicenter group exhibition.
Giulia Piera Livi
SMCM-MICA Artist House Teaching Fellow 2018
Artist Talk: Thursday October 11, 4:45-5:45pm, Glendening Annex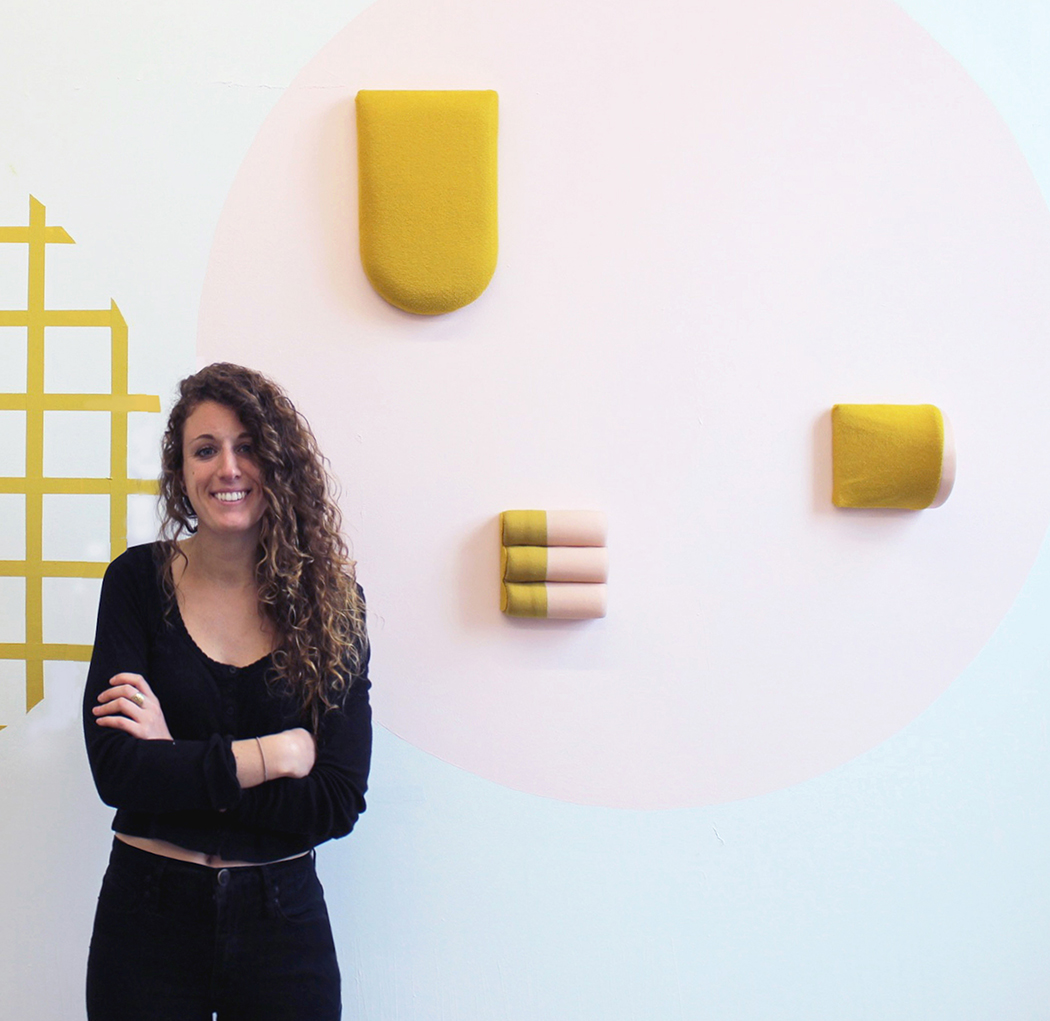 Giulia Piera Livi is a Baltimore-based interdisciplinary artist whose work in painting and installation is an investigation of interior space and design, focusing on the acute and the polite, the domestic and the utilitarian. Her immersive rooms employ color and form to work out ideas of the weirdly functional. Livi's work has be exhibited both nationally and internationally including at Viridian Artists Gallery (New York, NY), VAE (Raleigh, NC), Arlington Arts Center (Arlington, VA), Studio Arts Center International (Florence, Italy), Maryland Art Place (Baltimore, MD), Gallery B (Bethesda, MD), School 33 Art Center (Baltimore, MD), Woskob Family Gallery (State College, PA), and the Philadelphia Sketch Club (Philadelphia, PA). Livi earned a B.F.A. from Penn State University (2015) and an M.F.A. from the Mount Royal School of Art at MICA (2017). She was a 2017 Bethesda Trawick Young Artist Award Winner, and a 2017 and 2018 Janet & Walter Sondheim Prize Semi-Finalist. In fall 2018, Giulia will teach two courses in the Department of Art and Art History: ART 204: Introduction to Drawing and ART 239 Painting and Drawing from Life.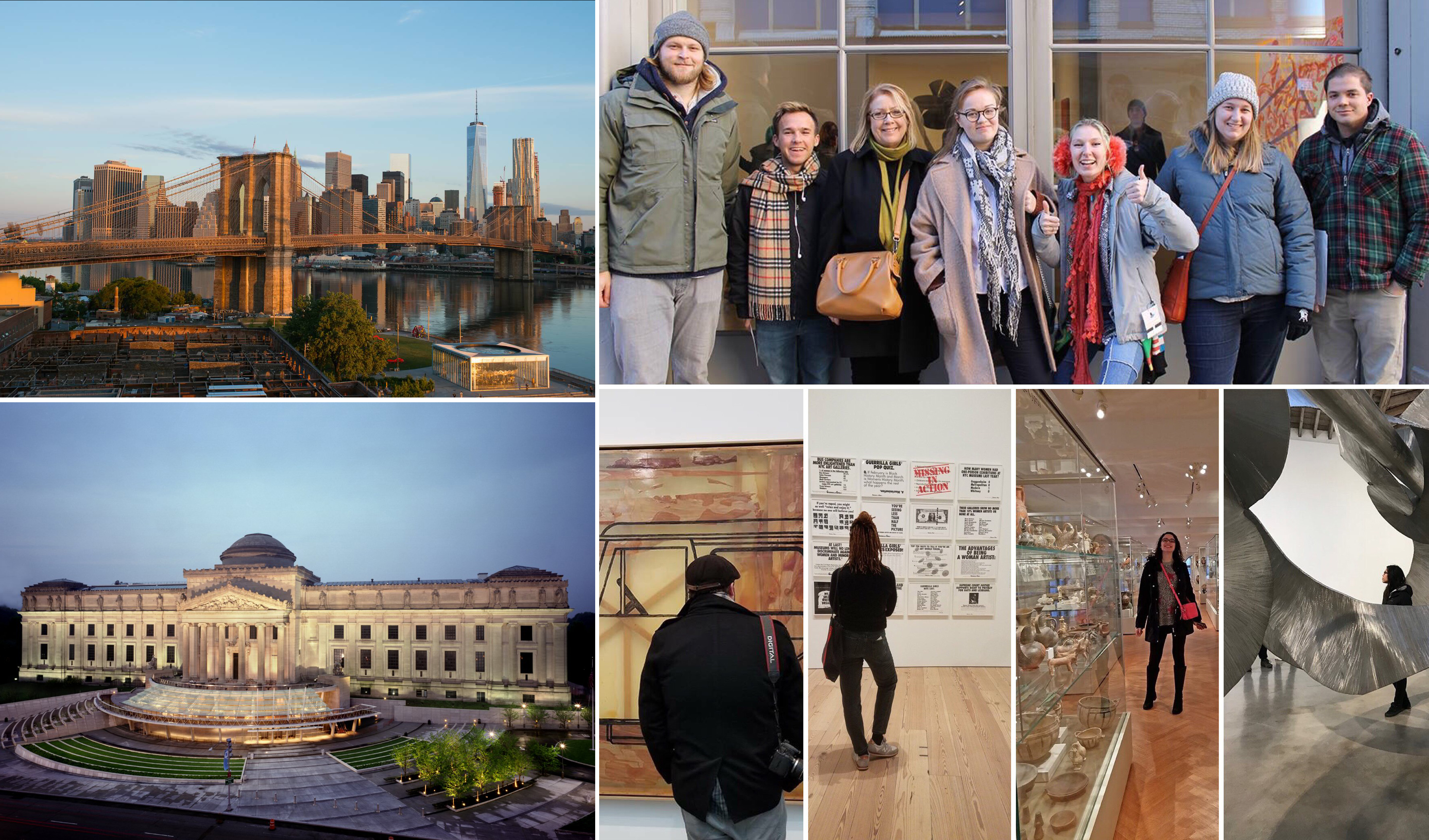 This year's popular departmental field trip to NYC will take us to Brooklyn! One of New York City's most vibrant boroughs, Brooklyn has a long history of culture and creativity. On our one-day trip we'll stop at the Brooklyn Museum of Art–whose displays of global art are among the most innovative in the country–and visit artist studios in the up and coming neighborhood of Bushwick. In between, we'll have time to enjoy beautiful Prospect Park, historic Grand Army Plaza, and the diverse food and shopping in surrounding neighborhoods. Spend some time looking at art and exploring a new place with your professors and classmates!
Watch out for more details and an informational meeting early in September. This trip is designed to be easy and affordable for all St. Mary's art and art history students. Participation is first come, first served. If you have any questions, contact Professor Emily Casey at eccasey@smcm.edu.
Behind the Scenes with Curator Kate Pollasch (SMCM '10)
Boyden Art Gallery, Montgomery Hall
Monday, November 5 @ 1:30pm
Interested in working in a museum or art gallery?
Thinking about how to become a professional curator?
Wondering what paths your SMCM Art History major or minor might lead you to?
Curious about the work that goes into curating an art exhibition?
Please join SMCM alumna Kate Pollasch (Art and Art History, '10) for an informal student discussion about her work as a curator, a behind-the-scenes tour of her process as curator of the current Boyden Art Gallery exhibition Finding Elsewhere, and her professional path from SMCM Art History graduate to writer and curator.
Kate Pollasch '10 is an Art History graduate of SMCM. She holds an MA in Modern art History and Theory and an MA in Arts Administration and Cultural Policy from The School of the Art Institute of Chicago. She has held positions with The American Visionary Art Museum, The Art institute of Chicago, the Roger Brown House Museum, Sullivan Galleries, and Rhona Hoffman Gallery. She is a contributing writer for New City, The Seen, and Elite Daily. She was a 2015-2016 HATCH Curatorial Resident at Chicago Artists Coalition. She was the 2017 Terrain-HATCH Public Art Curatorial Resident and also the 2017 Gaylord and Dorothy Donnelley Foundation Curatorial Fellow. She was also the 2018 guest curator of Sullivan Galleries Low-Res MFA exhibition.
Art History to Art World: Conversations with SMCM Alumni in Museum and Gallery Fields speaker series
Curator's Panel Discussion, SMCM Faculty Exhibition: Finding Elsewhere
Monday November 5, 4:45-5:45pm, Boyden Gallery, Montgomery Hall
Moderator: Exhibition Curator, Kate Pollasch '10
Panelists: Tristan Cai, Giulia Piera Livi, Jessye McDowell, Carrie Patterson, and Lisa Scheer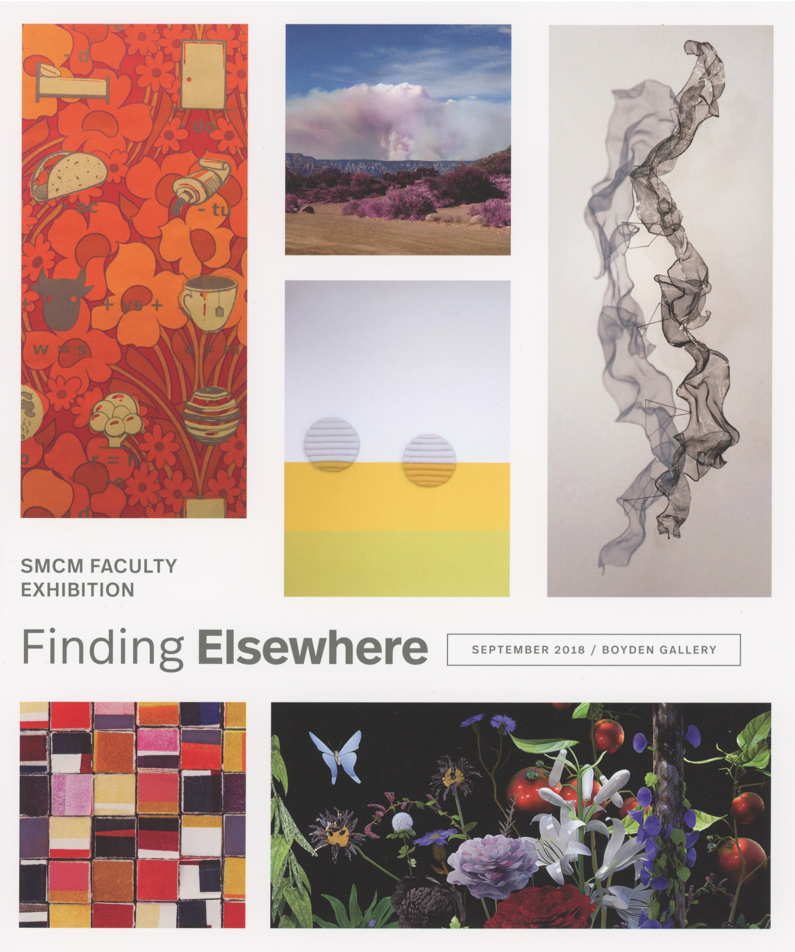 Exhibition: American Modernism in the St. Mary's College of Maryland Bocour Collection
Boyden Gallery, Montgomery Hall
Dates: Opens in late November and will run through the Spring semester
Opening celebration: December 11 @ 4:30 Pizza Party in the Gallery

Drawn from an art history St. Mary's Project by alum Sami Wright '18, this exhibition explores the vibrant history of modern American art through a singular body of paintings in the college's collection. Acrylic paint producer Lenny Bocour was a central figure in the New York art scene from the 1950s through '80s. The artists who used his paints paid homage to him in their work, and repaid him through gifts of art works. In turn, Bocour gifted portions of his collection to St. Mary's College of Maryland. The result is a unique insight into the excitement and experimentation among an expansive group of artists–both known and unknown–during a dynamic period in American art history. The exhibition's highlights from the Bocour collection showcases remarkable works on the college's campus, as well as the stellar state of undergraduate research at St. Mary's today.
Join us for a kick-off celebration (and a break from finals) on Tuesday, December 11 at 4:30. We'll have a pizza party in the gallery to toast the exhibition and the end of the semester.
Bonnie Veblen '09
Lecture: Widening Circles: Life and Learning After Graduation
Monday November 12, 4:45-5:45pm, Glendening Annex
Artist House Residency: October 10 – December 8, 2018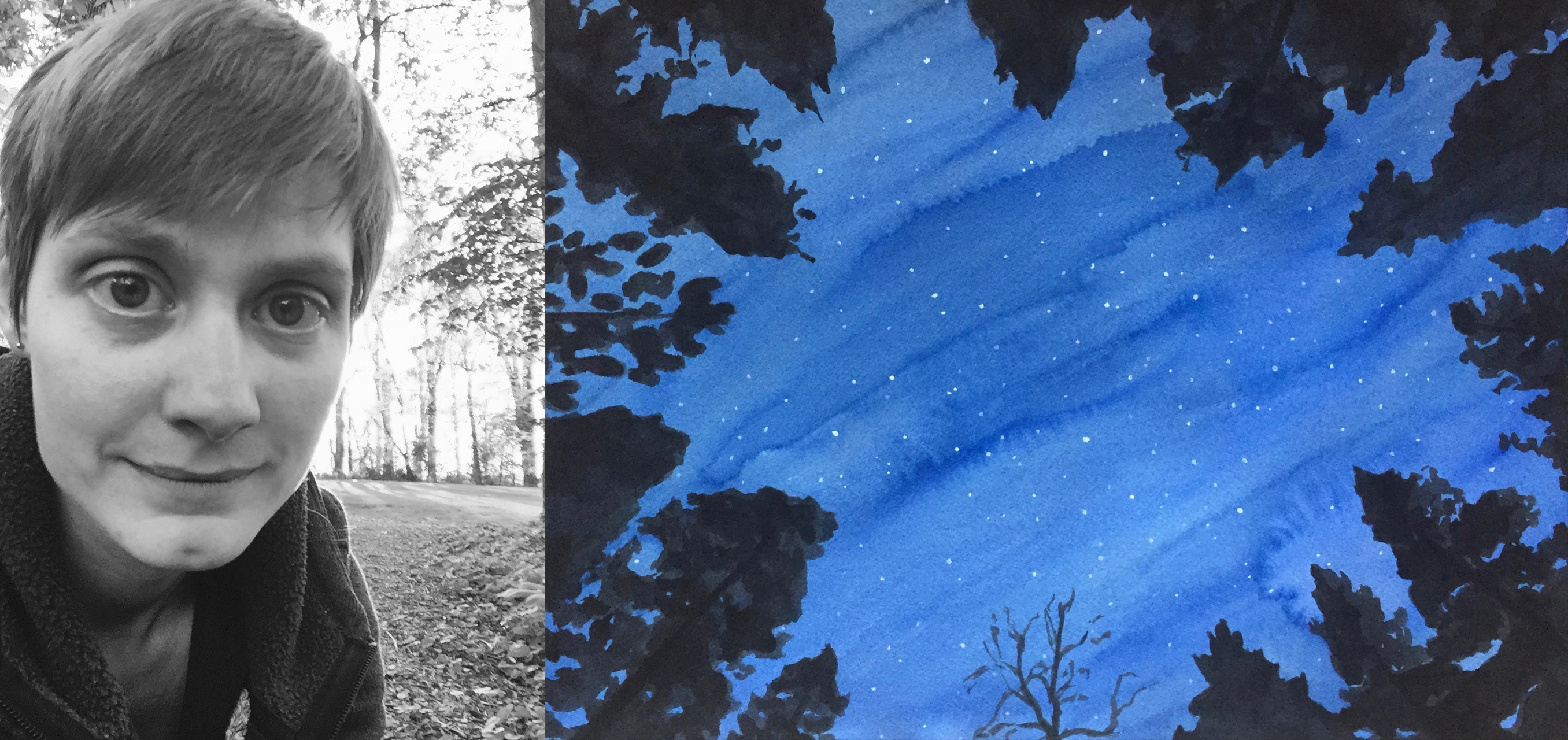 Bonnie Veblen is an artist currently living in Davis, CA. She graduated from St. Mary's College of Maryland in 2009 with a B.A. in Art and Art History, and minors in Environmental Studies and Biology. She completed a Post-Bac at Pont-Aven School of Contemporary Art in Pont-Aven, France in the fall of 2009. In 2014, Bonnie graduated from the Center for Massage and Natural Health and is certified to practice massage therapy in California. She has worked as an illustrator, graphic and web designer, medical assistant, and massage therapist. Bonnie exhibited some of her photography in a duo exhibition at Yoga on York in Baltimore in 2013. Her illustrations have been published in The Complete Photo Guide to Perfect Fitting (Creative Publishing) and Windpower Engineering & Development (April 2018). Her work is also available to view on the web.
Bonnie's current artwork and writing explores the intersections of wildness, interconnection, transformative cycles, nervous system regulation, and wholeness. She often pairs images with words in the form of poetry or prose, so that they become a living unit, mutually informing and adding dimension to each other. Bonnie works in watercolor and acrylic as well as photography to distill the essence of natural spaces and beings she encounters in her daily life and her travels. She is especially interested in the experience of genius loci, the spirit or essence of a place, which is particular to that place alone given all of the qualities that meet there, and how that experience can have deep impact on a person's interior process and wellbeing.
Open Studio @ The Artist House with artists-in-residence, Giulia Piera Livi and Bonnie Veblen
Thursday, November 15, 4:45-5:45pm

All are invited to visit the Artist House studios to see the works of Bonnie Veblen and Giulia Piera Livi. Mattapany Road just above the playing fields. Please walk or carpool as parking is very limited.
ART SMP Open Studios and Public Critique
With Visiting Critic James Williams II, Program Manager @ the Hamiltonian Gallery, Washington, DC
Art Annex Studios
Monday, December 3
Open Studios from 4:30-5:00 pm
Public Critique with Visiting Critic 5:00-9:45pm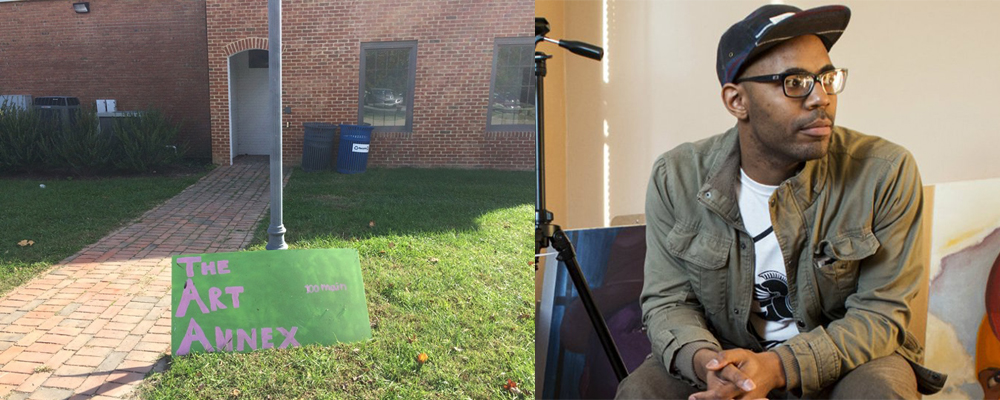 The culminating event of the Fall Semester's SMP in Studio Art will be an open studio event, followed by a public critique in the Art Annex (located next to the Physical Plant and across from the tennis courts). Visitors are invited to see the artwork the students have made over the course of the semester, and to be observers in a formal critique with a visiting critic. This semester's critic will be James Williams II, a painter and the Program Manager at the Hamiltonian Gallery in Washington, DC.
Spring 2019
Christopher Merrill
Artist House Residency: January 15 – February 3, 2019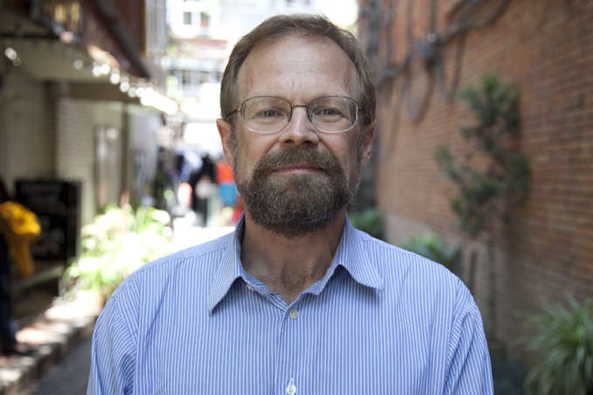 Christopher Merrill has published six collections of poetry, including Brilliant Water and Watch Fire, for which he received the Lavan Younger Poets Award from the Academy of American Poets; translations of Aleš Debeljak's Anxious Moments and The City and the Child; several edited volumes, among them, The Forgotten Language: Contemporary Poets and Nature and From the Faraway Nearby: Georgia O'Keeffe as Icon; and five books of nonfiction, The Grass of Another Country: A Journey Through the World of Soccer, The Old Bridge: The Third Balkan War and the Age of the Refugee, Only the Nails Remain: Scenes from the Balkan Wars, Things of the Hidden God: Journey to the Holy Mountain, and The Tree of the Doves: Ceremony, Expedition, War.
His work has been translated into twenty-five languages, his journalism appears in many publications, and his awards include a knighthood in arts and letters from the French government. He has held the William H. Jenks Chair in Contemporary Letters at the College of the Holy Cross, and now directs the International Writing Program at The University of Iowa. He serves on the U.S. National Commission for UNESCO, he has conducted cultural diplomacy missions in over thirty countries for the U.S. State Department, and in April 2012 President Obama appointed Merrill to the National Council on the Humanities. http://www.christophermerrillbooks.com
Behind the Scenes with Curator Sami Wright (SMCM '18)
Monday, January 28 @ 1:00pm, Boyden Art Gallery, Montgomery Hall
Refreshments served!
Interested in working in archives or collections management?
Thinking about how to become a professional curator?
Wondering what paths your SMCM Art History major or minor might lead you to?
Curious about the work that goes into curating an art exhibition?
Please join SMCM alumna Sami Wright (Art History and History, '18) for an informal student discussion about her work as a curator, a behind-the-scenes tour of her process as curator of the current Boyden Art Gallery exhibition American Modernism in the Bocour Collection, and her professional path from SMCM Art History graduate to working with collections and archives.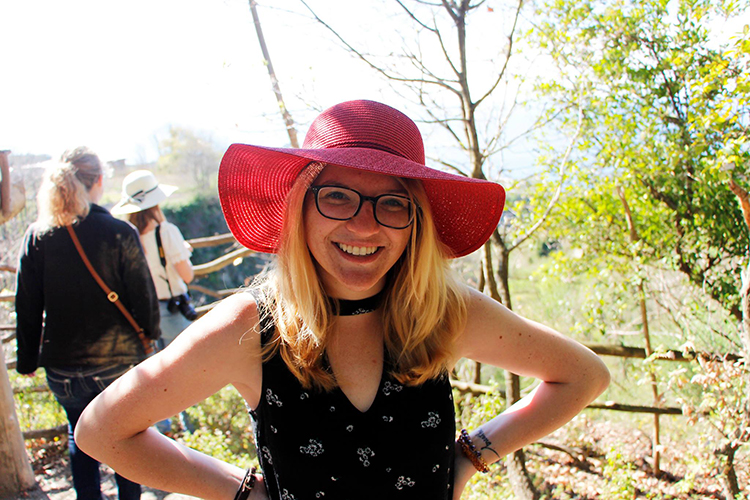 Sami Wright '18 graduated SMCM with a double major in Art History and History and a minor in Museum Studies. She spent the summer following graduation as an Edward W. Pell Graduate Fellow in Collections at Fort Ticonderoga, where she worked on cataloging and digitizing part of the Fort's print collection. She currently lives in Cambridge, MA and works as a Studio Assistant for Boston Photography Workshops and as the Project Photographer for the Casey Family Papers Digitization Project at Historic New England.
Art History to Art World: Conversations with SMCM Alumni in Museum and Gallery Fields series
Department of Art and Art History 2018 Scholarship Awards Exhibition
Opens Monday, January 28 – through February 8, 2019
Hallwalls, Montgomery Hall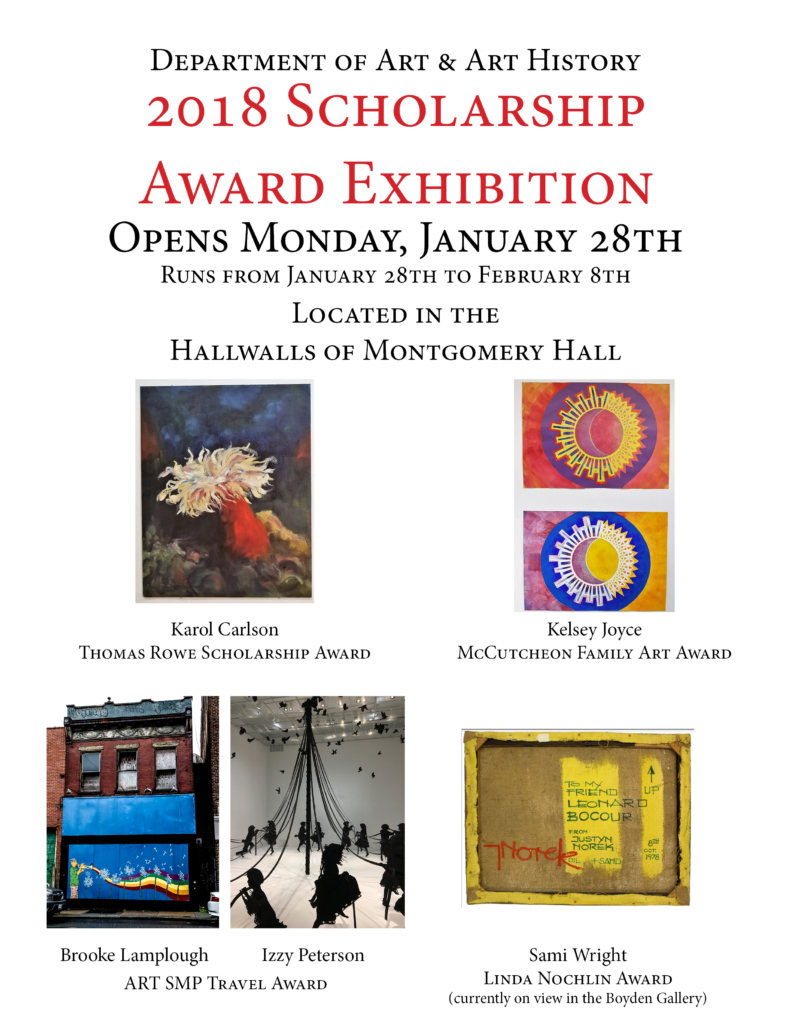 See artworks and posters by the award winners:
Karol Carlsen, Thomas Rowe Scholarship Award
Kelsey Joyce, McCutcheon Family Art Award
Brooke Lamplough, ART SMP Travel Award
Izzy Petersen, ART SMP Travel Award
Sami Wright, Linda Nochlin Award
Photo-Documentation Workshop with Professors Tristan Cai and Jessye McDowell
Part 1- Lighting and Photography
Monday, February 4 @4.45-8.00pm, 3rd Floor library, Beanbag lounge
Part 2- Digital Image Editing
Wednesday, February 6 4.45-6.00pm, MH49 Digital Lab
Bring your artworks (2D and 3D) along on Feb 4 and the resulting digital images on Feb 6 for the editing session.
In this 2-part workshop:
Learn best practices for photo-documenting artworks
Take high quality pictures of your artworks
Learn digital editing tools to enhance your images
Prepare to enter your work for exhibitions & awards
There are lots of opportunities for artists but almost all of them require that you have high-quality images for your artworks for applications, exhibitions, and online portfolios. In fact, here at St. Mary's, it is the season for all sorts of calls for entry, including: The Annual All-Student Show, The Rowe Scholarship Award, The McCutcheon Award, and more!
Successful submissions begin with quality images. The Art & Art History Department, in conjunction with the Boyden Gallery, is offering the opportunity for you to take images of your work in a workshop context. Professional lighting setup and cameras along with expert guidance will be provided.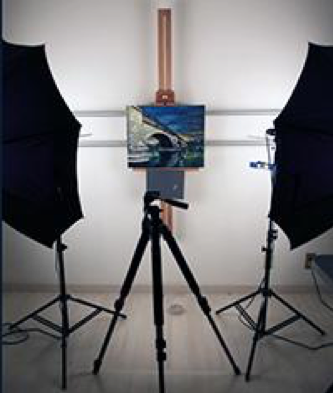 Lori Rubeling
Lecture: Human-Centered Design Research Practices and Case Studies
Wednesday, February 27, 4:45 – 5:45 p.m., Glendening Annex
Artist House Residency: February 24 – March 3, 2019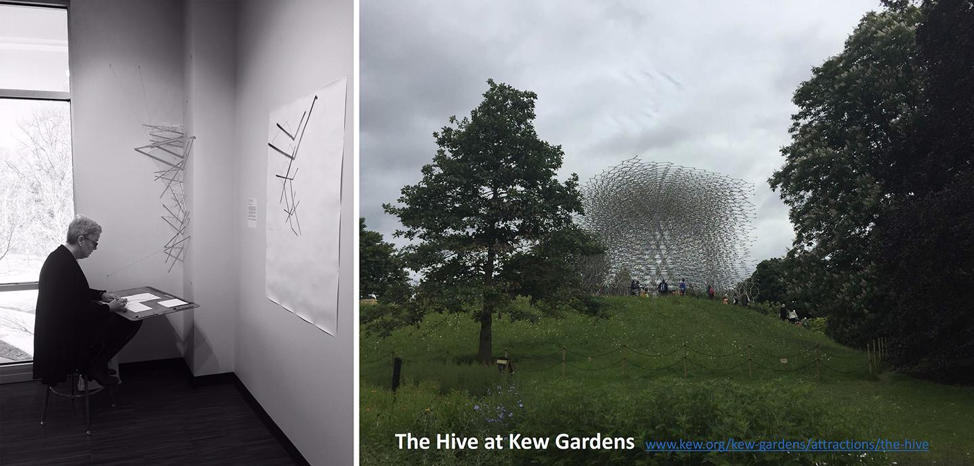 Lori Rubeling's creative interest centers around how spatiality can be represented in drawings, in aesthetic concepts, and in material form. Since 1981, she has studied and produced spatial art and design in theatre arts, theoretical architecture, interior architecture, and sculpture contexts. She has also produced a 200-volume sketchbook library.
Her current practice-led research asks the question:
How can encounters with and observational drawing(s) of historic material artifacts inform the comprehension and valuing of the histories of design?
Rubeling is also actively involved in curation of art and design and human-impact design practices. Her leadership in this area includes a two-year Gallery@ Case[werks] curator residency, as program committee member for the Society for History and Graphics, and as co-curator for D Center Baltimore's monthly impact design conversations.
Rubeling's undergraduate education includes the study of fine art and theatre at Towson University; interior architecture studies at MICA; and the completion of a BFA Studio Art degree from the Corcoran School of Art. Her graduate studies include studying theoretical architecture w/ Daniel Libeskind at Cranbrook Academy of art. She holds a Masters of Arts in the Liberal Arts degree from St. John's College, Annapolis, MD. She was a member of Daniel Libeskind's Cranbrook Academy of Art architectural studio that won a Stone Lion Prize at the 1985 Venice Architectural Biennale for the Three Machines Palminova Project. She has also received sculptural works commissions from the City of Detroit and from Baltimore's Artscape. Rubeling exhibits nationally and internationally: In 2013, she was a visiting artist and lecturer at Art•Sun's 25th anniversary exhibition in Kurashiki, Japan. She has been awarded four Stevenson University scholarship research grants; been a visiting artist and designer for Washington, DC's Art Barn summer programming, Baltimore's Contemporary Museum and Artscape, and the Northeast Regional Honors Council. Her human-centered teaching practice has been recognized by the President of Stevenson University, the Mayor of Baltimore, and the US Department of Commerce.
Rubeling currently teaches in the Graphic Design Department, in the School of Design at Stevenson University. Subjects taught at Stevenson include foundation art and design studios, rapid visualizing drawing scenarios, visual design theory, history of design, aesthetics, theatre collaboration, and exhibition design. She also teaches drawing systems at Morgan State University in the graduate architecture program. Her previous teaching positions include MICA, CCS College of Art and Design, and Mt. Saint Mary's University. This residency and related events are co-sponsored by the Lecture and Fine Arts Committee, and the Environmental Studies Program and the Department of Art and Art History.
Michelle Kohler '01
Artist House Residency: March 1 – 10, 2019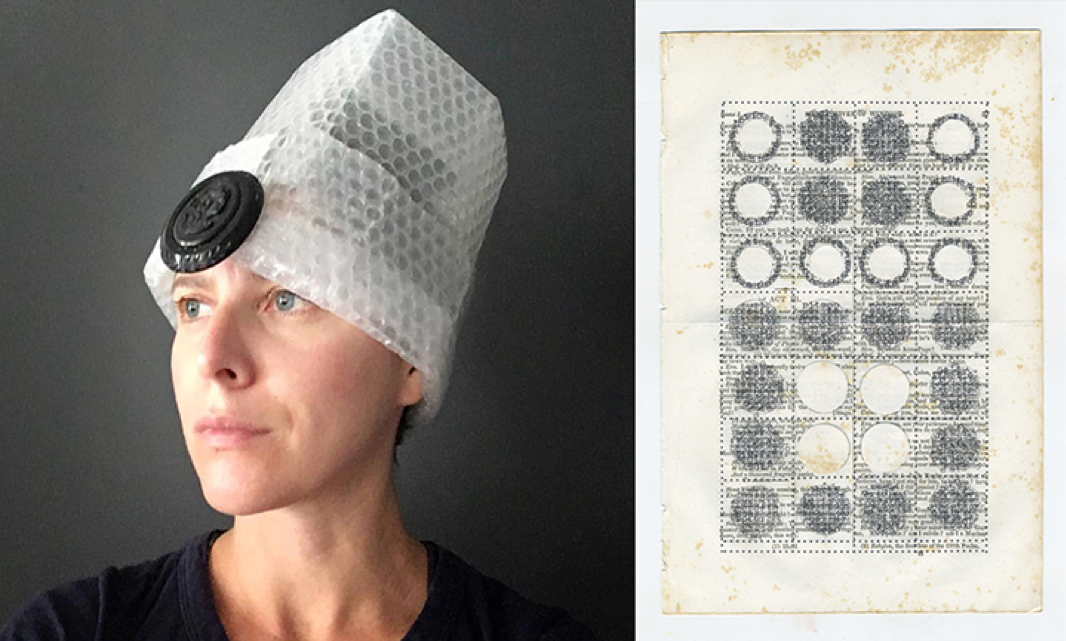 Michelle Kohler '01 is a conceptual artist working in Washington, DC. Using the constraints of domesticity, her work emerges at the intersection of art and everyday life. Through text, installation, and performance, Michelle examines the distance between the numinous and the mundane, self and other. Inspired by 17th Century tantric paintings, she uses a typewriter to transcribe spiritual texts into contemplation forms. The mechanical up and down, left and right motion of the typewriter frames her interest in non-dualism. Practicing the ideals set out in texts, she playfully seeks boredom and discomfort as opportunities for creative intervention. Through collaborations, Michelle interrupts accepted stories and habits, often trying to embody the experience of another person.
Michelle received a MAT in Art from the Corcoran College of Art and Design and graduated from St. Mary's College of Maryland in 2001 with a BA in Art and Art History (ART). For the past four years, Michelle has been a resident artist in motherhood. As an ARIM artist she has collected a year's worth of number 2 pencils from the playground, gone hunting with her father, and published The Bhagavad Gita Typestracts, the complete Bhagavad Gita written in visual form. She is a decorative painter, a certified yoga therapist, and a former DC Public School teacher. Michelle's work has been shown at Gradient Project Space in Thomas, WV. She is the beneficiary of the 2011 McCarthy Tall Tales Prize, a geodesic dome owner, and spent her honeymoon hiking 1000 miles on the Continental Divide Trail. In addition to creating new work, while in residence at the Artist House Michelle will participate in the ART SMP mid-term reviews and visit the new Professional Practices course as a visiting artist.
Farhad Bahram
Artist House Residency: March 16 – 26, 2019
Open Studio: Monday, March 25, 4:45-5:45pm, Montgomery Hall 105
During his residency, Bahram will also visit classes in photography and digital art classes, and the SMP seminar.

Farhad Bahram's project, 'Looking Glass', is the outcome of several conversations with 15 Iranian individuals, living in the United States, whose identities are often assumed by others to only comprise their nationality. In this installation I tried to portray their complexity, depth and presence by asking them to share in a series of words and images that more accurately reflects their identity.
Mirroring the rich, interdependent, and shape-shifting world we live in, our sense of self is increasing in complexity and changing throughout our lifetime. This fluid self consists of many intersecting factors such as gender, race, social class, ethnicity, nationality, sexual orientation, religion, age, mental and physical differences. By ignoring this diversity, each of us are too easily reduced to a label of 'threat', 'resource' or 'irrelevant'. This inaccurate labeling darkens the glass we see others through and ourselves in.
About Farhad Bahram
Bahram has shown nationally and internationally ranging from venues such as ArtHelix Gallery, Brooklyn, NY; Gowanus Loft, Brooklyn, NY; East of West Gallery, Santa Fe, NM; Yerba Buena Center For the Arts, San Francisco, CA; Mission Cultural Center, San Francisco, CA; Reed College, Portland, OR; Jordan Schnitzer Museum of Art, Eugene, OR; Umpqua Valley Arts Center, Roseburg, OR; Plâtre et Moi Gallery, Paris, France; Laatikkomo, Jyväskylä, Finland; Aaran Gallery, Tehran, Iran; Fravahr Art Gallery, Tehran, Iran; Sazmanab Center for Contemporary Art, Tehran, Iran.
Bahram's work has been reviewed and featured in Art Practical, PBS News Hour, Voice of America, The Santa Fe New Mexican, and IranWire, among others. His practice and research have been supported by grants and awards from the Tokyo Foundation for International Research, Ford Alumni Center, University of Oregon and Society for Photographic Education. Born in Iran, Bahram lives in Eugene, where he works as a Career Instructor at the University of Oregon since 2015.
Artist website: http://farhadbahram.com/lg.html
Elena Gross '12
Independent writer and cultural critic
Artist House Residency: April 1-7, 2019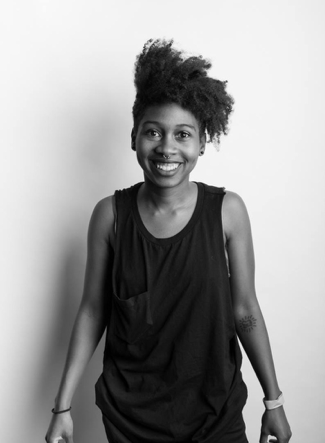 Elena Gross is an SMCM alum, graduating with a BA in Art History in 2012. She is an independent writer and cultural critic living in Oakland, CA. Elena received an MA in Visual & Critical Studies from the California College of the Arts in 2016, and after graduating with her BA in Art History and a Women, Gender & Sexuality Studies minor. She specializes in representations of identity through fine art, photography, and popular media. Elena is the host of the arts & visual culture podcast, what are you looking at, published by Art Practical. Her most recent research has been centered around the work of artist Lorna Simpson and conceptual and material abstractions of the body in photography. While in residence at the Artist House, Elena will work with students in the "Curation and Exhibition" course on their semester-long project about African American photographer Robert McNeill and will visit "Sexuality and Modernity" to discuss queer critical perspectives in contemporary art.
Parran Collery
Artist House Residency: April 8 – 29, 2019
Artist Talk:Wednesday, April 17, 4:45-5:45pm, Glendening Annex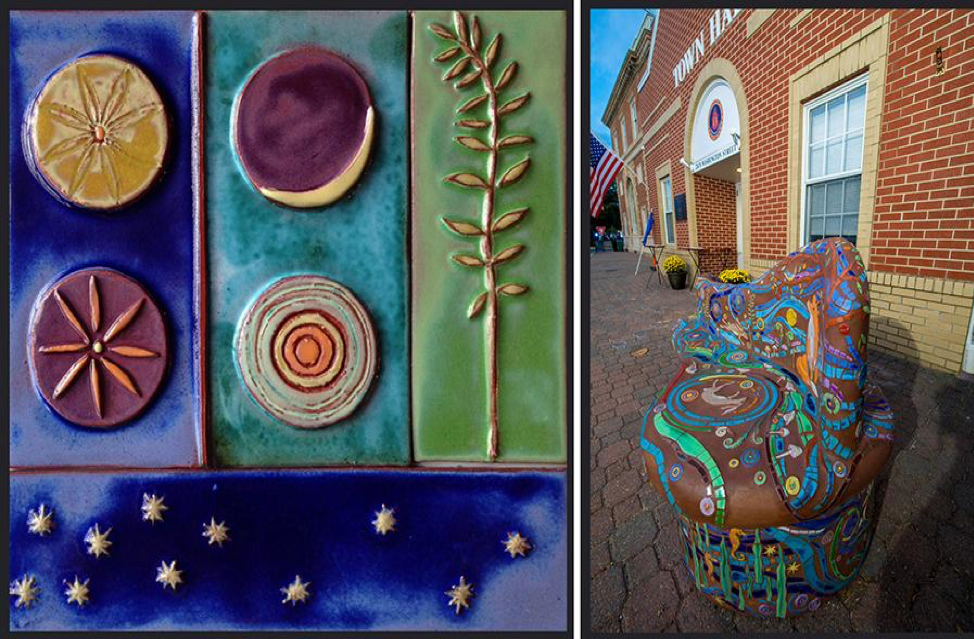 Parran Collery is a ceramic artist based in southern Maryland, where she is the artist/owner of a studio from which she runs an art business called Eartha Handmade Tile. Founded in 1997, Eartha Tile creates a collection of limited production tiles for sale in shops and galleries throughout the US, and also creates custom commissioned mosaic designs and one of a kind artwork. Collery received a BA from the University of Vermont (summa cum laude) in 1989 and a MFA from Mason Gross School of the Arts, Rutgers University in 1992. She taught undergraduate Ceramics at Rutgers from 1990-92, and was an Adjunct Instructor of Ceramics at Toms River Community College from 1993-95. At Toms River she taught all levels of ceramics including Independent Studies. She also apprenticed at Peace Valley Tile Studio in Bucks County PA for four years before founding her own studio.
For the past 30 years, Collery has exhibited her sculptures and tile designs extensively through the states. Museum exhibitions include group shows at the Flemming Museum, Burlington VT, and the Heckscher Museum in Huntington NY. Other exhibitions include shows at Mackerel Sky Gallery, East Lansing MI, Backas Gallery, Baltimore MD, Carroll County Arts Council, Westminster MD, Indigenous Gallery, Cincinnati OH, Annmarie Sculpture Garden and Arts Center, Solomons MD, Pewabic Pottery Invitational, Detroit MI, and North End Gallery, Leonardtown, MD. She has also participated in several American Craft Council shows. Collery has been a resident artist at Watershed Center for Ceramic Arts in Maine (1999 and 2006). She is also a highly popular Artists in Education visiting artist resident, working with young students at over 15 primary and secondary schools in MD and VA since 2000 to facilitate and create permanent ceramic tile installations. These projects include numerous wall mosaics, bench projects, and free-standing mosaic garden sculptures. In addition to dozens of private commissions, commercial tile installations by Collery include The Ruddy Duck restaurant bar countertop in Solomons MD, The Rock Bar entry floor in DC, and welcome sign installation at Annmarie Art Center, Solomons MD. She is currently completing a 30-panel bird identification project for Annmarie Art Center, to be installed in 2018. She has also received two public art grants: DC Commission for the Arts H Street Revitalization Project 2004, and the 2017 inaugural Town of Leonardtown Public Art Grant, in partnership with the MD State Arts Council.
ART SMP Exhibition
Boyden Gallery, Montgomery Hall
More information coming soon!
Bethany Springer
Artist House Residency: May 16 – June 6, 2019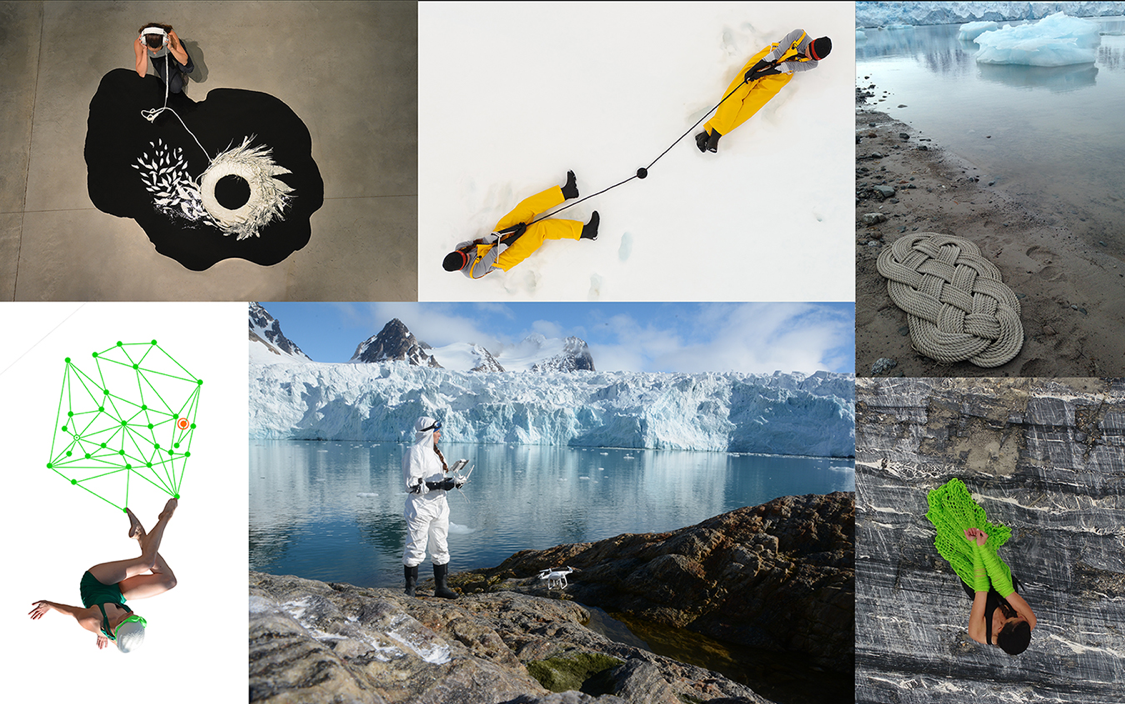 "My current work lies somewhere between romanticism and realism, an inquiry into place and identity as influenced by history, heritage, globalization, and the information age.
How place is established, reinforced, and lost is referenced through the juxtaposition of disparate historical and contemporary images, metaphors that find ironic commonality through online searches. Often, I use search engines as a tool to interpret and inhabit the world beyond my own heritage and environment, pairing a simple word or phrase with a complex network of associations connecting semiotics, historical origin, consumer items, and fads. In an attempt to have a deeper understanding of place and of the objects that represent place over time, I recreate images found on the internet or repurpose objects that have historical significance yet have lost their value in present society. I find it important to travel to locations referenced in my work so I may collect information from institutions and residents who have deep roots in their community. The resulting installations are usually hybrids of collected research, a fusion of personal and digital information that visually manifests the fragile link tethering identity to place."
Bethany Springer has received grants from the Pollock-Krasner Foundation, Arkansas Arts Council, Iowa Arts Council, the University of Arkansas Community and Family Institute, and the Center for Digital Technology and Learning at Drake University in Des Moines. Springer has been in residence at Full Tilt Creative Centre and Terra Nova National Park in Newfoundland, Canada, The Arctic Circle in the International Territory of Svalbard, the Hambidge Center for the Creative Arts & Sciences, the Fine Arts Work Center, and the Bemis Center for Contemporary Arts. Selected exhibitions of her work include Maryland Art Place (MAP) in Baltimore, Boston Center for the Arts, Milwaukee Institute of Art and Design, Creative Arts Workshop in New Haven, CT, Grounds for Sculpture in Hamilton, NJ, City Gallery East in Atlanta, the Walton Arts Center in Fayetteville, and Full Tilt in Newfoundland. She is currently an Associate Professor in Sculpture at the University of Arkansas in Fayetteville.