2022 River Concert Series
Presented by the Chesapeake Orchestra & St. Mary's College of Maryland
St. Mary's College of Maryland, along with the Chesapeake Orchestra and its Music Director Jeffrey Silberschlag, are proud to announce that the River Concert Series will be held in-person for the 2022 season.
A Southern Maryland tradition now in its 24th season, this family-friendly music festival, and winner of two Governor's Awards for Arts, Tourism, and Community Economic Development will be held on the St. Mary's College Townhouse Green. Mainstage programs will be on Friday evenings at 7 p.m. starting on June 24, and continuing on July 1, 8, 15, and 22. Regretfully, this year we are not able to offer fireworks.
The concerts and parking are free and open to the public. There are on-site vendors who offer food and beverages for purchase.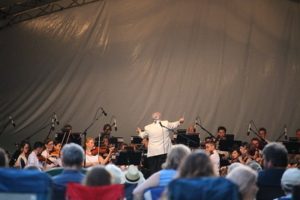 July 22: Stravinsky and Froom @ 7:00 p.m.
A music extravaganza includes the brilliant music of Stravinsky, the best of July 8th's Vaughn Williams' concert, and a musical memorial tribute to prize-winning composer and colleague David Froom as Music Director Jeffrey Silberschlag shares the evening with Larry Vote. The program includes the full Chesapeake Orchestra River Series Choir and acclaimed vocal soloists for an unforgettable tribute to the River Concert 2022 series.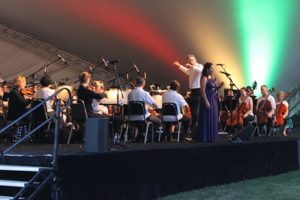 June 24: Music from the Old World @ 7:00 p.m.
The River Concert Series opens its 24th season with works of Dvorak, Brahms, Weiner, Suk, Bartok and Strauss Jr. The program includes Brahms' Hungarian Dances and Strauss Waltzes.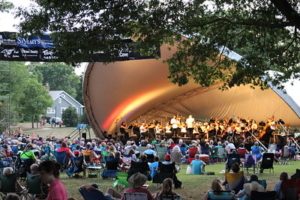 July 1: Music from the New World @ 7:00 p.m.
Featuring music works of Aaron Copland, William Grant Still, Ulysses Kay, Leonard Bernstein, George Gershwin, John Williams, J.P. Sousa, Jerod Impichchaachaaha' Tate, and more. The program includes "Appalachian Spring," "West Side Story," and Americana favorites. Regretfully, this year we are not able to offer fireworks.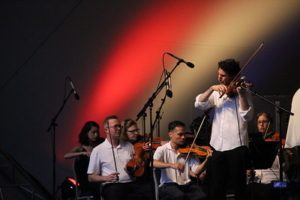 CANCELED – July 8: The Music of Ralph Vaughan Williams @ 7:00 p.m.
The police investigation related to a report of suspicious packages has concluded. All impacted buildings are cleared and are now open. We canceled tonight's River Concert at a time when we could not verify the length of the investigation. Though the campus is all clear, the concert will remain canceled.
Featuring the music of Ralph Vaughan Williams: "Pastoral England and the Surrounding Sea," with guest conductor Larry E. Vote, St. Mary's College professor of music, and featuring Diane Atherton (soprano), Joan McFarland (soprano), Rob Petillo (tenor) and James Rogers (baritone).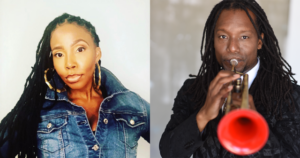 July 15: Bach to BOP @ 7:00 p.m.
It's a music party when Dontae Winslow and the Winslow Dynasty join Music Director Jeffrey Silberschlag and the Chesapeake Orchestra. The program features a host of renowned soloists for an exciting fusion of styles, music and creativity performing iconic works of baroque, jazz and pop in "Bach to Bop."
Sponsors
Funding Provided by the Commissioners of St. Mary's County
Asbury Solomons, BAE Systems, Bollywood Masala, Cole Travel, DCS Corporation, Heidelberg, Patterson, Welch, Wright PLLC, KBR, Northrop Grumman, O'Brien Realty, Raytheon, Spalding Consulting, Inc., Taylor Gas Co., Yamaha, and the Jewish Federation of Greater Washington United Jewish Endowment Fund.
About
St. Mary's College of Maryland's River Concert Series, winner of the Maryland Tourism Impact Award, is designed to provide the citizens of Southern Maryland with high-quality, professional performances throughout the summer, enriching the cultural offerings of our region while raising the profile of Southern Maryland throughout the state. The Chesapeake Orchestra, the resident ensemble of the River Concert Series, offers programs whose musical themes are designed to reach the broadest possible audiences.
The repertoire of the Series ranges from serious classical composition, to light classics, to jazz. As part of the Series' mission, genres such as Bluegrass and Blues are fused with orchestral instrumentation to develop new audiences. Nationally prominent artists and bright new talents fill the roles of soloists and narrators. These outdoor concerts strive to be family friendly, creating an atmosphere that brings our community together. The River Concert Series' regular outdoor summer concerts have become a vital element of our community life and are an important tool in the economic development of the region.
History
Since 1999, the River Concert Series, under the musical direction of Jeffery Silberschlag, has delivered high-quality, world-class performances in a wide spectrum of musical stylings to over 250,000 enthusiastic audience members. Over the years, the concerts have grown in size and prestige with outstanding contributions from many distinguished musical artists, as well as the exceptional performances from the River Concert Series resident ensemble, the Chesapeake Orchestra.
The River Concert Series Resident Orchestra: The Chesapeake Orchestra
Founded in 1995, by Jeffrey Silberschlag, the Chesapeake Orchestra is dedicated to developing the availability of cultural, diverse and enlightening musical experiences for the whole family. The Orchestra is comprised of accomplished musicians, as well as some up-and-coming fresh faces. The Chesapeake Orchestra has performed at River Concert Series since its inception in 1999, they also perform regularly at a number of other venues in the area such as Leonardtown Square and Sotterley Plantation. Most recently the Orchestra has expanded its program to include a variety of other venues in Southern Maryland.
For more information about the Chesapeake Orchestra visit their website.
About the Director
Jeffrey Silberschlag has distinguished himself in the world of music, performing as a conductor and trumpet soloist throughout Europe, the United States, Russia, China, Japan, and Israel. His performances have been described as "compelling" by Germany's Kölnishce Rundschau; "extraordinary" by Italy's L'Arena; and "outstanding" by Fanfare magazine.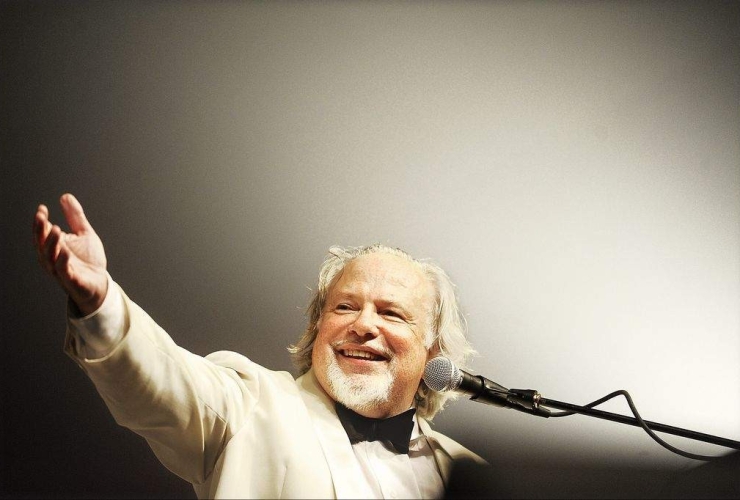 Mr. Silberschlag is music director and conductor of the Chesapeake Orchestra and River Concert Series and co-director of the Alba spring festival held in Northern Italy. On November 15, 2011 at a performance in Prague, Mr. Silberschlag received the Prize for Artistic and Cultural Activities from European Union of the Arts for his lifetime achievement in classical music as a conductor and trumpeter. He serves as artistic director and head of music performance at St. Mary's College of Maryland and is the Steven Muller Distinguished Professor in the Arts. He has been a faculty member since 1988 and served as chair of the Music Department. He is also director of St. Mary's College Alba, Italy program; and he has created a partnership between the College and the Royal Scottish Academy of Music and Drama. He is also artist-in-residence with the Maryland Youth Symphony.
Mr. Silberschlag has appeared as guest conductor with the London Symphony Orchestra, London Philharmonic, St. Petersburg Soloists, Orchestra Filharmonici di Torino, Symphony Orchestra of Rumania, Bulgarian Philharmonic, La Scala Virtuosi, Prague Chamber Orchestra, Salzburg Chamber Orchestra, and the Moscow Academy Chamber Orchestra. He also collaborated which such soloists as José Cueto, Anne Akiko Myers, Mikhail Gantwarg, Hilary Hahn, Yi Jia Hou, and Lara St. John (violinists); Maria Kanyova (Mimi in NYC Opera's "La Bohème" as seen on "Live from Lincoln Center"); Tonna Miller (Metropolitan Opera soprano); Maxym Anakushin, Bruno Canino, Brian Ganz, and Boris Slutsky (pianists); Giuseppe Nova and Yoshimi Oshima (flutists); Giampiero Sobrino and Jon Manasse (clarinetists); Catrin Finch (harpist); Judy Blazer (Broadway vocalist); Hillary Kole (jazz vocalist), Vonda Shepard (blues vocalist); and Ethel Ennis (Jazz vocalist).
In addition, Mr. Silberschlag has combined musical genres by blending orchestra performances with such artists as Blues guitarist Linwood Taylor, the Paul Reed Smith Dragons, the No Class Today Bluegrass Band, and the Brazilian band, Grupo Saveiro. A recording of Boris Blacher's chamber opera "Romeo and Juliet" with Mr. Silberschlag as conductor was released on Albany records to much acclaim. He has directed premieres of works by such composers as Morton Gould, Lorenzo Ferrero, Ludovico Einaudi, Paul Chihara, Chou Wen-Chung, David Froom, Kenji Bunch, Judith Shatin, Scott Wheeler, Nathan Lincoln-DeCausatis, Lou Karchin,Vivian Aldenberg Rudow, and William Thomas McKinley.
Mr. Silberschlag recorded William Thomas McKinley's "And the Presidents Said" with narrator Ben Bradlee and the London Symphony Orchestra at Abbey Road Studio. In a recent Fanfare review of the recording, Mr. Silberschlag was lauded as "a virtuoso trumpeter par excellence (whose) conducting is equally praise worthy."
He has presented master classes at the Kyoto University of Performing Arts, Japan; the Prague Conservatory, Czech Republic; the Royal Academy of Music in London, UK; the Beijing Central Conservatory in China; the Aosta Institute for Music, Italy; and he has directed in performance the orchestra of the Cleveland Institute of Music.
Jeffrey Silberschlag is also a prominent trumpet performer on the international music circuit and has recorded as trumpet soloist with the London Symphony Orchestra, Royal Liverpool Philharmonic, Seattle Symphony, Czech Radio Orchestra, Warsaw Philharmonic, and the Maryland Bach Aria Group. He held principal trumpet positions with the Italian National Symphony RAI-Torino; Jerusalem Symphony; and the New York City Opera-National Company. Recently he recorded as trumpeter and conductor with celebrated Scottish trumpeter John Wallace; Italian National Symphony-RAI trumpeter, Ercole Ceretta; Principal Trumpeter of the Baltimore Symphony, Andrew Balio; Principal Trumpet of the Mid-Atlantic Orchestra, Michael Adams; and Ross Wixon and Zachary Silberschlag with Scottish soprano, Marie Claire Breen. During 2011 and 2012 Mr. Silberschlag will be performing in Washington, D.C., Prague, Valencia, Salerno, and Sicily.