2022 River Concert Series
Presented by the Chesapeake Orchestra & St. Mary's College of Maryland
St. Mary's College of Maryland, along with the Chesapeake Orchestra and its Music Director Jeffrey Silberschlag, are proud to announce that the River Concert Series will be held in-person for the 2022 season.
A Southern Maryland tradition now in its 24th season, this family-friendly music festival, and winner of two Governor's Awards for Arts, Tourism, and Community Economic Development will be held on the St. Mary's College Townhouse Green. Mainstage programs will be on Friday evenings at 7 p.m. starting on June 24, and continuing on July 1, 8, 15, and 22. Regretfully, this year we are not able to offer fireworks.
The concerts and parking are free and open to the public. There are on-site vendors who offer food and beverages for purchase.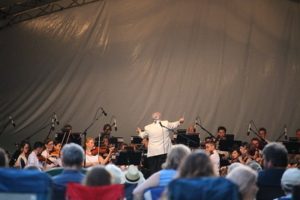 July 22: Stravinsky and Froom @ 7:00 p.m.
A music extravaganza includes the brilliant music of Stravinsky, the best of July 8th's Vaughn Williams' concert, and a musical memorial tribute to prize-winning composer and colleague David Froom as Music Director Jeffrey Silberschlag shares the evening with Larry Vote. The program includes the full Chesapeake Orchestra River Series Choir and acclaimed vocal soloists for an unforgettable tribute to the River Concert 2022 series.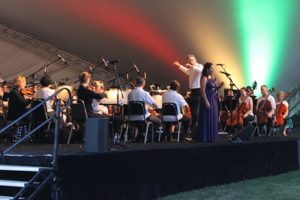 June 24: Music from the Old World @ 7:00 p.m.
The River Concert Series opens its 24th season with works of Dvorak, Brahms, Weiner, Suk, Bartok and Strauss Jr. The program includes Brahms' Hungarian Dances and Strauss Waltzes.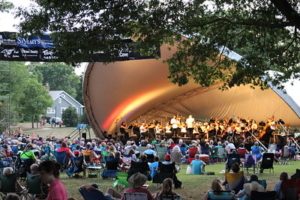 July 1: Music from the New World @ 7:00 p.m.
Featuring music works of Aaron Copland, William Grant Still, Ulysses Kay, Leonard Bernstein, George Gershwin, John Williams, J.P. Sousa, Jerod Impichchaachaaha' Tate, and more. The program includes "Appalachian Spring," "West Side Story," and Americana favorites. Regretfully, this year we are not able to offer fireworks.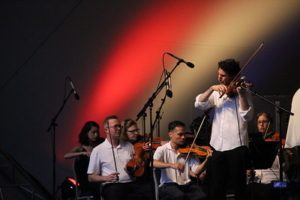 CANCELED – July 8: The Music of Ralph Vaughan Williams @ 7:00 p.m.
The police investigation related to a report of suspicious packages has concluded. All impacted buildings are cleared and are now open. We canceled tonight's River Concert at a time when we could not verify the length of the investigation. Though the campus is all clear, the concert will remain canceled.
Featuring the music of Ralph Vaughan Williams: "Pastoral England and the Surrounding Sea," with guest conductor Larry E. Vote, St. Mary's College professor of music, and featuring Diane Atherton (soprano), Joan McFarland (soprano), Rob Petillo (tenor) and James Rogers (baritone).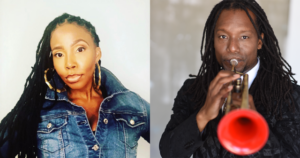 July 15: Bach to BOP @ 7:00 p.m.
It's a music party when Dontae Winslow and the Winslow Dynasty join Music Director Jeffrey Silberschlag and the Chesapeake Orchestra. The program features a host of renowned soloists for an exciting fusion of styles, music and creativity performing iconic works of baroque, jazz and pop in "Bach to Bop."
Sponsors
Funding Provided by the Commissioners of St. Mary's County
Asbury Solomons, BAE Systems, Bollywood Masala, Cole Travel, DCS Corporation, Heidelberg, Patterson, Welch, Wright PLLC, KBR, Northrop Grumman, O'Brien Realty, Raytheon, Spalding Consulting, Inc., Taylor Gas Co., Yamaha, and the Jewish Federation of Greater Washington United Jewish Endowment Fund.