Religion in Civil Society: The Impact of Religious Movements on International Relations
Religions shape affiliations and also cleavages within civil societies worldwide. In the globalized world, religious activism can be generated faster than ever before. To what extent is religion a main source of international conflict today? Why? When is it a force in peacemaking? In what way is religious engagement integrated into US foreign policy?
Scholars and policymakers around the country came to the 10th Patuxent Defense Forum at St. Mary's College of Maryland to discuss these questions. The forum was titled Religion in Civil Society: The Impact of Religious Movements on International Relations.
"In the Cold War years, many foreign policy analysts disregarded religion as a less important factor than ideology when defining U.S. national interest and the country's foreign policy objectives", Dr. Maija Harkonen, Executive Director of the Center for the Study of Democracy, noted in her opening remarks. "Today, more and more research is focused on studying the ways religious ideas and religious-based conflicts around the world influence American foreign policy and the country's defense spending."
The Patuxent Defense Forum chose this year's theme aware of religion's important role not only as a source of conflict but also as a force for good. "We look for topics that we believe are important for the community, including those who work in the defense sector", Harkonen notes.
Bridging Differences Among Faith Groups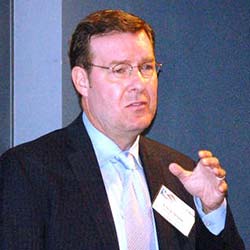 Dr. Chris Seiple, President of the Institute for Global Engagement, emphasized in his opening remarks a need for increased religious literacy in the government and business spheres and spiritual literacy in the religious spheres all around the world. Cultivating mutual respect starts with awareness of differences and similarities among religious faiths.
Every major faith tradition has a "Golden Rule" a principle of reciprocity that asks us to treat others in the same way that we would want them to treat us. It's a tool for finding a common ground, a safe space, among various religious groups with different theological worldviews. There are multi-religious countries, like Lebanon, where it works well because following the Golden Rule is in the common interest of all residents alike, Dr. Seiple notes.
"When building a safe space for various faith groups to co-exist in peace, we should not forget the women and the youth," Dr. Seiple states. "Most important, we should encourage people-to-people dialogues, not only the top-down approach to peace building."
Engaging Religious Actors in Government Business
In 2013, a new office of Religion and Global Affairs was set up at the U.S. State Department to engage faith-based organizations to advance America's interests and values. The office was tasked to work with faith-based organizations and their leaders and ensure that their voices are heard when deliberating U.S. foreign policy objectives especially in conflict areas, explained Rustum Nyquist, who works as Policy Advisor at the office.
How far should the states go in engaging religious actors around the world? "The most important thing I have learned after 30 years of experience in interventions and conflict analysis is that it is vital that the states of the world do not train extremists for any purposes whatsoever no matter how tempting the strategic goals may be," Marc Gopin, Director of the Center for World Religions, Diplomacy and Conflict Resolution (CRDC) at the School for Conflict Analysis and Resolution at George Mason University. He is considered one of the nation's best experts on peacemaking strategies.
"Ultimately it is never in the interests of states and the international system of stable states. Sometimes individual groups are very religious and conservative and that is fine. But if they are known violators of basic human rights then the price of supporting them is not worth it," notes Professor Gopin.
Root Causes of Religious Conflicts: Stereotypes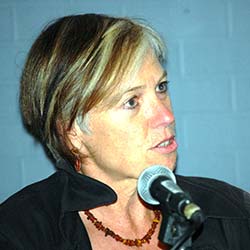 Katharina Von Kellenbach, Ph.D. Professor of Religious Studies, St. Mary's College of Maryland, focused on recent reemergence of anti-Zionist and anti-Semitic violence across Europe. "In the background of such violence is the supersessionist paradigm used by Christians and Muslims to relegate Jews as anachronistic," professor Kellenbach notes. In doing so, they have created different stereotypical descriptions of Jews. "Today, interreligious dialogue should start by breaking the power of symbolic discourse and fostering genuine respect and understanding between the Abrahamic religions."
Danielle N. Boaz, Ph.D., Drake University: "Racialized stereotypes of foreign religious practices often play an integral role in public perceptions of inter-state relationships. The narratives about "voodoo" in Haiti and Cuba that permeated the U.S. media in the late nineteenth and twentieth centuries exemplify how certain religious beliefs can be accentuated, exaggerated, and distorted to justify infringing on the sovereignty of another state."
Religion in Cyberspace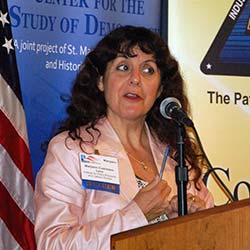 Since the end of the Cold War, religion has become an important factor in foreign policy and national security deliberations, says Maryann Cusimano Love, Ph.D., from the Catholic University of America. Its influence, for good and bad, has increased through the use of new technologies.
Social media is particularly powerful as an avenue for promoting a social cause, tells David Selby. "Pope Francis has 6.19 million twitter followers, making him the second most followed world leader on twitter."
"One of the defining principles behind social media is that anyone can publish information on it, continues Selby. "As a result, there are very little to no journalistic standards, and people are able to publish information they claim to be fact without validation or editorial scrutiny. Social media allows extremist groups to receive increased visibility and provides an avenue for spreading their messages."
Some extremist faith-based groups resort to cyber threats and espionage. "Sources of cyber insecurity have increased in recent years," tells Derek Reveron, Ph.D., Professor, and National Security Affairs at U.S. Naval War College. They now include hackers, hacktivists and terrorists. "But there are limits to cyber power," notes Dr. Reveron. The codes can be repurposed, the harm rendered temporary and counterintelligence authorities can frustrate and defeat cyber espionage.
To prevent harm from being done in the first place is a task that a number of civil society organizations have adopted. Robert McGaw, Government Affairs Manager, the Council of American-Islamic Relations (CAIR), works to enhance understanding of Islam, encourage dialogue, protect civil liberties, and empower American Muslims to work within the framework that respects freedom of religion for all.
What Fuels the Israeli-Palestinian Conflict?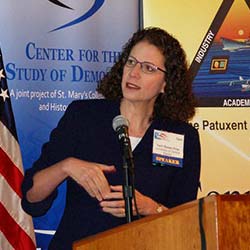 In talking about the history of the Israeli-Palestinian conflict, Terri Susan Fine, Professor of Political Science, University of Central Florida, asked the central question of the debate: "To Whom Does Israel Belong?" She notes that President Harry Truman's press release "Recognition of Israel" identifies Israel as a sovereign and a Jewish state. Based on this understanding, the Law of Return was enacted allowing any Jew to seek Israeli citizenship under a different set of naturalization criteria than non-Jews. Soon after, the central question of the Israeli-Palestinian conflict became: Should the Law of Return and subsequent legislation be broadened to include Palestinians?
Religious Conflicts and Ethnic Conflicts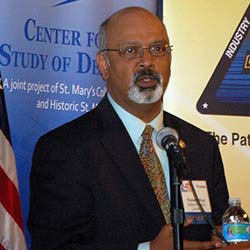 "Islam, Christianity and Judaism have always been in conflict," says Thomas Uthup, Ph.D. from Baldwin Wallace University (OH). "Religious conflicts are also the most deadly conflicts", he notes. But the reality is more complex than that. Dr. Uthup, has examined African conflicts between the years of 1952 and 2012 and found that ethnic conflicts without religious dimensions have been more prevalent there than ethnic conflicts with religious components.
Johanna Kristin Birnir, Research Director at University of Maryland finds many explanations for violence that appears to be faith-based. Often religious animosities overlap with ethnic hostilities. Dr. Birnir's research indicates that such ethnic minorities who belong to a different religious denomination than the majority are more likely to engage in violence than ethnic groups that belong to the same religion as the majority.
Is Islam Incompatible with Democracy?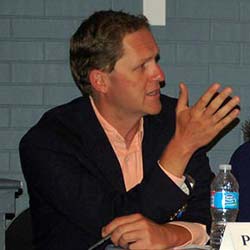 Democracy has been historically rare in the Muslim world. Does that mean that Islam is inherently antithetical to democracy? Not necessarily, says Paul Kubicek from Oakland University. "Many Muslim intellectuals and political movements embrace democratic principles." The argument that Islamic-oriented actors tend to moderate and become more amenable to democracy if they are included in the political process, is partially supported by the evidence, Kubicek notes.