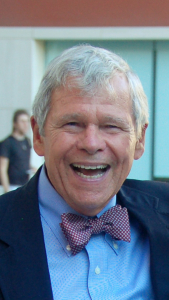 Vice President retired
Howard Hughes Medical Institute (HHMI)
Peter J. Bruns is Professor of Genetics Emeritus, Cornell University, and Vice President retired, Howard Hughes Medical Institute (HHMI). He received an AB in Zoology from Syracuse University, and a PhD in Cell Biology from the University of Illinois. At Cornell, in addition to teaching and research in genetics, he served as Chairman Section of Genetics and Development; Associate Director Cornell Biotechnology Program; Director Division of Biological Sciences; and Director Cornell Presidential Research Scholars. At HHMI he led one of the largest private funds in support of science education in the U.S., and an international grants program in basic research. He founded the Cornell Institute for Biology Teachers, a professional development program for precollege teachers, and CourseSource, a web-based journal of educational resources. Honors include: Fellow of the John Simon Guggenheim Memorial Foundation; Education Fellow in the Life Sciences of the National Academy of Sciences; the Elizabeth Jones Award from the Genetics Society of America; and the Bruce Alberts Award from the American Society for Cell Biology. He is married to Jennifer Shea, resides in Chevy Chase and Tilghman Island, Maryland and has three grown children.