Returning to Campus for Spring 2022 Semester
All SMCM Community members are required to upload their Covid-19 Booster documentation. You may submit a Medical/Religious Exemption if you are unable to get the Covid-19 Vaccine. Exemption information can be found on our 'Covid-19 Testing and Vaccine Information' tab to the left.
For all testing days and times, refer to our 'Covid-19 Testing and Vaccine Information' tab to the left.
---
Covid-19 Vaccine and Booster Upload
Use the 'SMCM Health Records' button to sign in and upload your documents.
Click HERE for sign-in and upload instructions.
The login system has updated. You may need to attempt to login from a new Chrome Window that is not connected to your Google account.
Accessing Wellness Center Services
Counseling Services
Counseling services are now offered in-person at the Wellness Center.  To make an appointment you may call 240-895-4289 or stop by to talk with our office associates.  We see students for short term therapy and also offer a variety of group therapy each semester.  If you require services beyond what we can offer we have a list of community referrals.
Health Services
Student may stop by the Wellness Center between 8:00am and 5:00 pm weekdays to access self-care supplies.  We offer over-the-counter medications, some personal care supplies, emergency contraception, and condoms, dental dams, and lube.  There is no cost to students for self-care supplies.
Walk-in consultations:  Students may speak with the Staff RN between 10:00am and 11:30am on weekdays.  No need for an appointment.  Student will be seen on a first-come, first-serviced basis unless there is an emergency.
Our Nurse Practitioner will see students by appointment in the afternoons.  Appointments can be made by calling 240-895-4289.  We see students for minor injuries and illnesses.  If you need care beyond our scope we offer referrals to community services.
If you are experiencing a health emergency please call 911.  The Wellness Center does not have urgent care or emergency services. 
---
About Us
The Wellness Center is staffed by a team of medical and mental health professionals to assist you in addressing your physical and mental health concerns. In order to provide you with the highest quality of care, the Wellness Center utilizes an integrated treatment approach. Our multi‐disciplinary team of clinicians works collaboratively to optimize your wellness through seamless prevention and intervention. The Wellness Center values the privacy of students and the confidentiality of the personal and health information entrusted to us. Information is shared between services at the Wellness Center on a strict "need to know" basis. Read our Wellness Center Scope of Services here.
There is no fee for health or counseling services and insurance is not required.  Some lab tests and prescriptions may incur a cost to students and those costs will be fully explained during your visit.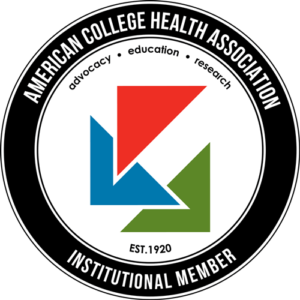 The Wellness Center is an active member of the American College Health Association.