New Student Information
Welcome new students! For important new student information, please click here.
About Us
The Wellness Center is staffed by a team of medical and mental health professionals to assist you in addressing your physical and mental health concerns. In order to provide you with the highest quality of care, the Wellness Center utilizes an integrated treatment approach. Our multi‐disciplinary team of clinicians works collaboratively to optimize your wellness through seamless prevention and intervention. The Wellness Center values the privacy of students and the confidentiality of the personal and health information entrusted to us. Information is shared between services at the Wellness Center on a strict "need to know" basis. Read our Wellness Center Scope of Services here.
There is no fee for health or counseling services and insurance is not required.  Some lab tests and prescriptions may incur a cost to students and those costs will be fully explained during your visit.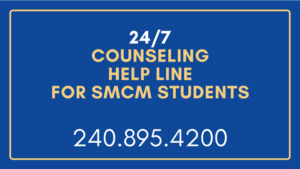 PLEASE READ: Accessing Wellness Center Services (Summer 2020)
Due to the COVID-19 pandemic, as of Tuesday, March 24, 2020, Chance Hall (home of the Wellness Center) is closed for in-person services. The Wellness Center is committed to continuing to provide counseling to students during this stressful time and assisting in the access of medical care as needed.
Students, staff, and faculty with any questions or concerns may contact Director Laurie Scherer at lkscherer@smcm.edu.
Remote Counseling Services
Counseling and Psychological Services is offering scheduled sessions via Zoom. Students can call (240) 895-4289 or email their counselor to schedule an appointment. If you are new to counseling or would like an urgent (same-day) or next-day appointment, email Director Laurie Scherer at lkscherer@smcm.edu.
24/7 Counseling Helpline
The 24/7 Counseling Helpline remains active and available to all students, on and off campus. Call (240) 895-4200.
Over-the-Counter Medication
If you are on campus or local and need non-prescription medication or first-aid supplies, please contact Public Safety at (240) 895-4911 to set up an appointment to pick up supplies
Regular Services
Individual therapy
Outpatient medical care
Group therapy
Evaluation and treatment of acute minor illness or injury
Referral assistance
Psychiatric Evaluation
Crisis intervention
Sexual Misconduct Advocacy and Resource Team (SMARTies)
Peer Health Educators
Prescription and over-the-counter medications
ECP (Plan B)
First aid supplies
Professional advocacy
Lab tests (by physician's order) may incur a fee or insurance charge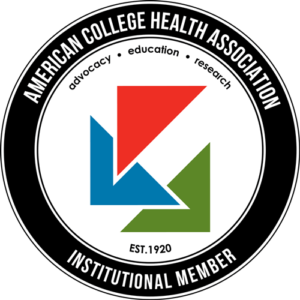 The Wellness Center is an active member of the American College Health Association.