ST. MARY'S COLLEGE OF MARYLAND COMMENCEMENT INFORMATION

Spring Senior Events
Lavender Graduation
Friday, April 28, 3:00 – 5:00 p.m. in Dodge Performing Arts Center. Hosted by LGBTQ Student Services, it is a special ceremony that honors the achievements of graduating gender and sexual minority students and distinguished allies. Recognized students will receive a rainbow tassel and a reception will follow the ceremony. Students and family members can RSVP to
lgbtq@smcm.edu
.
Awards Convocation
Friday, April 14, 3:00-4:00 p.m. in the Dodge Performing Arts Center. The annual presentation of academic awards to students from all class years. Students who will receive academic awards will be notified in advance and their participation in the event requested. Family and friends of these students are welcome to attend and no advance reservations are required. There is a reception with light refreshments following the awards presentation.
Senior Week Activities
Beach Day
Wednesday, May 10, 11:00 a.m. – 3:00 p.m. at the waterfront. Relax with your friends at the waterfront (weather permitting).
Movie Night
Wednesday, May 10, 8:0 0p.m. on the Townhouse Greens
Enjoy pizza and a movie with your classmates under the stars!
Senior Gala
Thursday, May 11, 6:00 – 10:00 p.m. at the State House. Cost: $50 (includes 4 tickets for alcoholic beverages) or $40 (includes unlimited non-alcoholic beverages) per person. Tickets must be purchased by May 1. Bring your fancy attire and enjoy beverages and hors d'oeuvres at the Historic St. Mary's City State House (weather permitting), and dancing and making memories with your friends. Tickets can be purchased
here
.
Rehearsal
Friday, May 12 at 11:00 a.m.
Meet at the recreation courts in the Arena at the Michael P. O'Brien Athletics and Recreation Center. The rehearsal takes about an hour and will provide useful information and serve as a practice for the next day. If you absolutely cannot attend the rehearsal, contact the Office of the Registrar, 240-895-4336 to report your absence.
Family Activities
Dinner: Friday, May 12, 5:00 p.m. Spend time with your graduate by experiencing some of the many restaurants in Southern Maryland. We encourage you to make reservations in advance.
Suggested local Restaurants Include:
Ruddy Duck Brewery & Grill – 13200 Dowell Rd, Dowell
The Island Hideaway -14556 Solomons Island Rd S, Solomons
The Pier Restaurant – 14575 Solomons Island Rd S, Solomons
The Lighthouse Restaurant and Dockbar -14636 Solomons Island Rd S, Solomons
The Front Porch – 22770 Washington St, Leonardtown
SweetBay Restaurant & Bar – 22680 Washington Street, Leonardtown
Hacienda Los Guayabos Mexican Grill – 19661 Three Notch Rd, Lexington Park
Asahi Japanese Steak & Seafood – 22576 MacArthur Blvd. #302, California
Pier450 – Restaurant – 48342 Wynne Rd, Ridge
Living On-Campus
Seniors living on campus must check out of residence halls and suites by 3:00 p.m. and out of apartments and townhouses by 5:00 p.m. on May 13, 2023.
Commencement
Date, Time, Place, Ceremony Tickets, and Seating
Saturday, May 13, 2023
The ceremony begins at 10:00 a.m. sharp on the Townhouse Green. All graduates will assemble at the Arena at the Michael P. O'Brien Athletics and Recreation Center no later than 9:15 a.m. Please be sure to wear caps and gowns.
No tickets are necessary for the Commencement ceremony. Seating is first-come, first-served. Although the area will be tented, some seating is in an open area in full sun. Guests should be prepared with hats, sunscreen, and other protective measures. Please bring rain gear if the weather is threatening. The event is held outside, rain or shine. No seats may be held for guests without someone being physically present to hold them.
Speaker
International superstar and goodwill ambassador Angélique Kidjo will be the 2023 Commencement speaker at St. Mary's College of Maryland on Saturday, May 13, 2023. The Commencement ceremony begins at 10 a.m. on the College's Townhouse Green in St. Mary's City. The five-time Grammy winner will perform in concert at the Nancy R. & Norton T. Dodge Performing Arts Center on the campus later that evening, beginning at 7 p.m.
Caps & Gowns
All students, regardless of their major, wear the same graduation regalia (cap, gown, hood, & black tassel). Prospective graduates will be notified by email in mid-March regarding the ordering process for caps and gowns and these orders should be placed at
https://buildagrad.com/smcm
by March 31, 2023. Payment information is not required at the time these orders are placed and students pick up and pay for regalia May 8 -12 at the Campus Store. Those students who only need part of the outfit or do not need regalia, should still place an order and there is an option to indicate that only part of the outfit is needed or no outfit is needed. Those students who place orders after April 1, should order and pay for regalia by visiting
www.smcmbooks.com
. The cost for the complete outfit will be $53.95 if ordered by March 31, and $63.95 after that date. Please contact the Campus Store at 240-895-4420 if you have questions about your cap and gown order.
Alcohol-Free
Commencement is a time to celebrate your accomplishments here at St. Mary's College of Maryland, and it should be a celebration treated with the respect it deserves. Commencement is an alcohol-free ceremony. Staff will monitor the attendees for alcohol possession.
Announcements
Personalized graduation announcements, starting at $42.67 for a set of 10, can be ordered at
www.balfour.com
or by calling 1-877-225-3687.
Special Needs
Reserved seating for guests with disabilities is available. Seating must be reserved in advance and due to high demand seating is only available for the disabled individual and one additional person. Sign language interpreters will be provided for the deaf/and hard-of-hearing. Contact the Events & Conferences Office at events@smcm.edu for reserved seating and questions about access to this event.
Photographs
A group photo of the graduates will be taken at 9:15 a.m. on Saturday, May 13 in the MPOARC Arena. Graduates must be in cap and gown to be in the pictures. Late arrivals will not be included. An 8×10" copy of this photo will be mailed by the photography vendor to each graduate as a gift from the College. Individual photos of each person receiving a diploma will be taken by a professional photographer. One proof of that photo will be sent to each graduate at no charge. Additional prints will be available for purchase from the photographer.
QUESTIONS REGARDING PROFESSIONAL PHOTOS SHOULD BE DIRECTED TO CLASSIC PHOTOGRAPHY AT 410-203-1003 OR CUSTOMERSERVICE@CLASSIC-PHOTO.COM.
Personal photography by family members and friends is allowed from behind the ropes. Family members are urged to cooperate with Commencement officials by limiting their photography to ensure that all who wish to take photos have the opportunity.
Commencement Traffic & Parking
College Drive will be closed until Commencement is over, then traffic will be one way until 4:00 p.m. (going from Mattapany toward Route 5). Families and guests may park in any available lot.
Gift Idea?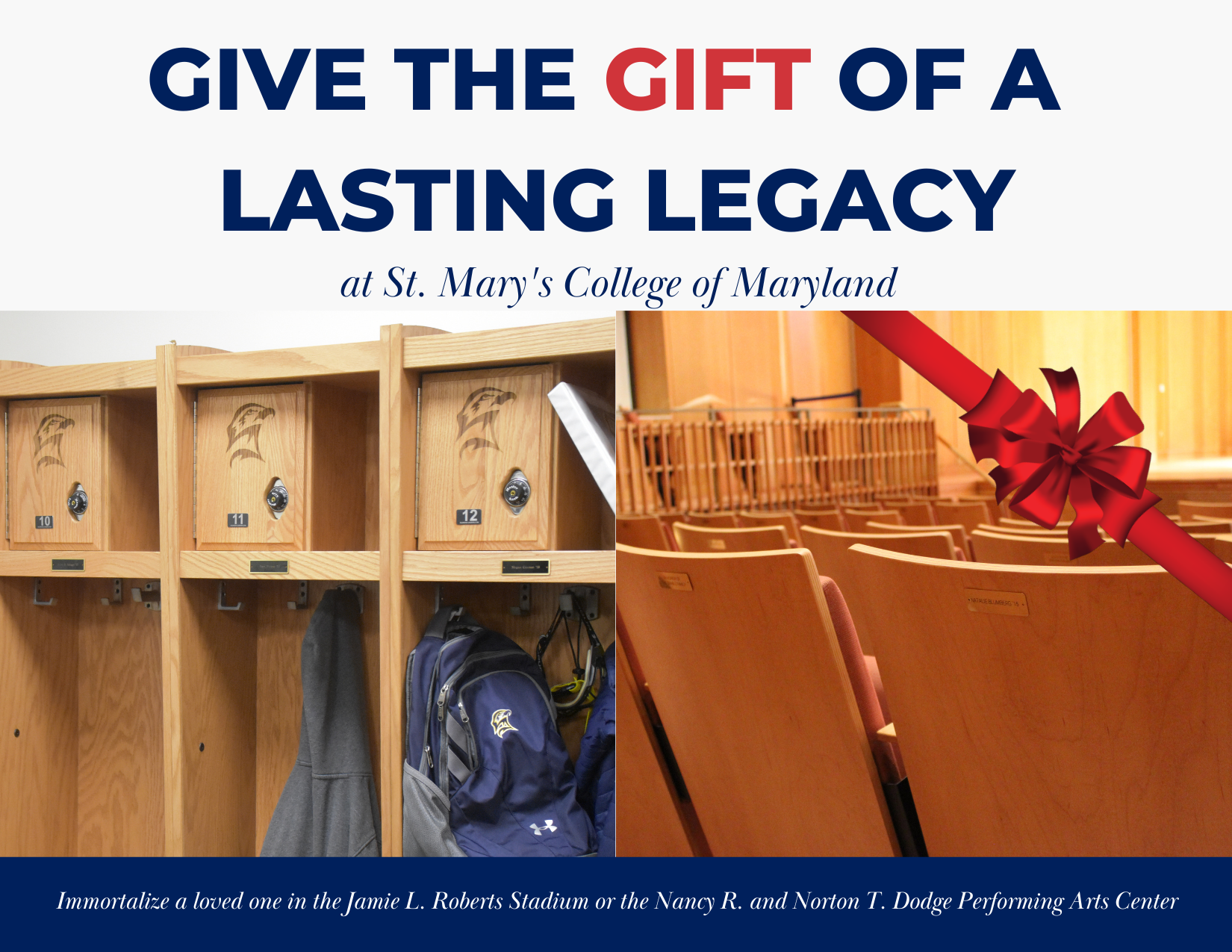 Need a unique gift idea for a graduating senior? Honor their legacy on campus with an engraved plaque on an
auditorium seat
or
stadium locker
.
For more information or to inscribe multiple plaques, contact Miranda Pontarelli, annual giving officer, at (240) 895-2122 or mjpontarelli@smcm.edu.
Lodging
Local Hotels
Families are encouraged to make hotel arrangements as early as possible. The following hotels have set aside rooms to accommodate SMCM families.
Hampton Inn Lexington Park – (∼ 8 miles) 22211 Three Notch Rd., Lexington Park, MD 20653; 301-863-3200.
Fairfield Inn by Marriott – (∼ 8 miles) 22119 Three Notch Rd., Lexington Park, MD 20653; 301-863-0203.
Home2Suites by Hilton – (∼ 8 miles) 46058 Valley Dr., Lexington Park, MD 20653; 301-866-1416. Click here to make a reservation.
Country Inn & Suites – (∼ 11 miles) 44941 Worth Ln, California, MD 20619; 301-737-5227.
Wrapping up at St. Mary's
Double Major
If you have a double major, you must choose the major with which you wish to walk. If you have a double major in both a BA and BS degrees and you have chosen to receive a BS, then you will be required to walk with the major associated with your BS degree. Go to the Office of the Registrar's by April 14, 2023 to register your preference and to check the spelling and pronunciation of your name.
Academic
St. Mary's College has a strict requirement for participation in the graduation ceremony. In order to walk in the ceremony, you must be within four (4) credits of the graduation requirement, with a minimum cumulative GPA of 2.0, and an action plan for completion of the remaining credits must be filed in the Office of the Registrar. A notation will be placed in the Commencement program indicating that there are credits left to be fulfilled. If you are in any danger of not meeting this requirement, call the Office of the Registrar at 240-895-4336.
Financial Reminders
Check with the Business Office to be sure your financial obligations to the College are covered. Your diploma will not be mailed to you nor will a transcript be issued until your account is cleared. Students receiving financial aid should call that office, 240-895-3000, before Commencement.
Summer 2022 & Fall 2022 Grads
If you are planning on walking during Commencement, please send an email to:
graduation@smcm.edu
and include your student ID, full name, and major.
First Destination Survey
Everyone's been asking – what are you doing after graduation? SMCM wants to know, too! We're collecting information on where graduates go after graduation. If you know your plans, please let us know by filling out the First Destination Survey. This will help us to improve our existing programs and to attract new students! The survey is open now, through the end of December 2022. Look for an email from the SMCM Center for Career and Professional Development that contains your personalized link to the survey. Questions, or can't find the email? Contact Anne Marie Brady, Director of Institutional Research, at ambrady@smcm.edu.