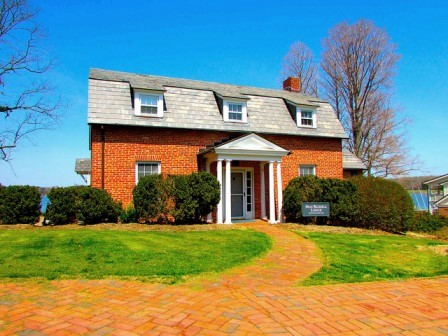 The May Russell Alumni Lodge may be reserved by alumni who wish to reconnect with the College, get away for a while, or even stay for their wedding
.
To reserve, contact the Office of Alumni Relations at
(240) 895-4280 or alumnioffice@smcm.edu
$150/night, Monday-Thursday
$450 weekend rate, Friday-Sunday
Please contact us well in advance to book the Lodge for an overnight stay, and have two or three dates in mind when making your reservation.  If the dates requested are available, you be notified by email with the payment link. Payment must be made in full within one week of receiving the email or the reservation will not be guaranteed.
Accommodations
Lower Level
The Lodge has a living/dining room combination and a kitchen on the lower level.  A screened-in porch overlooks the St. Mary's River and is located just off the dining room for guests' enjoyment. The living room has a fireplace, but firewood is not provided by the College.
Upstairs Level
There are three bedrooms and one bathroom on the upstairs level.
Bedroom #1 has one double bed, bedroom #2 has one double bed, and bedroom #3 has a set of twin beds.
There is a maximum of six guests per night. If more guests are found staying at the Lodge, all guests will be asked to leave and refunds will not be issued.  Infants and small children that sleep in portacribs provided by the parents are not included in the number of guests.
Kitchen Facilities
Guests are welcome to use the kitchen, which includes a variety of cookware, as well as a coffee pot and charcoal grill.  Please wash all dishes used and remove all leftover food.
Rental Information
GPS Address
47487 Trinity Church Road
St. Mary's City, MD 20686
Check In/Out
Check-In: 3 p.m.
Check-Out: 10 a.m.
Lodge Access
Once payment is received for a stay, guests will receive a temporary access code to the building via email.
Phone use
Lodge Phone Number: (240) 895-4383
Dial "9" for a local outside line.  Dial "0" to reach the College operator.
Long-distance calls must be put on a calling card.
Pets
The Lodge does not accommodate pets.
Smoking
Smoking is not permitted in the Lodge, or on the screened porch.
Cancellation Policy
Refunds amounting to 95% will be given with a one-week notice of cancellation.  Refunds will not be granted within one week of the date reserved.
Important Phone Numbers
May Russell Alumni Lodge: (240) 895-4383
Office of Alumni Relations: (240) 895-4280
Office of Events and Conferences: (240) 895-3246
Office of Public Safety: (240) 895-4911
History
Over the years, the May Russell Alumni Lodge has been an integral part of the St. Mary's College campus.  You might be surprised to learn that the building was first a horse and wagon stable and was one of the first two buildings built in 1844 for St. Mary's Female Seminary.  The other building was Calvert Hall.  It's been said that bricks from the 1676 State House were used to construct the original stable.  The horse and wagon stable continued to be used for 80 years.  This would change dramatically when Calvert Hall burned to the ground on January 5, 1924.  With bricks from the ruins of Calvert Hall and $2,000 in alumnae donations, the stable was transformed into a red brick cottage to be used as faculty housing until Calvert Hall was rebuilt.  On July 4, 1924 it was dedicated as the Alumnae Lodge, seven years after the Alumnae Association was formed.  Known for decades as the "Old Stable," it was the most historic campus building even as its uses changed.  During the 1930s and 1940s, it was the home economics lab and also served as the Seminary's guest house.  In 1948, May Russell was named president of St. Mary's Seminary Junior College and during part of her presidency she would make the "Old Stable" her home.  After she left the College in 1969, the St. Mary's City Commission (predecessor or Historic St. Mary's City) would periodically hold commission meetings in the Lodge until December 1974.  In 2006, in memory of May Russell, the College renamed the "Old Stable" the May Russell Alumni Lodge.