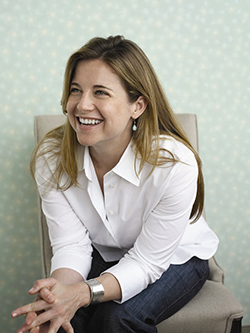 Editor in Chief
Martha Stewart Living
Graves is currently editor-in-chief of Martha Stewart Living.  She was previously vice president and editor-in-chief of Martha Stewart Weddings, an award-winning quarterly bridal magazine, the beauty and health director for the magazine Real Simple, the editorial director of Beauty, Health and Fitness, and AVP for Martha Stewart Living Omnimedia. She has an extensive and impressive media background, having worked at Self and Allure magazines, among many others. Graves received her bachelor of arts in psychology from St. Mary's College of Maryland in 1995, where she was awarded Collegiate All-American Sailor and Women's Collegiate Sailing Champion that same year.
Why I am a trustee:
Growing up in Wisconsin—and a world away from southern Maryland—I feel lucky to have stumbled upon St. Mary's College. I was a sailor, so I first took notice of its incredible sailing team, but the academics sealed the deal. As a trustee, I hope to make the school less of a national secret for other prospective students, and help new students have the same opportunities and amazing experiences that I had at St. Mary's.
Graduated from:
St. Mary's College, B.A. (1995)
Profession:
Publishing. Currently, I'm the editor-in-chief of Martha Stewart Weddings. I got my start writing for a very small newspaper in North Carolina after graduation. I was waiting tables and I begged the paper to let me write about local restaurants. I got paid next to nothing, but those newspaper clips led to my first job at a national magazine in New York City. Since then, I've been covering everything from food and home to the beauty industry, fashion, travel, and health topics for many different magazines. Without a doubt, I love what I do.
When I was in college I studied:
Psychology, English, sailing, and the fine art of balancing work and play at the Green Door.
Today I wish I had studied:
Digital technology. As magazines evolve into digital iterations of themselves, the people who have the skills to design, program, and/or implement the next big thing in my industry are in a powerful place right now. However, this field was in its infancy when I was in college, so it wasn't really an option. I certainly don't regret studying psychology.  It helped me the most in learning how to navigate the workplace. Understanding why people do what they do makes working for people, or with them, or, in some cases, over and around them, that much easier. Psychology 101 is a good requirement for anyone.
Favorite book:
Way too many to mention, but To Kill a Mockingbird by Harper Lee will always hold special meaning to me.
Favorite film:
Way, way too many to mention. I can't even name just one because my mind fills with ones that are even better.
Favorite cuisine:
I have a weakness for good Mexican food and a great margarita. But really, as long as the ingredients are fresh and high quality, I'm open to anything. I recently tried Persian food, and it was pretty delicious!
Role model:
My mother, Grace, is smart, strong, patient, and the consummate class act—her name says it all. Susan Lyne, who is the current CEO of Gilt Groupe. When she was the CEO of Martha Stewart Living Omnimedia, I was on the team that developed a new magazine under her. She's a great leader and a really good manager, which is no easy task. And, of course, Martha Stewart is no slouch either. I wanted to work for her since college. She's everything I thought she'd be—inspiring, creative, a Jane of all trades, a true visionary and very funny, too.
Education/Career Advice for Students:
My best advice is to be true to yourself and find what you are passionate about for a career. After graduation, the reality is that you will spend more time working than being with your friends and loved ones, so make sure what you do with that time is something you have a voracious curiosity and interest in. Then get out in the world and take some risks. Usually if you are confident, kind, hard working, and accountable, those doors will open for you, they'll stay open, and your inevitable failures will be a lot more forgivable. And when that happens, just remember to laugh, learn from it, and get right back up.